It's that time of year again – gift buying season is here! Sometimes the task can be a bit daunting, but we've got your current (and soon-to-be) Broadway fans covered! Check out Dallas Summer Musicals' Holiday Gift Guide for some ideas and inspiration!

Choose Your Own Packages are perfect if you want to see multiple shows this season! Choose 3 or more shows starting at $54!* Click here for more info!

ELF THE MUSICAL – Single tickets are on sale now! The show is in Dallas for 2 weeks only, December 8-20. Click here to find your tickets! (Best availability during the weeknight performances.)

THE BRIDGES OF MADISON COUNTY – Presale Tickets are exclusively available to DSM Fans beginning Thursday, November 26th at 10am! Click here to get the best seats before the general public. (If prompted, please use the code FIRST (all caps).) Be sure to reserve your seats before December 4th!

WICKED – Exclusively to DSM Fans, for 48 hours ONLY, we will be offering presale tickets for all performances in all price levels! Be sure to subscribe to our eNotes and follow us on Facebook to gain access to this exclusive offer! Presale tickets will be available on December 3rd at 12:01am until December 4th at 11:59pm.

THE LITTLE MERMAID – Save the date! Exclusive presale for single tickets begins Monday, December 7th at 10am. Be sure to subscribe to our eNotes and follow us on Facebook to gain access to this exclusive offer! Single tickets will go on sale to the general public on Friday, December 18th, so be sure to take advantage of this special offer!

Gift Certificates are great for the Broadway fan in your life that you aren't sure what show they would enjoy the most. Just call our Box Office at 214-691-7200 or visit them at 5959 Royal Lane Suite 542 in Dallas. Click here for directions and operating hours.
Not sure who to give Broadway to this season?
For the Holiday Family Outing – Elf The Musical
For the Broadway Music Lover – The Bridges of Madison County
For the Disney Princess or Prince – The Little Mermaid
For the Oz Fan – Wicked
For the History Buff – Ragtime The Musical
For the Woody Allen Movie Fanatic – Bullets Over Broadway
For the Showbiz Lover – 42nd Street

8 Reasons Tickets Make A Great Gift
You're giving an EXPERIENCE.
Do you really remember every gift you received last year? 5 years ago? Give your loved ones something they'll remember for years to come.
You won't be wasting your hard earned cash – unlike a sweater, tie or pink bunny footie pajamas… tickets won't get pushed to the back of a closet.
Instead of playing the gift guessing game with a toy that gets tossed to the side, introduce the kids to the magic of theatre.
Date night. Need we say more?
We all know that in-laws are difficult to buy for. Make it a 4-pack and they'll be pleased with your willingness to share date night with them.
Ladies: choose to give tickets over gift cards this year, and change up your Girl's Night Out routine!
Check the entire family off of your gift-giving list and make it a family affair! It only takes 10 people to qualify for our Group Discount!
From all of us here at DSM, we hope you and your family have a wonderful and safe Holiday Season!
-DSM Amanda
---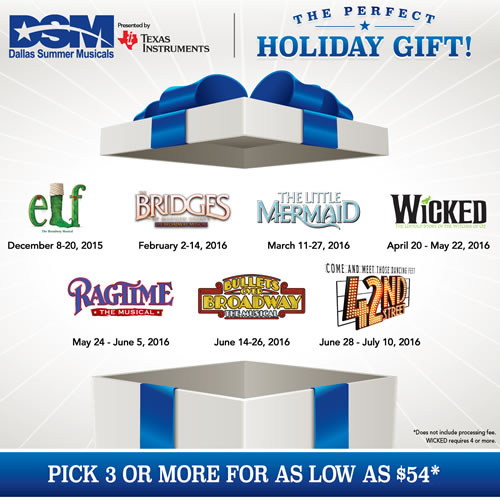 *Does not include processing fee. WICKED requires 4 or more.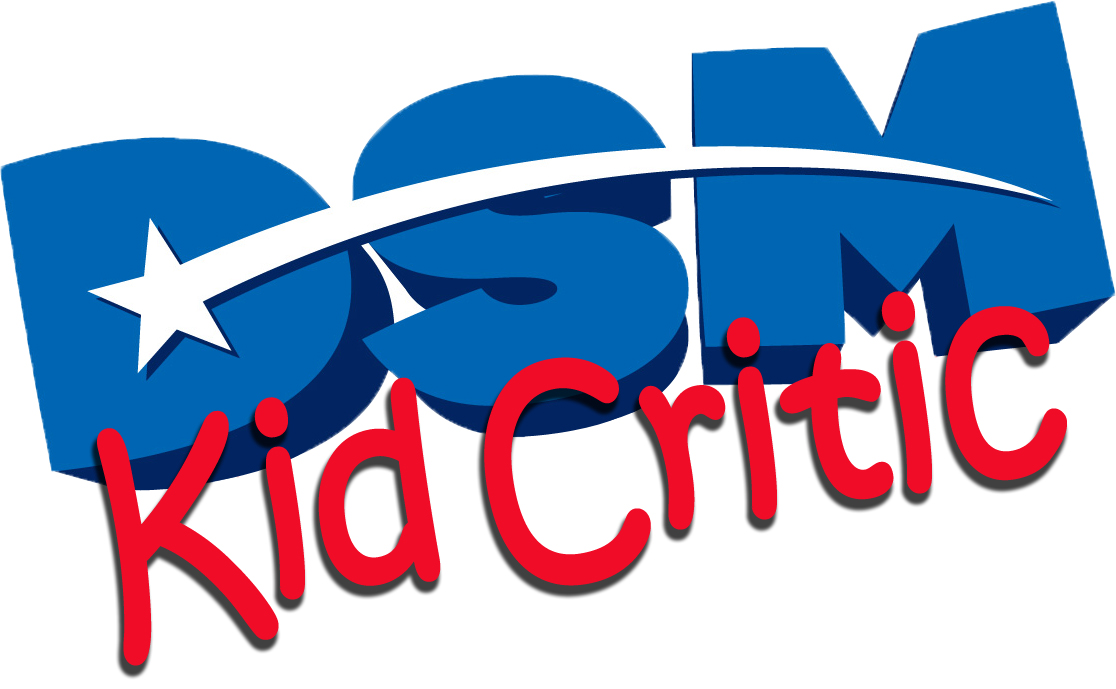 DSM is looking for our first official Kid Critic!
Kids have an extra special way of being brutally honest, which is why they make great critics!
We're looking for DFW's most promising, Broadway-loving junior journalist to become the first official DSM Kid Critic for our 2016 Season. If your child is passionate about Broadway musicals, we want to hear what they think!
Please review the requirements and submit an application below!
Application deadline: Sunday, September 27th at 11:59pm.
Requirements:
Child must be between the ages of 8-12 years old.
Child (+ one parent/guardian) must attend opening night performances of each show. These will be school nights! DSM will provide 2 complimentary tickets per opening night.
Parent/guardian must record and submit a 1-3 minute video of your child reviewing each show.
All video reviews must be submitted to DSM by 11:59pm the following day.
Parent/guardian must consent to the use of Kid Critic video reviews on DSM social media platforms and other DSM marketing outlets.
Some of the shows in our season have age recommendations that exceed the Kid Critic age requirements listed above. If you are not comfortable with your child seeing any of the shows in our 2016 season, we need to know in advance. Please indicate which shows you would prefer to skip in the parental consent section of your application
Age Recommendations for our 2016 Season:
THE SOUND OF MUSIC (All ages)
ELF (8+)
BRIDGES OF MADISON COUNTY (13+)
THE LITTLE MERMAID (All ages)
WICKED (8+)
RAGTIME (10+)
BULLETS OVER BROADWAY (13+)
42ND STREET (All ages)
For show descriptions, please visit www.dallassummermusicals.org.
Become the first official DSM Kid Critic! CLICK HERE TO APPLY.

It's official! We have announced our 2015/2016 DSM Season!
Here are the shows coming to DSM next season:
Rodgers and Hammerstein's THE SOUND OF MUSIC
November 3-22, 2015
#SoundOfMusicDSM
The classic Rodgers and Hammerstein musical returns to Dallas! For more details, click here.
ELF THE MUSICAL
December 8-20, 2015
#ElfDSM
ELF is the hilarious tale of Buddy, who embarks on a journey to NYC to find his birth father and discover his true identity. For more details, click here.
THE BRIDGES OF MADISON COUNTY
February 2-14, 2016
#BridgesDSM
THE BRIDGES OF MADISON COUNTY, one of the most romantic stories ever written, is now an irresistible, two-time Tony Award®-winning Broadway musical. For more details, click here.
Disney's THE LITTLE MERMAID
March 11-27, 2016
#LittleMermaidDSM
THE LITTLE MERMAID returns to Dallas with the story about a mermaid who dreams of the world above the sea and gives up her voice to find love. For more details, click here.
WICKED
April 20 – May 22, 2016
#WickedDSM
Back by "popular" demand, long before that girl from Kansas, two girls meet in the land of Oz! For more details, click here.
RAGTIME THE MUSICAL
May 24 – June 4, 2016
#RagtimeDSM
The lives of a family of upper-class WASPs, an African-American couple and some Eastern-European Jewish immigrants intersect as they try to make a success in America. For more details, click here.
BULLETS OVER BROADWAY
June 14-26, 2016
#BulletsDSM
Based on the Woody Allen and Douglas McGrath film, this musical comedy is loaded with big laughs, colorful characters, and the songs that made the 20s roar! For more details, click here.
42nd STREET
June 28 – July 10, 2016
#42StreetDSM
Facing adversity from all directions, the young but talented Peggy Sawyer learns about show business and discovers which relationships are most important in life. For more details, click here.
All performances are at the Music Hall at Fair Park.
For photos from some of the shows, check out our slideshow at the bottom of this post! We hope you will join us next season!
Check out this quick video for a sneak peek at each show:
[youtube https://www.youtube.com/watch?v=Uk5VMBZPlvo]
Also, in case you hadn't heard, we're partnering up with Performing Arts Fort Worth for 3 of our shows: THE SOUND OF MUSIC, THE LITTLE MERMAID, and 42nd STREET! These shows will play 2 weeks here at DSM in Dallas, then travel to the Bass Performance Hall for a one-week engagement. We are very excited to be working closer with PAFW and hope that this will help bring more people to see live theatre!
Season tickets are now on sale online at www.dallassummermusicals.org, and at The Box Office, 5959 Royal Lane, Suite 542 in Dallas. Subscribers may order by mail or in person at The Box Office, by phoning 214-346-3300 or by faxing 214-691-7386. For groups of 10 or more, please call 214-426-GROUP.
Season subscribers enjoy such benefits as first opportunity to get the best seats available for the season, plus huge savings over single ticket prices and easy payment plans, lost ticket replacement, ticket exchange privileges and a 20% discount on all DSM logo merchandise. Plus, season subscribers have first option on their seats for the following season, and can save up to $101 over the cost of single tickets.
We're so excited about our upcoming season, and we hope you are too! For more information about each show, season tickets, etc., please visit our website at www.dallassummermusicals.org.
We'll see you at the Music Hall soon!
-DSM Amanda