Your 2015 DSM Holiday Gift Guide is Here!
Posted on November 25th, 2015
It's that time of year again – gift buying season is here! Sometimes the task can be a bit daunting, but we've got your current (and soon-to-be) Broadway fans covered! Check out Dallas Summer Musicals' Holiday Gift Guide for some ideas and inspiration!

Choose Your Own Packages are perfect if you want to see multiple shows this season! Choose 3 or more shows starting at $54!* Click here for more info!

ELF THE MUSICAL – Single tickets are on sale now! The show is in Dallas for 2 weeks only, December 8-20. Click here to find your tickets! (Best availability during the weeknight performances.)

THE BRIDGES OF MADISON COUNTY – Presale Tickets are exclusively available to DSM Fans beginning Thursday, November 26th at 10am! Click here to get the best seats before the general public. (If prompted, please use the code FIRST (all caps).) Be sure to reserve your seats before December 4th!

WICKED – Exclusively to DSM Fans, for 48 hours ONLY, we will be offering presale tickets for all performances in all price levels! Be sure to subscribe to our eNotes and follow us on Facebook to gain access to this exclusive offer! Presale tickets will be available on December 3rd at 12:01am until December 4th at 11:59pm.

THE LITTLE MERMAID – Save the date! Exclusive presale for single tickets begins Monday, December 7th at 10am. Be sure to subscribe to our eNotes and follow us on Facebook to gain access to this exclusive offer! Single tickets will go on sale to the general public on Friday, December 18th, so be sure to take advantage of this special offer!

Gift Certificates are great for the Broadway fan in your life that you aren't sure what show they would enjoy the most. Just call our Box Office at 214-691-7200 or visit them at 5959 Royal Lane Suite 542 in Dallas. Click here for directions and operating hours.
Not sure who to give Broadway to this season?
For the Holiday Family Outing – Elf The Musical
For the Broadway Music Lover – The Bridges of Madison County
For the Disney Princess or Prince – The Little Mermaid
For the Oz Fan – Wicked
For the History Buff – Ragtime The Musical
For the Woody Allen Movie Fanatic – Bullets Over Broadway
For the Showbiz Lover – 42nd Street

8 Reasons Tickets Make A Great Gift
You're giving an EXPERIENCE.
Do you really remember every gift you received last year? 5 years ago? Give your loved ones something they'll remember for years to come.
You won't be wasting your hard earned cash – unlike a sweater, tie or pink bunny footie pajamas… tickets won't get pushed to the back of a closet.
Instead of playing the gift guessing game with a toy that gets tossed to the side, introduce the kids to the magic of theatre.
Date night. Need we say more?
We all know that in-laws are difficult to buy for. Make it a 4-pack and they'll be pleased with your willingness to share date night with them.
Ladies: choose to give tickets over gift cards this year, and change up your Girl's Night Out routine!
Check the entire family off of your gift-giving list and make it a family affair! It only takes 10 people to qualify for our Group Discount!
From all of us here at DSM, we hope you and your family have a wonderful and safe Holiday Season!
-DSM Amanda
---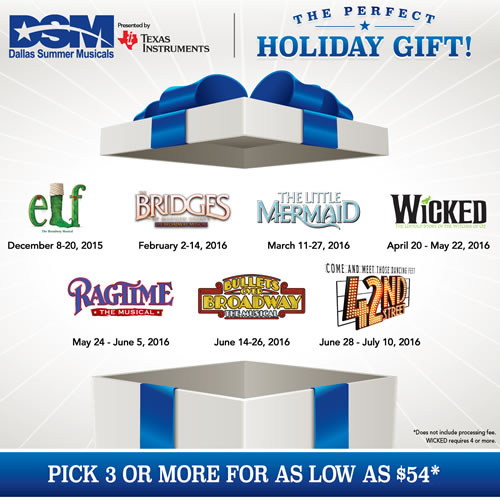 *Does not include processing fee. WICKED requires 4 or more.
---