Regardless of your stage of life — whether you're starting your career, welcoming your first child or grandchild into the family, or planning for or already enjoying retirement — it's never too early or too late to create an estate plan to care for those you love and to remember the organizations that mean so much to you.
WHAT ROLE HAS BROADWAY DALLAS AND THE MUSIC HALL AT FAIR PARK PLAYED IN YOUR LIFE?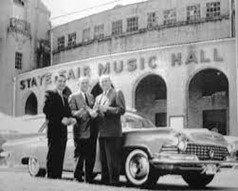 Beloved by generations of families, Broadway Dallas has shared extraordinary musical theater with North Texas and the world for more than 80 years. From the magical beginnings of Opera under the Stars to the canon of groundbreaking Broadway shows cherished through the decades, Broadway Dallas' artistic legacy is only possible thanks to the generosity of patrons like you. As a not-for-profit organization, year after year, Broadway Dallas has built a cultural home for live performance and educational programs that transform the lives of children and families in our region.
LEAVING A LEGACY
You can help ensure our legacy continues for generations of theatergoers to come. To recognize your future gift to us, Broadway Dallas has established the Encore Society for friends who would like to support the theater through bequests, trusts, charitable gift annuities, and other planned giving options as part of your estate plan. We realize this act places us within a special circle of your family, friends and loved ones and we are honored.
POPULAR WAYS TO MAKE A PLANNED GIFT
Bequests – designate a gift to Broadway Dallas in your will
Outright gifts of appreciated property (securities or real estate)
Charitable Remainder Trusts
Charitable Lead Trusts
Life Insurance Policies
JOINING THE ENCORE SOCIETY
Please inform Broadway Dallas of your decision to establish a planned gift by filling out this form and sending it to us via mail or email. We look forward to welcoming you whole-heartedly into the Broadway Dallas Encore Society as a member and to providing you with the following benefits as a thank you.
Encore Society recognition in the Playbill throughout the 23/24 season and beyond
Encore Society recognition on the Planned Giving section of the Broadway Dallas website
Annual Encore Society members only event
Special invitations to select artistic and education events throughout the season
STARTING THE CONVERSATION
We invite you to contact us to explore how your planned gift can have an impact on Broadway Dallas and the cultural life of our community, as well as supporting your personal goals such as tax benefits and estate planning. Please contact Caroline McNeel, Major Gift Officer for Individual Giving, at 214-413-3908 or cmcneel@broadwaydallas.org for more information. All requests and discussions are confidential and without obligation.
AS YOU PLAN
If you are visiting your financial planning professionals and would like to include Broadway Dallas in your documents, please note the following:
Legal Name: Broadway Dallas
Federal Tax ID: 75-1104793
Address: 909 1st Avenue, Dallas, TX 75210