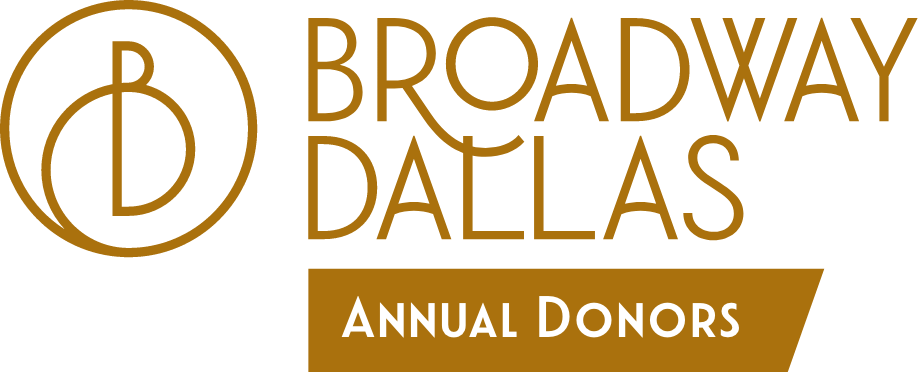 This is how the love of theater shines year after year
Donor Spotlight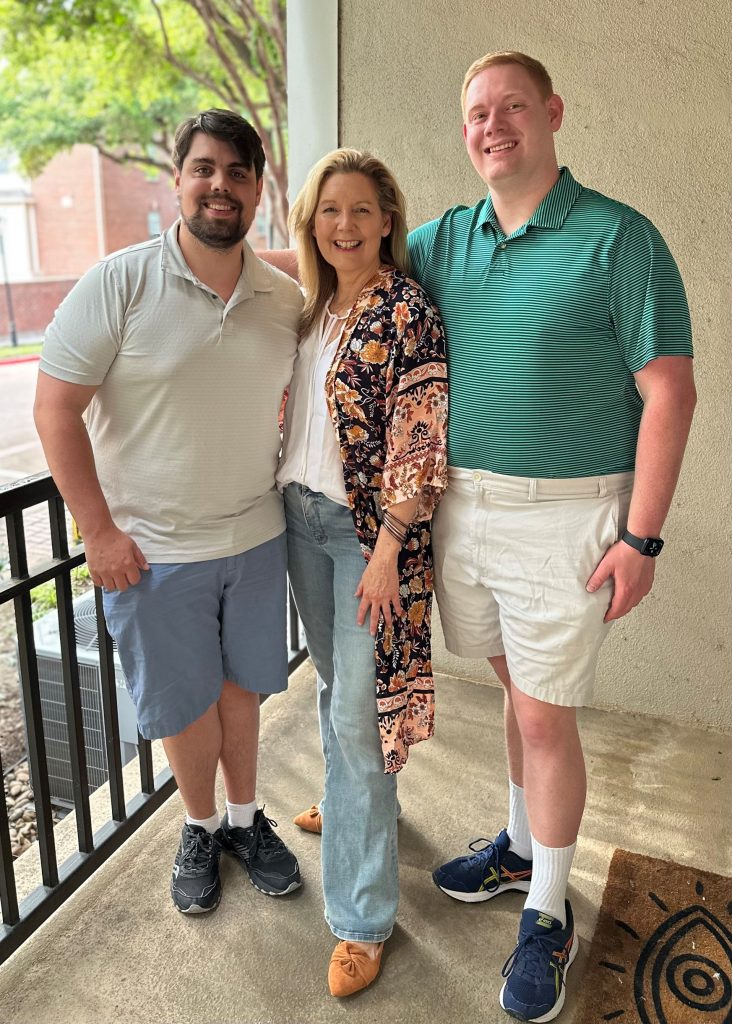 Our spotlight this month is on The Rosewood Corporation, a longtime supporter of Broadway Dallas' education programming in the community.
Director of Corporate Giving for Rosewood, Lynn Fisher, has a very unique perspective when considering funding opportunities for Broadway Dallas. That perspective is one from being the Mom of two participants in the Broadway Dallas High School Musical Theatre Awards program, HSMTA. In 2013, Patrick Mahurin earned a nomination for Best Actor for his role as Emile De Becque in Lake Highlands high school's production of South Pacific. In 2016, Bobby Mahurin earned a Featured Performer nomination for his roles in Kiss Me Kate, followed by earning a scholarship in 2017.
Fisher attributes her sons' participation in the HSMTA program as a leading contributor to their individual success in careers outside of musical theater. "I've always said, if a student can prepare and participate in a performing arts program, then they can give a presentation in the boardroom. The rigor required to be successful on stage, in the orchestra pit or behind the sound board transfers over to all aspects of careers beyond high school."
From the funder perspective, exposing students to performing arts early is just good for our community. Engagement in arts education can improve school climate, empower students with a sense of purpose and ownership, and enhance mutual respect for their teachers and peers. Dallas has a rich and thriving arts community, but it is only as strong as the handoff to the next generation. I'm certain by supporting education programming such as the HSMTA or Give A Kid A Seat program, we will be planting a seed that will grow into a connection for that student to performing arts that may not have happened otherwise. We will be growing future ticket holders, season subscription members, volunteers to support our Broadway Dallas for years to come.
Broadway Dallas gratefully acknowledges the following corporations, families, foundations, and individuals for their generous gifts and donations this past year that directly support our non-profit organization's mission and operations.
thank you to our annual donors
diamond STARS – $50,000 +
Anonymous *+
Chris & Michelle Mazzini *^+
John Quattrocchi & Joseph DeMartino *+
Phil & Toni Sanders *^+
Tom & Leigh Anne Watson *^+
Sapphire STARS – $35,000 +
Anonymous ^+
Mark & Elizabeth Cannon *^+~
Paddy & Barry Epstein *^+
Mary Anne & Paul Fego *^+
Bobbie Quick & Paul Gorman *^+
Sheri & Andrew Rosen *^+
Natalie & Micah Smith *+
Randy & Laura Wright *^+
PLATINUM STARS – $25,000 +
Lance & Eszter Bozman *^
Janice Z. & Richard Davis *^+
Cathy Kirkpatrick *+
Ben Leal *^+
David & Larraine Lewis *^+
Roberto Quiroz Mata ^+
Shawn & Latricia Smith *^+
GOLD STARS – $15,000 +
Vince & Calvert Bratton *^+
Gina & Pepe Hermosillo *+
Randy & Leila Humphreys *+
The Massiatte Family *+
Dr. John & Mrs. Cecilia Morgan, Katie Morgan, & Aaron Michelsohn *+^
Bill & Lisa O'Dwyer *+
Jim Pitts *+
Gail Plummer *^+
Wally & Paula Rhines *
Mr. & Mrs. Chick Schoen *^+
Diane & John Scovell *^
Jon & Kathleen Summers *^+
Matthew & Melinda Taylor *^+
Lynne & Bob Thompson *^+
Sandy & Steve Watson *+~
SILVER STARS – $10,000
Anonymous *
Pam & Carroll Altizer *^+~
Jim & Chris Baker *
Janice & Craig R. Barron *^
Carolyn Alexis Beebe *+~
Bob & Della Best *
Keith & Leigh Birdsong *
Vicki Blanton *^+
Diane & Hal Brierley *
Mr. Cal & Dr. Clare Buie Chaney *+
Scott & Cindy Collier *^+
Evan & Rachel Fetter *
Stan & Sara Lee Gardner *+
Daena & R. Thomas Groves, Jr. *
Jeff & Carrie Hatfield *
Torsten & Kelly Holmes *^+
Jolie & Bart Humphrey *+
Vincent & Stephanie Kleszcz *^
Steve & Mari Love *
Florence N. Lowe *+
Sarah Martin *
McRorie Family *^+
Jhubin Moghaddamfar *^
Gay & Ted Munselle *^+
Nancy Nasher & David Haemisegger *
Ken & Kouy Novice +
Brad Ramsey *
Mark & Dell Rieth *
Dr. Chris Salerno & Dr. John Dixon *
The Singleton Family
Nancy & Kit Williams *
Debbie & Robert Witte *+
Ryan A. Wood *^
Roxanne & Dennis Wright *^
RADIANT STARS – $5,000 +
Anonymous *
Anonymous *^
Anonymous *^
C. Hilton Alexander *+
Stacey Angel ^+
Cullen Archer *
The Assar Family *^
Caroline & Drew Bagot *
Jean & David Bairrington *
Jennifer and Carlos Balido *
Pamela & Richard Barrett *^
Steve & Kathleen Beach *^
Robert & Medora Beecherl *
Rainy Berry *
Scott & Cyndie Bertrand *
Lucy Billingsley +
Aaron & Angela Borden *
James Brashear +
Lisa Browning *
Bill & Lori Bush +
Ted Casey & Angela Wommack *
Christopher & Laura Cervantes *+
Angela & Brad Cheves *
Jon & Pat Christiansen *
Tammy & David Christopherson *+
Heather, Ashlyn, & Annabelle Cole *^
Cheryl & Barrett Coleman *^+
Debbie & David Confer *
Dr. & Mrs. Kenneth H. Cooper *+
Margaret R. & Michael Coughlin *^+
Joshua & Audra Curlett *+
Mark & Karie Edson *
Kathy & Shawn Elder *
Angela Farley *
Bryan & Megan Fears *
Kristin & Justin Ferrell *
Susan & Bob Fleck *
Paul & Donna Garcia de Quevedo *
Madison Gardner +
Susan & Mark Geyer *+
Frances Goethals +
Frank & Sharon Graham *
Amber & John Grand *^
Sheila D. & James R. Griffin *^+
Ms. Bonnie Grisz *
Dawn & Toby Grove *
Cindy & Chuck Gummer *
Ambassador Kathryn Walt Hall & Craig Hall +
Gina Hancock & Thomas Ingram *+





Trey & Kate Henderson *
Martha Hinojosa-Nadler *
Rhonda Woody Holloway *+
Catherine & David Humphrey *
Hunter & Stephanie Hunt *
Joe Jansen *
Jason & Laura January *^
Harriet Hines Jeffers *^+
Jenny Jeter *
Hon. Kimberly Priest-Johnson & Brett Johnson *
Lance & Carrie Johnson *
The Knickel Family *^
Mr. & Mrs. James Koch *
Marvin Lane *
Kathleen Farley Leach *
Brad & Lori Lee *
Staci & Jeff Mankoff *~
Sara & David Martineau *
Jeff & D'Ann Mateer *
Don & Carolyn Maulsby *
Allison & Keith Mayberry *+
David & Cristy McAtee *
Britt McGannon +
Helen & Brendan McGuire *^+
James Mendel *
Stephen Montefusco *+
Joseph Motes *
Robert Nelson & Vu Nguyen *
Glenn & Carol Nevill *+
Kate & Keith Newman *
Matthew & Kim Nielsen *+
Catherine & Scott Night *
Kevin & Kim Norris *
Eldon & Linda C. Palmer *
Sheryl & John Paul *
Carlos & Holly Peña *+
Dr. Dominic Pollone *
Drs. Anu Ravipati & Devesh Ramnath *
Gina & Doug Rees *+
Holly & Brad Reeves *+
Elizabeth & Santiago Reich *^+
Stephen & Kathryn Reid **
Eric Rhine *+
Ryan Riggs *+
Art Roberts & Tim & Karen Schuh *
Danny & Ana Rodriguez *
Richard & Susan Rogers *+
David & Louise Rosenfield *~
Suzanna & Jay Rubottom *
Dr. Eduardo Sanchez *^
Victoria Seitz *
Brad & Jamie Sewell *
Adam Shulman *+
Laura Siino *
The Trocchio Advantage *
Amy Solis & Kathy Sharp *+
Dan & Julie Sorey *
Cindy & Stuart Spechler *
Marianne & Roger Staubach *+
Paul & Christi Stinchcomb *
Dr. & Mrs. Jeremy Stone *-
Venise & Larry Stuart +
John Thinnes & Diane Gomez-Thinnes *
Gary & Laurie Tipton, Inwood National Bank *
Cynthia Hoff Trochu *+
Robb & Lori Voyles *
Jim & Kay Wade *
David C. & Susan M. Ward *
David & Patty Watts *
Lydia & Brandon Webb *^
Herb & Donna Weitzman *+
Tim & Lita Welch *
Mike & Debbie Wells *
Mr. & Mrs. Tony Weynand *
Laurie-Leigh White & Mackenzie Nix *
Dr. Jeffrey & Bonnie Whitman *
Robin & Art Whitmeyer *^+
Linda Wiley *
Michelle & Wade Wilson *
Gary & Sheryl Wood +
Charlie Wright & Carrie Morris *
Drs. Kimberly J. Yamanouchi & James R. Sackett *
Mr. & Mrs. Zoltan Zsohar *
SUPER STARS – $2,500
Anonymous *
Anonymous *
Anonymous *^
Kit & Frank Addleman *
Javier Aleman ^+
Robert & Sara Allen *^
Sten-Erik & Lisa Armitage *
Becky Armstrong *
Bob & Lisa Armstrong +
Dr. & Mrs. James M. Atkins *
Joy & Jarod Baccus *^
Joan Ballard *
Charlie & Lisa Barker *+
Dorsey & Cynthia Baskin *
Claudia & Richard Beeny *
Elaine & Dane Benningfield *
Arlene & Barry Berlin *
Dee & John Bert *
Lindsay & George Billingsley *
John & Dessa Black *^
Kevin Boardman *
The Bock Family *
Cara Bond
Dr. Jessamy & Bill Boyd *
Tricia Michaelson *
Kelleigh & Skyler Brill-Sedat *
Maureen Brodnax *
Kirstin & Kyle Brookshire *+
Keelie Bruce *
Kim & Diane Buford Fund of Communities Foundation of Texas *
Doti Butler *+
Jeff Cameron +
Adam Carter ^+
Allene Cashmore *
Arnie & Rosie Cavazos *
Phillip & Lindsay Chandler *
Lisa Chung *
John R. Conte & Lucas Belinkie *
Ron & Kathleen Cooper *
Jennifer Curtis *
Trey & Amy Darby *^
Dr. & Mrs. Scott Davidson *
David & Jean Dean *
Mike & Tammy Dickstein *
John & Betty Dodd *+
Kelly & Scott Drablos *
Jennica Drewe *
Laura Eddy *
Laura V. Estrada *
Dr. Kelli Ettelbrick *
Michael & Jill Fallon *
Jessica & Bryan Farrington *
Pat Fenton *
Dave & Sylvia Fields *
Becky & Mark Foster *
Beth & Cliff Fullerton +
Marshall & Michelle Funk Family Philanthropic Fund of the Dallas Jewish Community Foundation *
Paul Gage *
Dr. Lillian Garcia & Brian Zucker *
Peggy Garmon *
Daniel George *
Kelly & Bill Gillette *
Dr. Elliot Ginchansky *^
Kim Githler +


Stephen & Debra Gorman *
Eddie Griffin *
Dan & Lesia Gutierrez *
Susan & Rutledge Haggard *
Herbert Hahn +
Randy Hansen *
Jan & Bruce Harbour *
Laurie Hasty *
Angia Heier *
Claire & David Henry *
Martha & Kent Hofmeister *
Sally & Forrest Hoglund *^+
Denny & Pat Holland *
Nicole Hooper *^
Rick & Laura Jaynes *
Cele Johnsen *
Melinda & Jim Johnson *^
Glynn & Elizabeth Jones *
Charles & Jennie Jones +
Gene & Jerry Jones +
Vernon L. Jones *
Skip & Diane Jordan *
Drs. Joe & Joan Kay *
Tony Keesee *
Glenda Kemple & Michael Whidden *
Kyle Kerr *
Sheilon King & Friends *
Pamela E. Kirkley * +
Joy & Stephen Konstans *
Steve Kovac *
Mark & Carol Kreditor *
Amy & Jason Kulas *
Jeania & Larrie Lambeth *
Christine & Louis LaRocco *
John & Lacy Lawrence *
Doug & Brandi Lins *
Rob Lodes *
George W. Lollis *
Jason D. Longenecker *
Cindy & Dwayne Lusk, in Memory of Maybell Naomi Thomas *
Patti MacDonald *+
Nancy Marston *
Maria Martineau *
Dr. Gary Mashigian & Dr. Sandra Gold-Mashigian *
Mr. & Mrs. Michael Mathis *
Mr. & Mrs. Ira Matsil *
Greg & Olivia Mayberry *
Amos & Michelle Mazzant *
Eileen & Donald McAleenan ^+
McCaddon Family *
Ms. Jenny McCall *
Meredy McClure *+
Dr. Chad & Loan McDuffie *
Dennis & Carole McHale *
Scott & Crystal McKelvey *
Lawrence & Joselyn Meddaugh *
Jim & Louisa Meyer *
Susan & Monty Moncibais *^
Chris Mosely +
Sally Muhl *
Mr. Joe Murray *
Pamela & Len Musgrove *+
Jon & Emily Nance ^+
The Honorable Ron & Nancy Natinsky *^~
Nam & Lori Nguyen *
Ann & Michael Ochstein *
Michelle & Paul Osborne *
Mr. & Mrs. Kirk E. Osgood *^+
Valerie Hale Palmer, Real Estate Agent *
Dan E. Patterson *
Rick Aishman & Tom Phipps *
Patsy & Bud Porter *
Preissler Family *
Mr. & Mrs. Blake M. Purnell *+
Reed Randel *
Andrea Redmon *
Patricia M. Reed *
Robert Rhoads *
Diana Robinson *
Amichai Ron ^+
Marilyn Rutner *
Tim & Rachel Sam *^
Dr. & Mrs. Henry Sanchez-Leal *
Mr. Terry L. & Mrs. Melissa Sandlin *
Marilyn & Ken Sandstad *
Eric & Brandy Schneider *
Alex & Tara Schwartzman *
John L. Shaw *
Bart & Elizabeth Showalter *
Katie & Peter Singer *
B. K. & Mark Sloan *
Renee Sloan *
Vernon & Elaine Smith *
Rick & Shelley Snyder *
Charles Stanley *
Darren Stanley *
Dr. Jesse Stewart & Mr. Kyle Harger *
Dr. & Mrs. Robert Stewart *
Lloyd & Amanda Stone *
Edward & Dolores Swalm *^
Tonya Tarpeh *
Justin L. & Kristi Teeter *
Eric Thomas *
Philip Thomas & daughter Allison *
Bunny & Mike Tibbals ^+
Stacy Tolbert *
Briana & Joshua Guinn *
Kris & Russell Torres *
Jack Trochu ^+
Cindy & L. C. Tubb *
Carey Turner, in memory of Michelle Turner *
Deborah & James Turner *
Tom & Suzanne Walker *
Vicki Wallace *
Patricia Watson *
Scott & Anne Watters ^+
Debora Webb *
Mr. & Mrs. Kirby Webb *
Jolene & Harv Weisblat Philanthropic Fund of the Dallas Jewish Community Foundation *
Diane & George Wendel *
Philip & Melissa Wiegand *
Robert S. Williams *
Dr. Ellen Wilson & Andy Hewes *
Russell & Alice Witt *
Frank & Kim Woosley *
Dena F. Wright *
Matthew & Patricia Wyman *
John & Misty Young *
Patricia Zipper *
---
DONATION KEY

CenterStage Donor *
Education and Community Partnerships Donor ^
Gala/Spotlight Dinner Donor +
Broadway Dallas Performs Donor ~
In-Kind Donor –
Contributions Listings as of 10/31/2023 
---
Every effort is made to ensure the accuracy of this list of contributors. If an error has been made, please notify the Development Department at 214.426.6333 or CenterStage@BroadwayDallas.org
---