< ?php esc_html_e( 'Skip to content', 'broadway-dallas' ); ?>
ELF The Broadway Musical brings its sparklejollytwinklejingley cheer to Dallas!
Dallas Summer Musicals fills the Musical Hall with a warm festive glow as it kicks off the holiday season with the splashy, peppy, sugar-sprinkled holiday entertainment production of ELF The Musical at the Music Hall at Fair Park December 8-20, 2015. Based on the beloved 2003 New Line Cinema hit, ELF is the hilarious tale of Buddy a young orphan who is raised by elves unaware that he is actually a human, until his enormous size and poor toy making abilities cause him to face the truth. Through a journey to New York City to find his father and true identity, Buddy is determined to win over his family and help the Big Apple remember the true meaning of Christmas. This modern day Christmas classic is sure to make even the biggest Cotton-Headed-Ninny-Muggin embrace their inner ELF. Check out what the DFW Metroplex is saying about this holiday favorite. – DSM Cisco
[youtube https://www.youtube.com/watch?v=JhN5XZXplZY]
TV Interviews & Performances
ABC Good Morning Texas – Daniel Patrick Smith (Buddy the Elf) & Maggie Anderson (Jovie) perform "A Christmas Song"
ABC Midday News – Interview with Daniel Patrick Smith (Buddy the Elf)
Bleeckie The Puppet – Interview with Ken Clement (Santa)
Reviews
"'Elf the Musical' makes happy transition from screen to stage" – The Dallas Morning News
"Elf the Msuical…what you need to keep the holiday blues away" – Theater Jones
"Elf the Musical pours on the sugar as a treat for the masses" – CultureMap
"From the moment the overture begins, and the stage is transformed with all things Christmas, you will be marveled, and pulled into the spirit of the season" – The column by John Garcia
"The vibrant colors, stage props, upbeat music, and jolly 'ole characters will for surely result in an unforgettable good time for families" – Red Carpet Crash
"This well-written, well-performed show is rife with one-liners, slapstick comedy, and jazzy choreography that makes for pure 'elfin magic'" – The Flash List
"Oversized Elf brings season's joy to the Music Hall at Fair Park" – Focus Daily News
"After watching the premier of Elf the Musical last night, we feel like we are right there with Buddy the Elf when he screams, 'Santa! We know him!'" – Clink!
"Buddy Takes Over Dallas In 'Elf The Musical'!" – Vanna Collins
Special Podcast Edition Review – The Clubhouse Podcast
"This is a great family production that everyone will get something out of" – Rob/The Clubhouse Podcast
"Delightfully surprised with this production would be understating things quite a bit" – Chad/The Clubhouse Podcast
"Recommend this performance and is good for the entire family" – Don/TheClubhouse Podcast
"ELF is fun Holiday entertainment! Take the whole family – it's time you find your "Inner Elf"!!" – Real Posh Mom
"'Elf The Musical' Is A Knee-Stomping, Musical Adventure That Puts The Merry Back In Christmas" – Irish Film Critic
"Elf The Musical is a delight in every way" – Milk and Cuddles
"A very special Spirit of Christmas gift for you and your family" – Seniorific
DSM SHOWBIZ CREW
(Click each image for their reaction)
"This play will definitely get your whole family in the spirit of Christmas!" – Savannah Smiled
"Seasonally Appropriate" – Maya's Musical Theater Thoughts
Interview Q&A's, Previews & Featured Articles
Interview with Ken Clement (Santa) and Gabrielle Mirabella (Emily) – Selig Film News
The Dallas Morning News Top 5 Theater Picks
Top Theater Picks For the Holidays – The Dallas Morning News
The best Dallas events to spread holiday cheer – CultureMap
5 Family-Friendly Things To Do In Dallas This December – D Magazine
9 Christmas Plays and Holiday Productions to see in DFW – Where Magazine
'Elf' dances from screen to stage in time for holidays – Denton Record Chronicle
"Elf The Musical is as sweet as sugar plums and as peppy as a tree covered in sparkling lights" – Travel Lady
Holiday Fun Dallas Summer Musicals – GenPink
ELF The Musical is on stage NOW through Sunday, December 20th at the Music Hall at Fair Park. Click here for details and tickets.
Don't be a Cotton-Headed-Ninny-Muggin and join us to discover your inner ELF!
Your 2015 DSM Holiday Gift Guide is Here!
It's that time of year again – gift buying season is here! Sometimes the task can be a bit daunting, but we've got your current (and soon-to-be) Broadway fans covered! Check out Dallas Summer Musicals' Holiday Gift Guide for some ideas and inspiration!

Choose Your Own Packages are perfect if you want to see multiple shows this season! Choose 3 or more shows starting at $54!* Click here for more info!

ELF THE MUSICAL – Single tickets are on sale now! The show is in Dallas for 2 weeks only, December 8-20. Click here to find your tickets! (Best availability during the weeknight performances.)

THE BRIDGES OF MADISON COUNTY – Presale Tickets are exclusively available to DSM Fans beginning Thursday, November 26th at 10am! Click here to get the best seats before the general public. (If prompted, please use the code FIRST (all caps).) Be sure to reserve your seats before December 4th!

WICKED – Exclusively to DSM Fans, for 48 hours ONLY, we will be offering presale tickets for all performances in all price levels! Be sure to subscribe to our eNotes and follow us on Facebook to gain access to this exclusive offer! Presale tickets will be available on December 3rd at 12:01am until December 4th at 11:59pm.

THE LITTLE MERMAID – Save the date! Exclusive presale for single tickets begins Monday, December 7th at 10am. Be sure to subscribe to our eNotes and follow us on Facebook to gain access to this exclusive offer! Single tickets will go on sale to the general public on Friday, December 18th, so be sure to take advantage of this special offer!

Gift Certificates are great for the Broadway fan in your life that you aren't sure what show they would enjoy the most. Just call our Box Office at 214-691-7200 or visit them at 5959 Royal Lane Suite 542 in Dallas. Click here for directions and operating hours.
Not sure who to give Broadway to this season?
For the Holiday Family Outing – Elf The Musical
For the Broadway Music Lover – The Bridges of Madison County
For the Disney Princess or Prince – The Little Mermaid
For the Oz Fan – Wicked
For the History Buff – Ragtime The Musical
For the Woody Allen Movie Fanatic – Bullets Over Broadway
For the Showbiz Lover – 42nd Street

8 Reasons Tickets Make A Great Gift
You're giving an EXPERIENCE.
Do you really remember every gift you received last year? 5 years ago? Give your loved ones something they'll remember for years to come.
You won't be wasting your hard earned cash – unlike a sweater, tie or pink bunny footie pajamas… tickets won't get pushed to the back of a closet.
Instead of playing the gift guessing game with a toy that gets tossed to the side, introduce the kids to the magic of theatre.
Date night. Need we say more?
We all know that in-laws are difficult to buy for. Make it a 4-pack and they'll be pleased with your willingness to share date night with them.
Ladies: choose to give tickets over gift cards this year, and change up your Girl's Night Out routine!
Check the entire family off of your gift-giving list and make it a family affair! It only takes 10 people to qualify for our Group Discount!
From all of us here at DSM, we hope you and your family have a wonderful and safe Holiday Season!
-DSM Amanda
---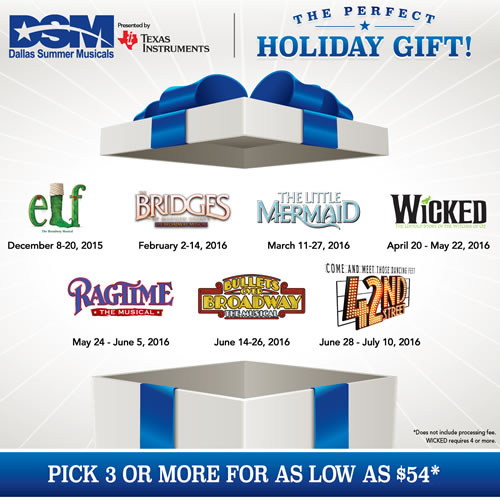 *Does not include processing fee. WICKED requires 4 or more.
Dallas Summer Musicals and Performing Arts Fort Worth Announce 15/16 Broadway Seasons!
DALLAS SUMMER MUSICALS AND PERFORMING ARTS FORT WORTH ANNOUNCE 2015-2016 BROADWAY SEASONS!
The two organizations will come together to co-present three shows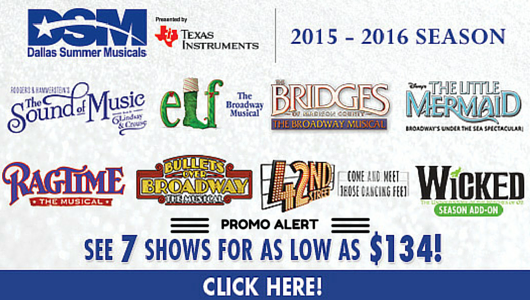 Season tickets for both seasons are on sale now!

Dallas Summer Musicals and Performing Arts Fort Worth proudly announce their 2015-2016 Broadway seasons! Once again, the two performing arts groups, in a groundbreaking move spearheaded last season, will come together to co-present many of these titles, allowing patrons across North Texas ample opportunities to experience the Best of Broadway.
Dallas Summer Musicals will kick off its highly anticipated 2015-2016 season with the North Texas debut of a brand-new stage adaptation of THE SOUND OF MUSIC. The season will continue with the hilarious tale of a modern day Christmas, ELF The Musical; followed by the musical romance, THE BRIDGES OF MADISON COUNTY; DSM's production of Disney's THE LITTLE MERMAID; Broadway's biggest blockbuster, WICKED, as a season add-on; a turn-of-the-century celebration, RAGTIME; the classic comedy musical BULLETS OVER BROADWAY; and, closing the season, the caper revival, 42ND STREET.
"Building from the momentum of our 75th Anniversary Season, we are thrilled to continue to present the Best of Broadway in North Texas," said Michael A. Jenkins, President and Managing Director of Dallas Summer Musicals. "This new season will bring something for everyone as we look forward to the next 75 years of creating memories, while continuing our legacy of presenting top quality family entertainment."
From the creators of "South Park" and winner of nine Tony Awards ®, THE BOOK OF MORMON will open the Broadway at the Bass season, held at Bass Performance Hall, and play a limited six-day engagement Dec. 1-6.  The New York Times calls it "the best musical of this century" and Entertainment Weekly says it's "the funniest musical of all time."
This season will close with Cameron Mackintosh's spectacular new production of Andrew Lloyd Webber's THE PHANTOM OF THE OPERA.
In between will be the direct-from-Broadway MOTOWN THE MUSICAL, the story of Berry Gordy's journey from featherweight boxer to heavyweight music mogul; DSM's production of Disney's THE LITTLE MERMAID; a revival of the classic backstage romp 42ND STREET; the timeless classic THE WIZARD OF OZ; and a brand-new production of THE SOUND OF MUSIC.
In addition, MAMMA MIA!, BLUE MAN GROUP and RUDOLPH THE RED-NOSED REINDEER THE MUSICAL will return as add-on specials, along with the previously announced JOSEPH AND THE AMAZING TECHNICOLOR DREAMCOAT. The series also includes two shows in the intimate McDavid Studio – the previously announced DIXIE'S NEVER WEAR A TUBETOP WHILE RIDING A MECHANICAL BULL (AND 16 OTHER THINGS I LEARNED WHILE I WAS DRINKING LAST THURSDAY) and an all-new show in the "Late Night Catechism" series, BACK TO SCHOOL CATECHISM: THE HOLY GHOST AND OTHER TERRIFYING TALES. Both shows can be added on to season packages.
Continuing a partnership that blossomed last season, Dallas Summer Musicals and Performing Arts Fort Worth will co-present three of these titles: Disney's THE LITTLE MERMAID, 42ND STREET and THE SOUND OF MUSIC.
"We at Dallas Summer Musicals are delighted to continue this great partnership with Performing Arts Fort Worth" said Jenkins. "This cooperation not only provides us with new opportunities for our organizations but it further enhances our commitment in developing collaborative efforts that benefit both our patrons and the Dallas-Fort Worth arts community."
Dione Kennedy, President and CEO of PAFW, said: "This is a relationship that has worked extremely well for both us and Dallas Summer Musicals, and we're thrilled to be able to continue this partnership with our new season."
Dallas Summer Musicals' seven-show season tickets, starting at $134, go on sale Sunday, June 7 at 10 a.m. online at DallasSummerMusicals.org and in person Monday, June 8 at The Box Office, 5959 Royal Lane, Suite 542 in Dallas or by phone at 214-346-3300. In addition, season ticket buyers have the option to add on WICKED to their season subscription for an 8-show package starting at $174.
For season tickets, groups of 10 or more receive a 15% discount. For WICKED, groups of 15 or more save on select performances. All groups receive priority seating and many more benefits. Please call 214-426-GROUP (4768) or email Groups@DallasSummerMusicals.org.
Broadway at the Bass season tickets go on sale online at www.basshall.com at 10 a.m. Sunday, June 7, and over the phone at 817-212-4280 and in person at the Bass Hall Box Office at 10 a.m.  Monday, June 8. Seven-show season ticket packages start at $275. For more information, call 817-212-4280 or visit www.basshall.com
About Dallas Summer Musicals:
Dallas Summer Musicals, Inc. (DSM) is the preeminent nonprofit presenter of Broadway theatre in North Texas. DSM produces, presents and promotes excellence in live musical theatre with year-round performances for diverse audiences of all ages, impacting the lives of children and families through community outreach and education, and enriching the cultural landscape of Dallas/Fort Worth, North Texas and the Southwest Region.
As a 501(c)(3) nonprofit organization, DSM relies on a variety of funding sources to bring the Best of Broadway to Dallas at affordable ticket prices, as well as to preserve the beautiful historic theatre, educate young audiences and create important community programs. DSM's Seats for Kids program provides a meaningful arts education experience to thousands of low income, at-risk and special needs children. DSM provides positive incentives for youth that are at risk for gang membership through the Stage Right program. In addition, The Dallas Summer Musicals Academy of Performing Arts offers professional theatre arts training and scholarships to talented students in need. DSM's High School Musical Theatre Awards are patterned after Broadway's Tony® Awards and celebrates the power of the arts to significantly improve all areas of education. Hear Us Now!™ is DSM's newest initiative. Since 2010 the experts at DSM have made significant changes and upgrades to its acoustical systems to improve the sound quality of the productions for all its patrons, including the hearing impaired. It is so unique that a trademark has been allowed by the United States Patent and Trademark Office. Ticket sales alone do not sustain these endeavors. Only support from committed businesses, foundations and individuals make these programs possible.
Dallas Summer Musicals is presented by Texas Instruments and gratefully acknowledges the support of our season sponsors and partners The Dallas Morning News, WFAA TV Channel 8, American Airlines, and The Original Cupcakery.
For more information about Dallas Summer Musicals, please call 214.421.5678 or visit our website at DallasSummerMusicals.org.
About Performing Arts Fort Worth:
Performing Arts Fort Worth, the nonprofit organization that oversees management of Bass Performance Hall, presents national Broadway touring product under the Broadway at the Bass banner. Bass Performance Hall is the crown jewel of a city which boasts the nation's third largest cultural district. It is also an important symbol of one of the most successful downtown revitalization efforts in the country.
The 2,056-seat multipurpose Hall is characteristic of the classic European opera house form. An 80-foot diameter Great Dome tops the Founders Concert Theater while two 48-foot tall angels grace the Grand Facade. Since the Hall opened in May 1998, the angels have become preeminent cultural icons of the Dallas-Fort Worth community. The Hall itself is renowned for its superb acoustics, exceptional sight lines and ambience on level with the great halls of the world.
Bass Performance Hall is located on a full city block encompassed by Commerce, Calhoun, 4th and 5th Streets in the historic Sundance Square district of downtown Fort Worth.
###
Just Announced – 2015/2016 DSM Season!

It's official! We have announced our 2015/2016 DSM Season!
Here are the shows coming to DSM next season:
Rodgers and Hammerstein's THE SOUND OF MUSIC
November 3-22, 2015
#SoundOfMusicDSM
The classic Rodgers and Hammerstein musical returns to Dallas! For more details, click here.
ELF THE MUSICAL
December 8-20, 2015
#ElfDSM
ELF is the hilarious tale of Buddy, who embarks on a journey to NYC to find his birth father and discover his true identity. For more details, click here.
THE BRIDGES OF MADISON COUNTY
February 2-14, 2016
#BridgesDSM
THE BRIDGES OF MADISON COUNTY, one of the most romantic stories ever written, is now an irresistible, two-time Tony Award®-winning Broadway musical. For more details, click here.
Disney's THE LITTLE MERMAID
March 11-27, 2016
#LittleMermaidDSM
THE LITTLE MERMAID returns to Dallas with the story about a mermaid who dreams of the world above the sea and gives up her voice to find love. For more details, click here.
WICKED
April 20 – May 22, 2016
#WickedDSM
Back by "popular" demand, long before that girl from Kansas, two girls meet in the land of Oz! For more details, click here.
RAGTIME THE MUSICAL
May 24 – June 4, 2016
#RagtimeDSM
The lives of a family of upper-class WASPs, an African-American couple and some Eastern-European Jewish immigrants intersect as they try to make a success in America. For more details, click here.
BULLETS OVER BROADWAY
June 14-26, 2016
#BulletsDSM
Based on the Woody Allen and Douglas McGrath film, this musical comedy is loaded with big laughs, colorful characters, and the songs that made the 20s roar! For more details, click here.
42nd STREET
June 28 – July 10, 2016
#42StreetDSM
Facing adversity from all directions, the young but talented Peggy Sawyer learns about show business and discovers which relationships are most important in life. For more details, click here.
All performances are at the Music Hall at Fair Park.
For photos from some of the shows, check out our slideshow at the bottom of this post! We hope you will join us next season!
Check out this quick video for a sneak peek at each show:
[youtube https://www.youtube.com/watch?v=Uk5VMBZPlvo]
Also, in case you hadn't heard, we're partnering up with Performing Arts Fort Worth for 3 of our shows: THE SOUND OF MUSIC, THE LITTLE MERMAID, and 42nd STREET! These shows will play 2 weeks here at DSM in Dallas, then travel to the Bass Performance Hall for a one-week engagement. We are very excited to be working closer with PAFW and hope that this will help bring more people to see live theatre!
Season tickets are now on sale online at www.dallassummermusicals.org, and at The Box Office, 5959 Royal Lane, Suite 542 in Dallas. Subscribers may order by mail or in person at The Box Office, by phoning 214-346-3300 or by faxing 214-691-7386. For groups of 10 or more, please call 214-426-GROUP.
Season subscribers enjoy such benefits as first opportunity to get the best seats available for the season, plus huge savings over single ticket prices and easy payment plans, lost ticket replacement, ticket exchange privileges and a 20% discount on all DSM logo merchandise. Plus, season subscribers have first option on their seats for the following season, and can save up to $101 over the cost of single tickets.
We're so excited about our upcoming season, and we hope you are too! For more information about each show, season tickets, etc., please visit our website at www.dallassummermusicals.org.
We'll see you at the Music Hall soon!
-DSM Amanda