Posted on July 29th, 2015
DALLAS SUMMER MUSICALS AND PERFORMING ARTS FORT WORTH ANNOUNCE 2015-2016 BROADWAY SEASONS!
The two organizations will come together to co-present three shows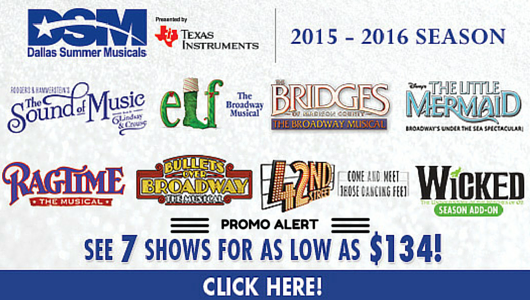 Season tickets for both seasons are on sale now!

Dallas Summer Musicals and Performing Arts Fort Worth proudly announce their 2015-2016 Broadway seasons! Once again, the two performing arts groups, in a groundbreaking move spearheaded last season, will come together to co-present many of these titles, allowing patrons across North Texas ample opportunities to experience the Best of Broadway.
Dallas Summer Musicals will kick off its highly anticipated 2015-2016 season with the North Texas debut of a brand-new stage adaptation of THE SOUND OF MUSIC. The season will continue with the hilarious tale of a modern day Christmas, ELF The Musical; followed by the musical romance, THE BRIDGES OF MADISON COUNTY; DSM's production of Disney's THE LITTLE MERMAID; Broadway's biggest blockbuster, WICKED, as a season add-on; a turn-of-the-century celebration, RAGTIME; the classic comedy musical BULLETS OVER BROADWAY; and, closing the season, the caper revival, 42ND STREET.
"Building from the momentum of our 75th Anniversary Season, we are thrilled to continue to present the Best of Broadway in North Texas," said Michael A. Jenkins, President and Managing Director of Dallas Summer Musicals. "This new season will bring something for everyone as we look forward to the next 75 years of creating memories, while continuing our legacy of presenting top quality family entertainment."
From the creators of "South Park" and winner of nine Tony Awards ®, THE BOOK OF MORMON will open the Broadway at the Bass season, held at Bass Performance Hall, and play a limited six-day engagement Dec. 1-6.  The New York Times calls it "the best musical of this century" and Entertainment Weekly says it's "the funniest musical of all time."
This season will close with Cameron Mackintosh's spectacular new production of Andrew Lloyd Webber's THE PHANTOM OF THE OPERA.
In between will be the direct-from-Broadway MOTOWN THE MUSICAL, the story of Berry Gordy's journey from featherweight boxer to heavyweight music mogul; DSM's production of Disney's THE LITTLE MERMAID; a revival of the classic backstage romp 42ND STREET; the timeless classic THE WIZARD OF OZ; and a brand-new production of THE SOUND OF MUSIC.
In addition, MAMMA MIA!, BLUE MAN GROUP and RUDOLPH THE RED-NOSED REINDEER THE MUSICAL will return as add-on specials, along with the previously announced JOSEPH AND THE AMAZING TECHNICOLOR DREAMCOAT. The series also includes two shows in the intimate McDavid Studio – the previously announced DIXIE'S NEVER WEAR A TUBETOP WHILE RIDING A MECHANICAL BULL (AND 16 OTHER THINGS I LEARNED WHILE I WAS DRINKING LAST THURSDAY) and an all-new show in the "Late Night Catechism" series, BACK TO SCHOOL CATECHISM: THE HOLY GHOST AND OTHER TERRIFYING TALES. Both shows can be added on to season packages.
Continuing a partnership that blossomed last season, Dallas Summer Musicals and Performing Arts Fort Worth will co-present three of these titles: Disney's THE LITTLE MERMAID, 42ND STREET and THE SOUND OF MUSIC.
"We at Dallas Summer Musicals are delighted to continue this great partnership with Performing Arts Fort Worth" said Jenkins. "This cooperation not only provides us with new opportunities for our organizations but it further enhances our commitment in developing collaborative efforts that benefit both our patrons and the Dallas-Fort Worth arts community."
Dione Kennedy, President and CEO of PAFW, said: "This is a relationship that has worked extremely well for both us and Dallas Summer Musicals, and we're thrilled to be able to continue this partnership with our new season."
Dallas Summer Musicals' seven-show season tickets, starting at $134, go on sale Sunday, June 7 at 10 a.m. online at DallasSummerMusicals.org and in person Monday, June 8 at The Box Office, 5959 Royal Lane, Suite 542 in Dallas or by phone at 214-346-3300. In addition, season ticket buyers have the option to add on WICKED to their season subscription for an 8-show package starting at $174.
For season tickets, groups of 10 or more receive a 15% discount. For WICKED, groups of 15 or more save on select performances. All groups receive priority seating and many more benefits. Please call 214-426-GROUP (4768) or email Groups@DallasSummerMusicals.org.
Broadway at the Bass season tickets go on sale online at www.basshall.com at 10 a.m. Sunday, June 7, and over the phone at 817-212-4280 and in person at the Bass Hall Box Office at 10 a.m.  Monday, June 8. Seven-show season ticket packages start at $275. For more information, call 817-212-4280 or visit www.basshall.com
About Dallas Summer Musicals:
Dallas Summer Musicals, Inc. (DSM) is the preeminent nonprofit presenter of Broadway theatre in North Texas. DSM produces, presents and promotes excellence in live musical theatre with year-round performances for diverse audiences of all ages, impacting the lives of children and families through community outreach and education, and enriching the cultural landscape of Dallas/Fort Worth, North Texas and the Southwest Region.
As a 501(c)(3) nonprofit organization, DSM relies on a variety of funding sources to bring the Best of Broadway to Dallas at affordable ticket prices, as well as to preserve the beautiful historic theatre, educate young audiences and create important community programs. DSM's Seats for Kids program provides a meaningful arts education experience to thousands of low income, at-risk and special needs children. DSM provides positive incentives for youth that are at risk for gang membership through the Stage Right program. In addition, The Dallas Summer Musicals Academy of Performing Arts offers professional theatre arts training and scholarships to talented students in need. DSM's High School Musical Theatre Awards are patterned after Broadway's Tony® Awards and celebrates the power of the arts to significantly improve all areas of education. Hear Us Now!™ is DSM's newest initiative. Since 2010 the experts at DSM have made significant changes and upgrades to its acoustical systems to improve the sound quality of the productions for all its patrons, including the hearing impaired. It is so unique that a trademark has been allowed by the United States Patent and Trademark Office. Ticket sales alone do not sustain these endeavors. Only support from committed businesses, foundations and individuals make these programs possible.
Dallas Summer Musicals is presented by Texas Instruments and gratefully acknowledges the support of our season sponsors and partners The Dallas Morning News, WFAA TV Channel 8, American Airlines, and The Original Cupcakery.
For more information about Dallas Summer Musicals, please call 214.421.5678 or visit our website at DallasSummerMusicals.org.
About Performing Arts Fort Worth:
Performing Arts Fort Worth, the nonprofit organization that oversees management of Bass Performance Hall, presents national Broadway touring product under the Broadway at the Bass banner. Bass Performance Hall is the crown jewel of a city which boasts the nation's third largest cultural district. It is also an important symbol of one of the most successful downtown revitalization efforts in the country.
The 2,056-seat multipurpose Hall is characteristic of the classic European opera house form. An 80-foot diameter Great Dome tops the Founders Concert Theater while two 48-foot tall angels grace the Grand Facade. Since the Hall opened in May 1998, the angels have become preeminent cultural icons of the Dallas-Fort Worth community. The Hall itself is renowned for its superb acoustics, exceptional sight lines and ambience on level with the great halls of the world.
Bass Performance Hall is located on a full city block encompassed by Commerce, Calhoun, 4th and 5th Streets in the historic Sundance Square district of downtown Fort Worth.
###
---