Nominate Your Hero for Season Tickets!
Posted on August 12th, 2015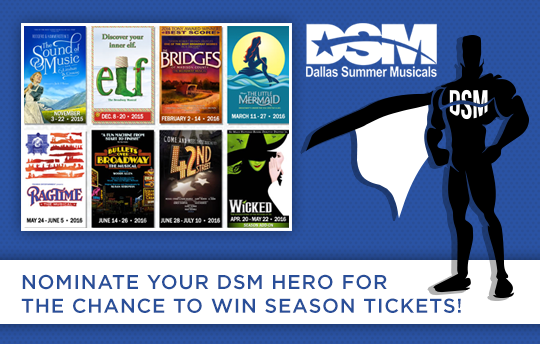 This year, we want to honor a special, deserving person with 2015/2016 DSM Season Tickets! Do you have someone in your life that you look up to and admire? Will they also like to come and see all of the 2015/2016 DSM Season Shows? We want to hear about the heroes in your life!
By clicking here, submit a nomination for who inspires you and why. We here at DSM will select the top 5 nominees and the grand prize winner will be selected by YOU, our DSM Fans, to win season tickets! HURRY though, because the nominations end on FRIDAY at 11:59pm! Voting begins on Monday, August 17th at 10am through Friday, August 21st at 12:00pm. The winner will be announced that afternoon.
Thanks for participating! We wish you and your hero good luck!
‪#‎DSMSeason ‪#‎SeasonTicketContest ‪#‎DSMHeroes
-DSM Amanda
---