Posted on March 23rd, 2015
Nancy Natinsky Chairs 4th Annual
Dallas Summer Musicals
High School Musical Theatre Awards
Finalists announced Monday, March 30 | Awards Show Wednesday, April 29
(Dallas, TX – March 6, 2015) Michael A. Jenkins, President and Managing Director, Dallas Summer Musicals, Inc. (DSM) announced long-time supporter and DSM Board Vice-President Community Relations Co-Chair Nancy Natinsky has been named the chairman of the 4th Annual DSM High School Musical Theatre Awards.
Nancy worked with her husband Ron in starting and managing seven successful businesses over 37 years, resulting in participating in international business relationships in Asia, Europe, Mexico and Canada. During this time, she continued her education in the promotional products industry to achieve the highest designation of Master of Advertising Specialty.
She serves now and previously on various boards and as an officer of many clubs and organizations. She and Ron, a former Dallas City Councilman, have been married for 46 years. Since she retired 11 years ago, she enjoys her club work along with antiquing, traveling, helping with the garden railroad in their yard, reading, and volunteering.       "Nancy's experience in the community as a dedicated leader and volunteer, along with her business acumen and insight, is the perfect combination for her role as an officer on DSM's Executive Committee and as chair of the High School Musical Awards," Jenkins said.
"I am honored to chair this program and be a part of its continued development and success," Nancy replied. "The reach of this program across North Texas is growing and we look forward to even more schools participating next year."
In its fourth year, DSM's High School Musical Theatre Awards (HSMTA) has 65 schools participating- that is more than double the first year's total of 30 schools participating, representing 33 school districts across North Texas. Among the 65 are also 7 private schools. In addition, six schools have entered two musicals this year for a total of 71 productions to be evaluated. This represents a new all-time high of schools, teachers and students taking part in the program. DSM HSMTA remains the largest program of its kind in the state and one of the largest programs in the country. DSM HSMTA has been recognized by the National High School Musical Theater Awards as their official affiliate program for North Texas.
Since DSM's First Annual High School Musical Theatre Awards in 2012, this has truly developed into a regional program, accepting schools as far away as Denton and Allen to the north, Waco to the south, Abilene to the west and Paris, Texas to the east.
Slated for Wednesday, April 29, 2015 at the Music Hall at Fair Park, the awards show is a red carpet affair and the public is invited to join in the excitement. Red carpet arrival begins at 5:30 p.m. The show begins at 7:00 p.m. with performances which include separate medleys of the Best Actor and Best Actress nominees, production numbers from Best Musical nominees and an opening number featuring all nominated performers accompanied by a live orchestra. The show is topped off with a finale of performers from each participating high school.
Based on Broadway's Tony® Awards, DSM High School Musical Theatre Awards are designed to recognize and reward excellence in the production of high school musical theatre. Several cash scholarships of at least $1,000 each are awarded. In 2014 DSM awarded $35,000 in scholarships, including several $5,000 scholarships, to outstanding students.
Jenkins said, "This program encourages participation in the musical arts throughout North Texas. It is important to encourage these talented students to follow their dreams and goals and to draw attention to the excellent work being done in education in musicals in our area schools. This is a wonderful opportunity for everyone involved and a great show! We are grateful to founding sponsors Leah and Jerry Fullinwider for their support and vision, which literally brought this awards program to life."
Jenkins praised the community's support saying, "for our preeminent educational outreach program to have grown so significantly in such a short time is a tribute to DSM as a resource to our community and a wonderful testament to the tremendous contribution of the teachers, judges, committee members and volunteers. We encourage everyone to visit the schools and watch the shows first-hand." A complete listing can be found on the website at DallasSummerMusicals.org/HSMAwards.shtm
A three judge panel of entertainment industry professionals and veteran educators will visit each school and judge the performers in 15 categories: Best Musical, Best Direction, Best Musical Direction, Best Choreography, Best Orchestra, Best Scenic Design, Best Costume Design, Best Lighting, Best Ensemble, Best Crew, Best Actor, Best Actress, Best Supporting Actor, Best Supporting Actress and Best Featured Performer.
Ballots will be submitted to the accounting firm of Grant-Thornton. Students from each participating school as well as finalists in categories of Best Actor, Best Actress and Best Musical will be invited to perform at the 4th Annual DSM High School Musical Theatre Awards Ceremony show at the Music Hall at Fair Park on Wednesday, April 29, 2015 when winners are announced. The public is invited to join in this exciting celebration.
Winners of the Best Performance by an Actor and Actress receive an all-expense paid trip for five days to New York City to represent their school in the National High School Musical Theatre Awards (the Jimmy™ Awards) for the chance to win prizes and scholarships, which vary by year.
HSMTA media sponsors are The Dallas Morning News and WFAA Channel 8.
For a listing of participating schools and their shows, details or any questions, visit the website at http://DallasSummerMusicals.org/HSMAwards.shtm or contact Tracy Jordan, the program manager at 214-413-3951 or tjordan@dallassummermusicals.org .
Facebook page is constantly updated at https://www.facebook.com/DSMHSMTA
National program website: http://www.nhsmta.com/pages/frequently-asked-questions
Get updates and news through our social media web sites:
Facebook: https://www.facebook.com/DallasSummerMusicals
Twitter: https://twitter.com/dsmusicals
YouTube: http://www.youtube.com/dsmusicals
Foursquare: https://foursquare.com/v/dallas-summer-musicals/4f204f6b0cd6445b05407d98  Pinterest: http://pinterest.com/dsmusicals
WordPress: http://dallassummermusicals.wordpress.com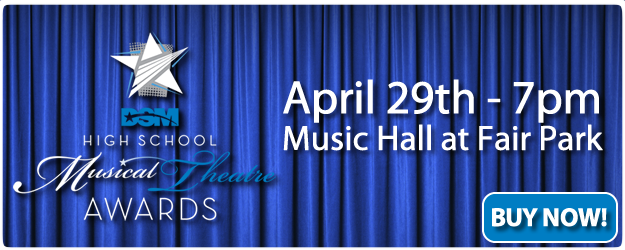 About Dallas Summer Musicals:
Dallas Summer Musicals, Inc. (DSM) is the preeminent nonprofit presenter of Broadway theatre in North Texas. DSM produces, presents and promotes excellence in live musical theatre with year-round performances for diverse audiences of all ages, impacting the lives of children and families through community outreach and education, and enriching the cultural landscape of Dallas/Fort Worth, North Texas and the Southwest Region.
As a nonprofit organization, DSM relies on a variety of funding sources to bring the Best of Broadway to Dallas at affordable ticket prices, as well as to preserve the beautiful historic theatre, educate young audiences and create important community programs. DSM's Seats for Kids program provides a meaningful arts education experience to thousands of low income, at-risk and special needs children. DSM provides positive incentives for youth that are at risk for gang membership through the Stage Right program. In addition, The Dallas Summer Musicals Academy of Performing Arts offers professional theatre arts training and scholarships to talented students in need. DSM's High School Musical Theatre Awards are patterned after Broadway's Tony® Awards and celebrates the power of the arts to significantly improve all areas of education. Ticket sales alone do not sustain these endeavors. Only support from committed businesses, foundations and individuals make these programs possible.
Dallas Summer Musicals is presented by Texas Instruments and gratefully acknowledges the support of our season sponsors and partners The Dallas Morning News, WFAA TV Channel 8, American Airlines, and The Original Cupcakery.
For more information about Dallas Summer Musicals, please call 214.421.5678 or visit our website at www.DallasSummerMusicals.org.
###
---