Posted on July 30th, 2015
My Weekend with Jason Robert Brown
by Megan Anthony, Guest DSM Blogger and DSM Intern
This past weekend, I had the opportunity to drive out to Fort Worth and see the one and only Jason Robert Brown. Texas Christian University was hosting their 2nd annual "Festival of American Song," this year featuring the renowned musical theater composer.
For those who don't recognize the name, Jason Robert Brown is the composer and lyricist of The Bridges of Madison County, which happens to be coming to DSM in February 2016! In addition to Bridges, JRB is also known for The Last 5 Years (recently made into a movie starring Anna Kendrick and Jeremy Jordan), Parade, and Songs for a New World (less a musical, more a set of songs that are brought together by the people singing them). JRB has received 3 Tony awards for his work. Bridges received the Tony awards for Best Orchestration and Best Original Score, and then in 1999 Parade won for Best Original Score.
I first heard Jason Robert Brown's music in high school, although it didn't really occur to me until much later that it was all the same person, let alone that he was a "big deal." Now that I've gone through college, growing in my knowledge of musical theatre, I became more familiar with his works. That being said, being able to see him in person was probably comparable to my little sister being introduced to Taylor Swift (it was more subtle I hope… but I'm serious.)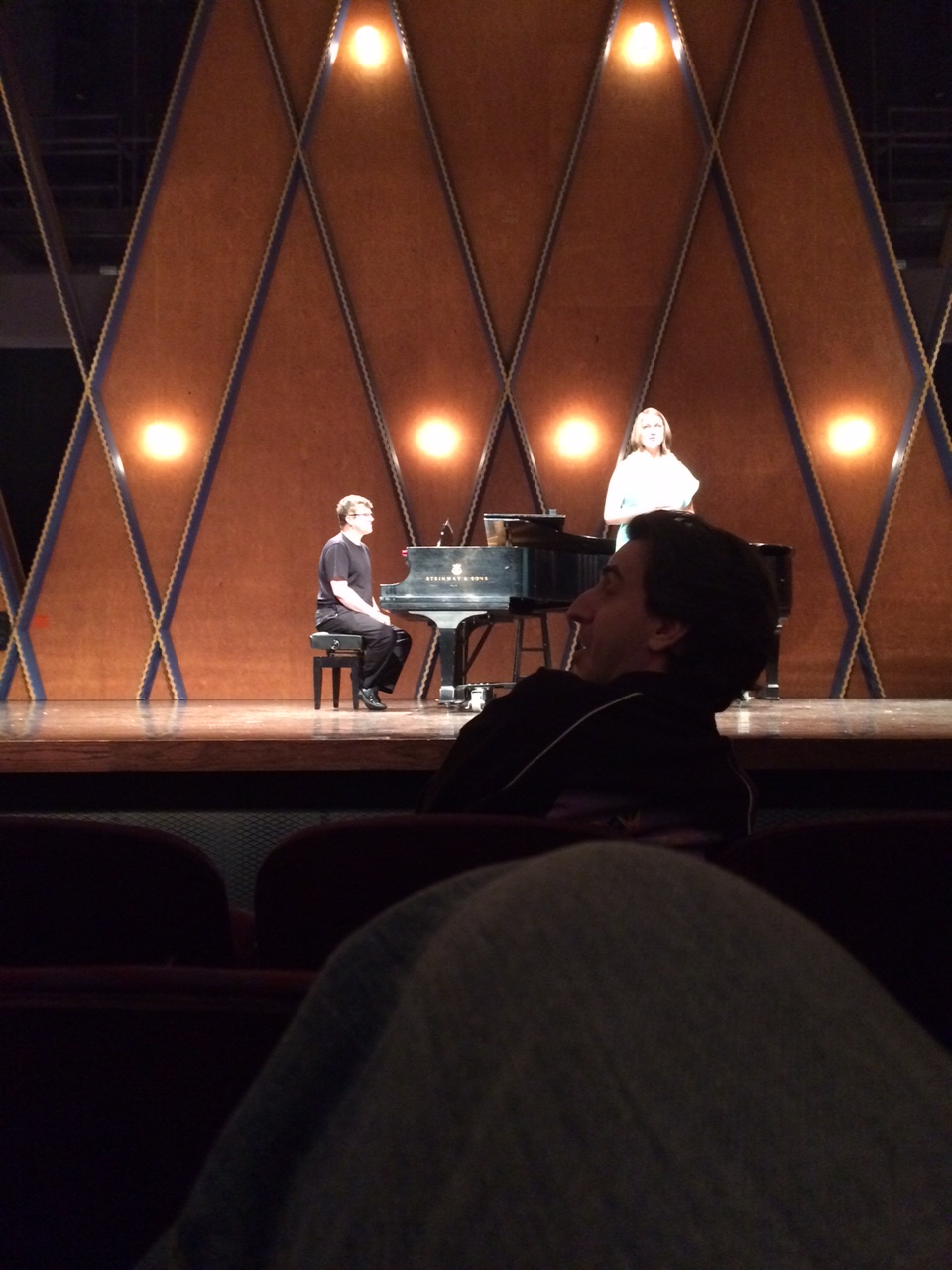 The day started off with a masterclass, in which JRB worked with five of TCU's recent alumni. [Side note: He was sitting 2 rows directly in front of me. I could have touched him. I might have been freaking out a little.] Right off the bat, I was impressed with how knowledgeable this man was. Each singer he helped to make their performance seem more natural and musical, while giving tips on how and where to stand (or sit) and what songs/characters they should/should not audition for.
After the class, JRB momentarily sat down at a piano. But only to readjust the seat… still giving us hope that he would be playing later that night at the talk back entitled "A Conversation with Jason Robert Brown."
It was in this "conversation" that I (and the rest of the audience in TCU's recital hall) learned how JRB began his career in music [a pump organ found in his grandfather's basement] and how he chose his path after high school [he was a "good Jewish boy so he went to a university" and his grades were terrible… so his only choice was a music school. Eastman (one of the top music schools in the country)]. How he premiered Songs for a New World when he was only 25, and how he got asked to write the music for Parade on the whim of an impatient director [because "Steve" Sondheim backed out].
Every once in a while, in between questions, the moderator would turn and say, "Why don't you play [insert random song choice here] for us?" And JRB would naturally agree and just start playing some of the most complicated piano music you've ever heard, all while keeping a beat with his left foot and singing his own songs. One song, "I Could Be In Love With Someone Like You" was actually cut from The Last 5 Years, and another "I Love Betsy" is featured in his most recent show, Honeymoon in Vegas.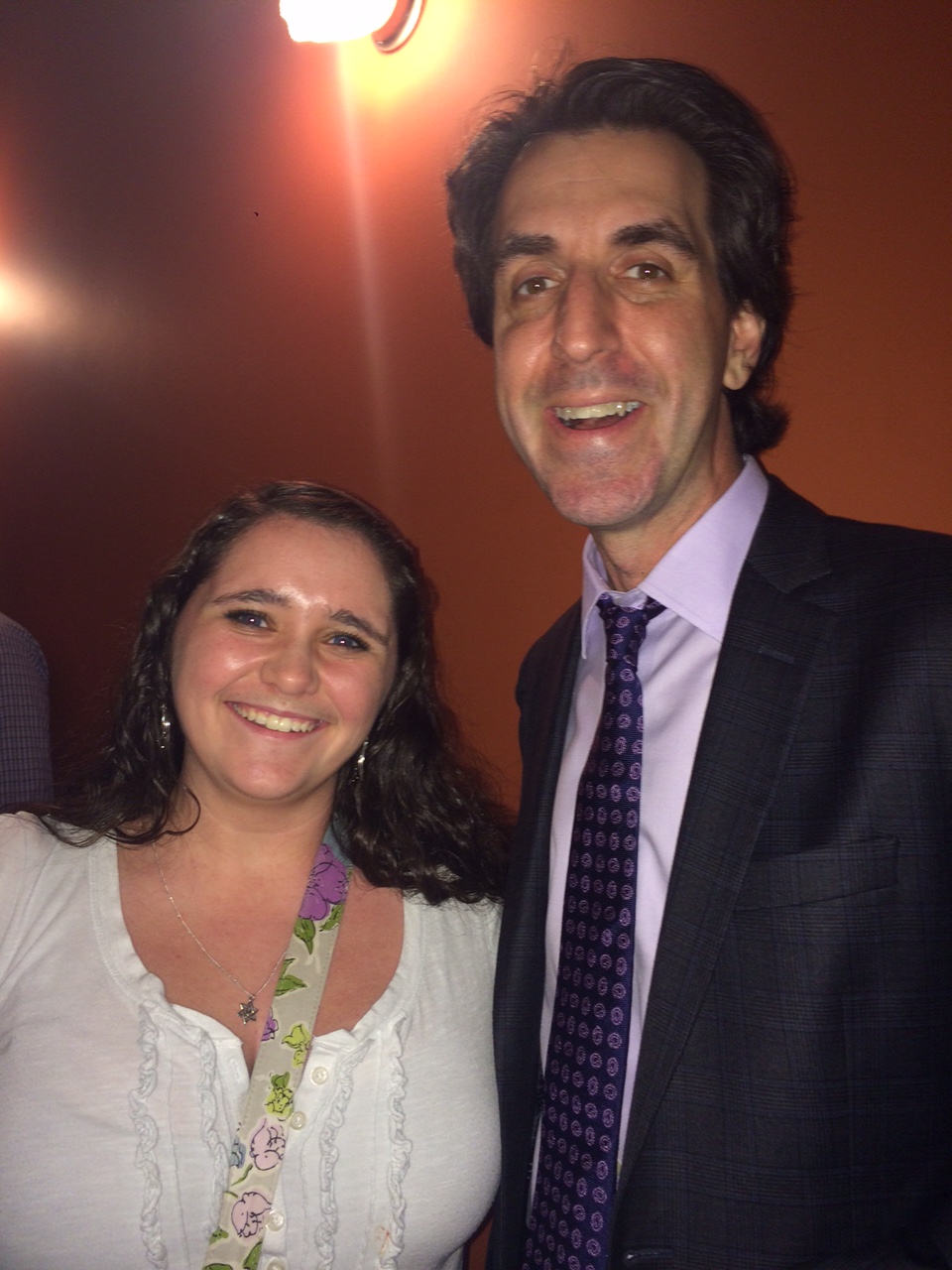 All in all, if I wasn't excited about seeing Jason Robert Brown's Bridges of Madison County before [false… I was already excited], I am even more so now! Make sure you come check it out at DSM, February 2-14, 2016, along with the rest of our 2015-2016 season beginning in November with The Sound of Music!!!
Megan Anthony is originally from Flower Mound, TX and has been an Intern with DSM this summer. She currently attends Hardin-Simmons University and will graduate with a degree in Music Business/Management.
---
THE BRIDGES OF MADISON COUNTY is presented by Dallas Summer Musicals February 2-14, 2016 at Music Hall Fair Park. THE BRIDGES OF MADISON COUNTY, one of the most romantic stories ever written, is now an irresistible, two-time Tony Award®-winning Broadway musical. Based on the best-selling novel by Robert James Waller, THE BRIDGES OF MADISON COUNTY tells the story of Iowa housewife Francesca Johnson and her life-changing, four-day whirlwind romance with traveling photographer Robert Kincaid. It's an unforgettable story of two people caught between decision and desire, as a chance encounter becomes a second chance at so much more.
This stunning new production features gorgeous, soulful music by Tony Award®-winning composer Jason Robert Brown (Parade, The Last Five Years) that draws upon the rich textures of Americana and folk and the sweeping, expressive balladry of classic Broadway. The Daily News hails it as "one of Broadway's best scores in the last decade."
With a book by Pulitzer Prize Winner Marcia Norman (The Secret Garden, The Color Purple) and direction by Tony®-winner Bartlett Sher (South Pacific, The Light in the Piazza), THE BRIDGES OF MADISON COUNTY is "an evening you will cherish long after the show's over!" (NPR)
Click on the poster below for more details and a sneak peek video!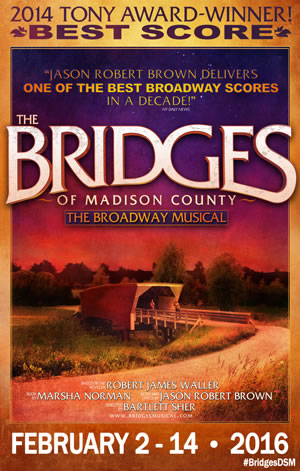 ---