Posted on June 5th, 2017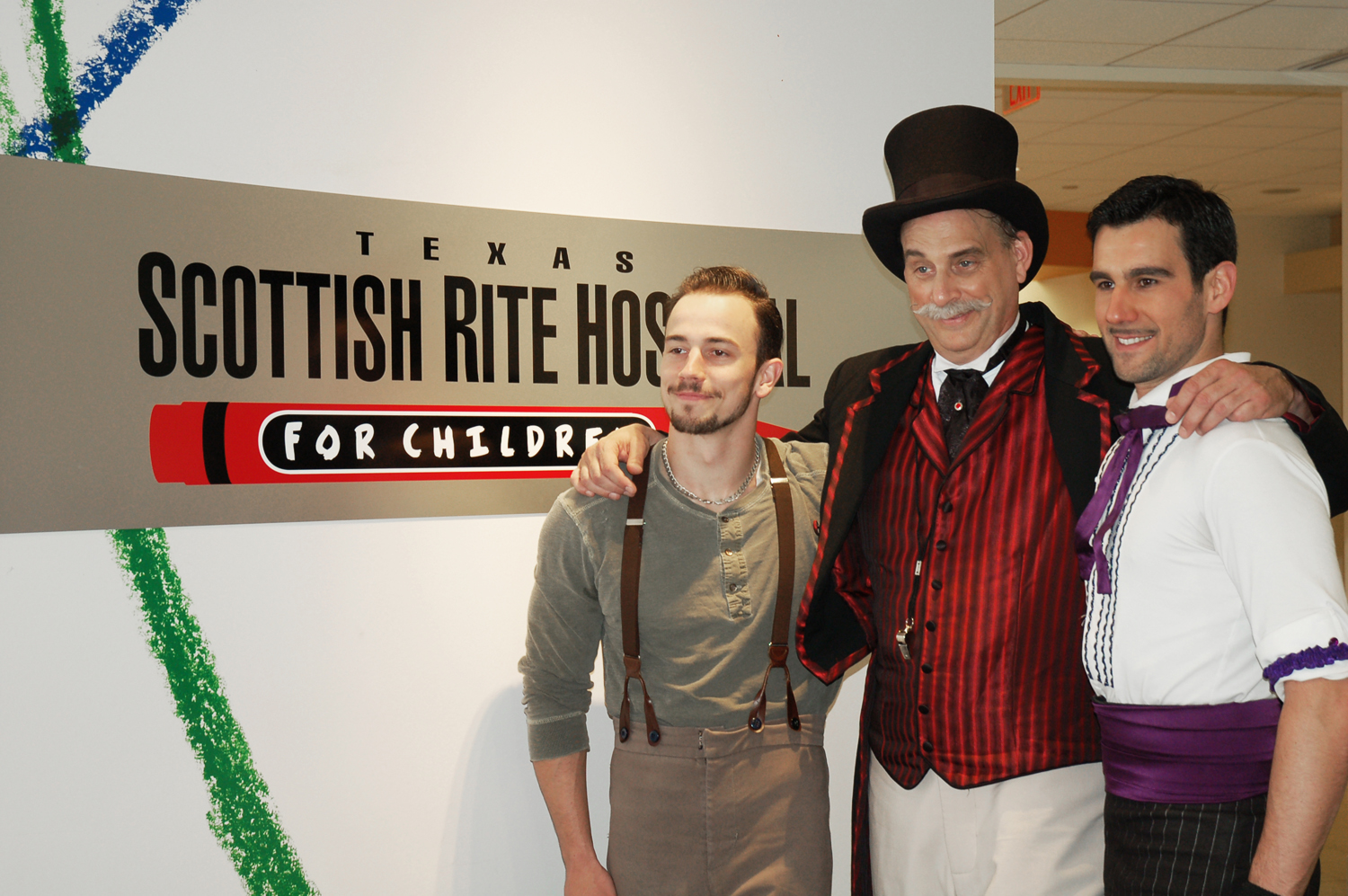 Peanut, the first-of-its-kind puppet elephant visits Texas Scottish Rite Hospital for Children and Dallas arts organizations educate children about the performing arts during DSM Kids Club event.
Dallas, TX (June 2, 2017) – Dallas Summer Musicals, Inc. (DSM) in collaboration with Texas Scottish Rite Hospital for Children arranged a special performance of CIRCUS 1903 – The Golden Age of Circus for patients and their families at the hospital on May 24, 2017. Through a partnership with Big Thought, DSM Kids Club program also welcomed 200 children to the Music Hall at Fair Park for a complimentary performance of CIRCUS 1903 and a variety of pre-show activities on May 27, 2017.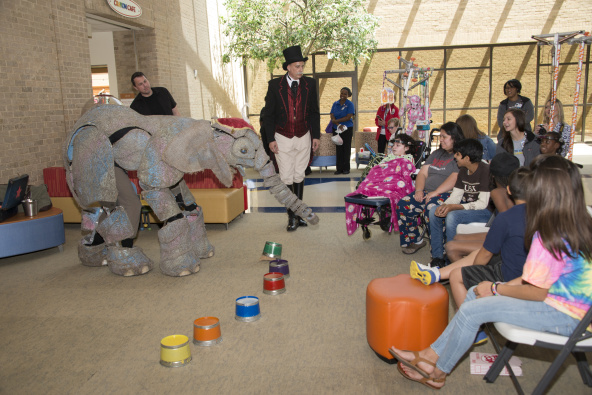 A turn-of-the-century spectacle, CIRCUS 1903 charmed Scottish Rite Hospital patients, filling their day with smiles and laughter. The performance was emceed by Ringmaster Willy Whipsnade (David Williamson), who performed magic tricks for a crowd of young patrons as they gazed in awe and amusement. Juggler extraordinaire, the Great Gaston (Francois Borie) defied the notion that "the hand is quicker than the eye" as he juggled a variety of objects with light-speed agility and flawless control. The children's excitement grew as the life-size baby elephant puppet, Peanut (Luke Chadwick-Jones), made a surprise appearance, playfully running in as Ringmaster Willy called him to the stage. Peanut performed an array of tricks and posed for photos with several of the spectators.
"I can't overstate how thankful we are for this performance, which brought so much joy to our patients," said Ashley Givens, director of Special Events. "I loved seeing the children's faces light up and hearing their laughter and amazement. That type of experience is one of the most important things we can give to our patients at Scottish Rite Hospital."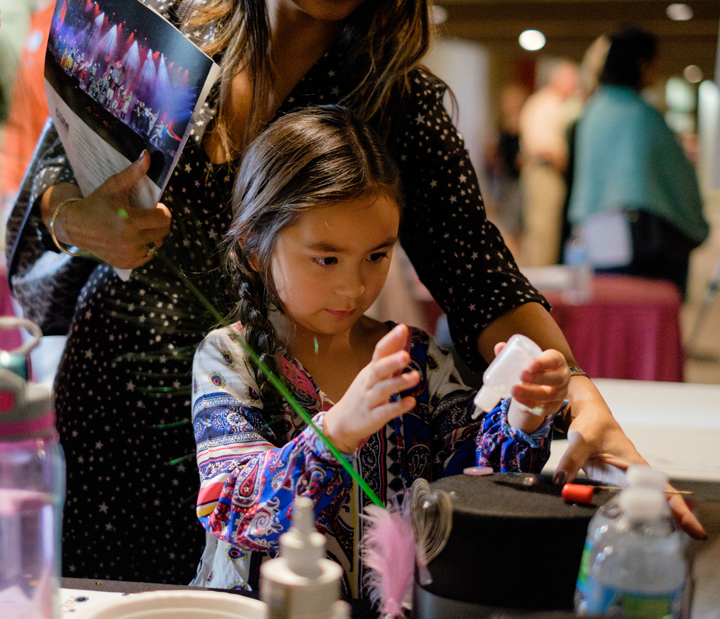 In an effort to continue educating the future patrons of the arts, DSM Kids Club hosted 200 children to experience the magic of CIRCUS 1903 in partnership with several local arts groups. Cara Mia Theatre Co. demonstrated the workings of large puppets by allowing Kids Club members to wear and operate the life-size figures. The kids also created their own puppets and wearable hats. The educational clown comedians Slappy & Monday gave Kids Club members a lesson in the arts of juggling, plate spinning, balancing and more. They even gave children the opportunity to test their skills on the "rola bola" teetering balance board. In addition, visual artist Mario Garcia led the creation and decoration of custom steampunk ringmaster hats with older students and their families. CIRCUS 1903 performers made an appearance to meet the Kids Club attendees, pose for photos and autograph playbills. Big Thought created CIRCUS 1903 activity booklets that were distributed to all the children while a live orchestra performed and allowed the kids to take turns conducting the circus melodies.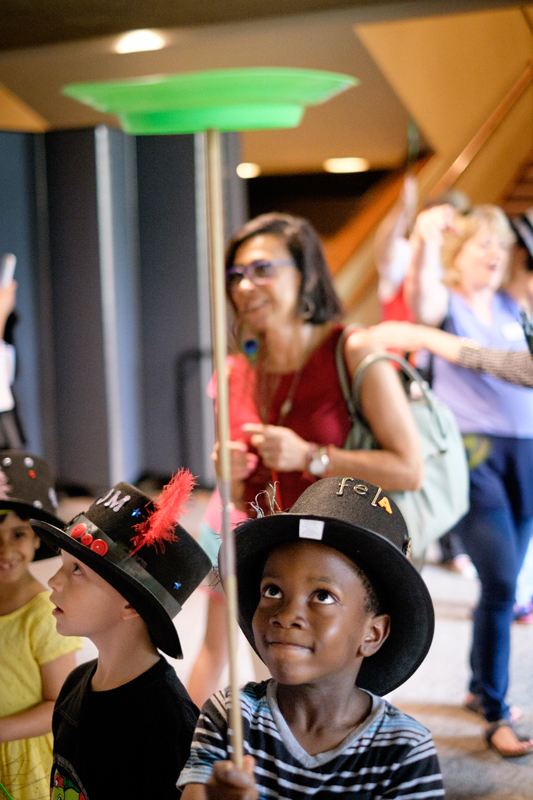 "DSM believes in the importance of fostering the performing arts in younger generations which is why we continue to grow programs such as DSM Kids Club," said Kenneth T. Novice, DSM President. "It is essential for Dallas arts groups to come together and collaborate with each other to accomplish this and we are thrilled to have a number of opportunities at DSM to do so, while partnering with great organizations such as Big Thought and Texas Scottish Rite Hospital for Children."
DSM is pleased and proud to be able to create this level of community access and to support school-based education via projects like the DSM Kids Club. Projects and programs like these are supported in large part by the generosity of DSM's family of season sponsors, donors, and other benefactors.
CIRCUS 1903 is the allure of the impossible as sensational puppetry puts elephants back in the ring as never seen before along with a huge cast of the most unique, amazing and dangerous circus acts from all four corners of the world, from strong men to contortionists, acrobats to musicians, high wire and much more!
The award-winning team of puppeteers and model makers who created the National Theatre's WAR HORSE have designed, built and brought to life two stunningly beautiful elephants for CIRCUS 1903. Featuring groundbreaking advances in design and expression, the puppets appear throughout the show as the mother teaches her calf the tricks of the trade.
Dallas Summer Musicals' 2016-2017 Broadway season closes with the romantic thriller based on the smash hit film, THE BODYGUARD, July 18-30, 2017 starring Grammy® nominee Deborah Cox! Single tickets are now on sale at www.DallasSummerMusicals.org or by phone at 1-800-745-3000.
---