Posted on February 20th, 2023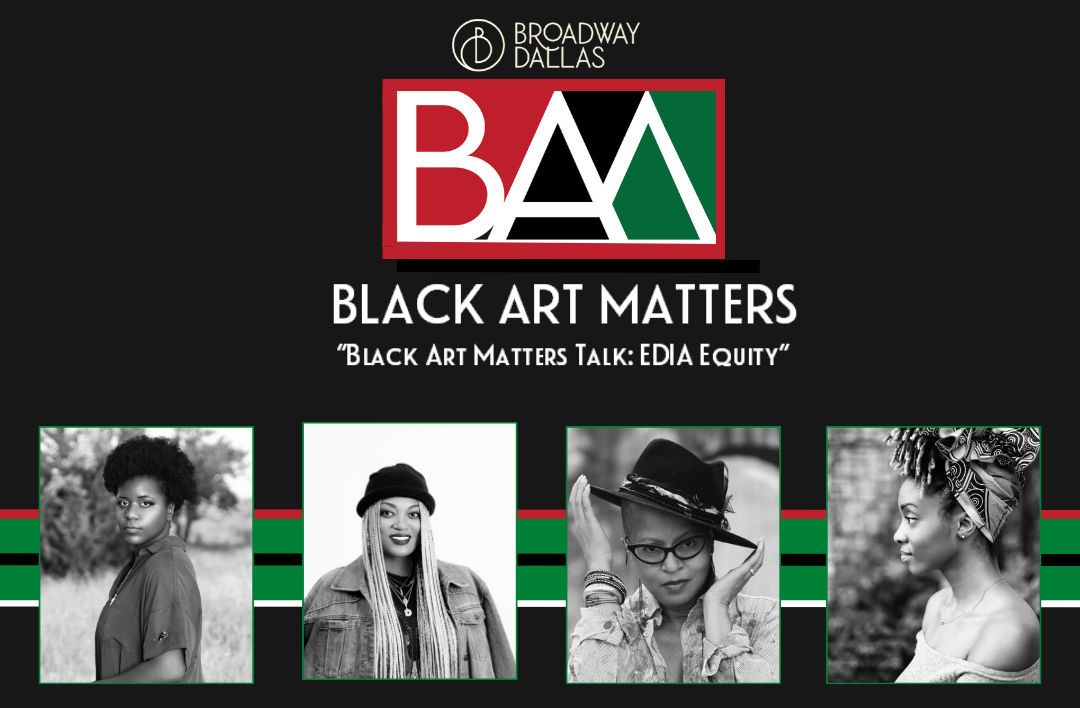 Broadway Dallas to host artist conversation


Black Art Matters Talks: Exhibit Equity
Featuring the artists of South Dallas Stories: Fair Park Uprooted
February 27 at the Music Hall at Fair Park
Dallas, TX (February 20, 2023) – Broadway Dallas announced today they will host Black Art Matters Talks: Exhibit Equity, an artist conversation with the featured artists of the organization's public exhibition, South Dallas Stories: Fair Park Uprooted. The event will take place on Monday, February 27 at 5:30 p.m. at the Music Hall at Fair Park, and is open to the public free of charge. The artist lineup includes Inyang Essien, Jennifer Monet Cowley, and Nitashia Johnson, with special guest moderator Daisha Board of the award-winning Daisha Board Gallery. The conversation will center around each artist's contribution to the exhibit and their individual work as Black women in the creative and visual arts.
Those planning to attend are asked to submit an RSVP here: Exhibit Equity RSVP
About Inyang Essien
Inyang Essien is a Nigerian American photographer and visual artist from Dallas, TX. Her work is based in photography, cultural textiles, video installations, and generative art to explore identity through culture, sexuality, and personal transformation.

In 2021, Essien was the recipient of a Nasher Artist Grant and Cedars Union Art & Equity Scholarship as well as a proud participant in the inaugural cohort of the Juanita J. Craft Residency which aims to contribute to the cultural and artistic impact of the South Dallas community.

She is passionate about creatively sharing the lived experiences of Black people across the diaspora.
About Jennifer Monet Cowley
Jennifer Monet Cowley is a visual artist, curator, fashion designer, and educator. She has been painting and drawing since the age of 5. In high school, she studied fashion design and commercial art. Upon entering college, she initially majored in architecture, but her love for art prevailed and she graduated with a Bachelor of Arts Degree in Art and Performance from the University of Texas at Dallas in 1993.

Jennifer works in various mediums: colored pencils, pastels, gouache, acrylic, and watercolors. Jennifer also designs and paints wearable art. She has also curated groundbreaking art shows and exhibitions. She has been told that her curatorial concepts are groundbreaking and can rival some of the best in the world. Jennifer is an artist whose versatility and skills have empowered her to create distinctive works that express her unique style and voice.
About Nitashia Johnson
Nitashia Johnson is a Nigerian American, multimedia artist and educator from Dallas, Texas, who truly has a passion for creating. She attended Booker T. Washington High School for the Performing and Visual Arts. She is an alumnus of Texas Woman's University (BFA) and the Rhode Island School of Design (MAT). She works as a digital media specialist and freelance designer, photographer, videographer, and creative educator. Her projects include "The Smart Project," a creative youth program, "The Self Publication," portrait-based reflective book series, and "The Beauty of South Dallas" photographic community project.

In 2019, Johnson became one of the first women selected for the Sony Alpha Female Creator-in-Residence program. In 2021, she became an inaugural recipient of the Juanita J. Craft House Artist Residency project and took part in the Talley Dunn Gallery Equity in the Arts Fellowship. In 2021, Johnson received the Artist Disruptor Award from The Center for Cultural Power.
About Daisha Board
DAISHA BOARD GALLERY est. 2022, is a contemporary art gallery representing emerging BIPOC, LGBTQIA+ and artists with disabilities in Dallas, Texas and throughout the United States. Daisha Board Gallery works in various mediums including painting, sculpture, photography, performance art and digital media. In 2017 Daisha Board founded Black Sheep Art Culture Inc., to ensure representation of marginalized artists and advocate for increased visibility for BIPOC artists in traditional and non-traditional art spaces.

Daisha Board Gallery is the 1st Black Woman Owned Contemporary Art Gallery in Dallas in over 30 years. Voted BEST ART GALLERY IN DALLAS by D MAGAZINE 2022.

Daisha Board has curated for The City of Dallas, Artspace111, Dallas Mavericks, Goldman Sachs, Fort Worth Art Fair, Prizm Art Fair, 500X, Oak Cliff Cultural Center, Latino Cultural Center, Moody Performance Hall, South Dallas Cultural Center, Bath House, Booker T. Washington High School, West Edge Design Fair, Denton Black Film Festival, and the African American Museum of Dallas.
About South Dallas Stories: Fair Park Uprooted
On January 5, 2023, the 60th Anniversary of Martin Luther King, Jr.'s visit to the Music Hall at Fair Park, Broadway Dallas unveiled its first public exhibition, South Dallas Stories: Fair Park Uprooted, commemorating the vibrant though problematic history of Fair Park/South Dallas and its community members. Centered on truth-telling and narrative change, the exhibit sheds light on the evolution of Fair Park/South Dallas and is intended to expose all who visit the Music Hall to the role that racism played in the development of the Fair Park/South Dallas neighborhood.

South Dallas Stories: Fair Park Uprooted is generously underwritten by The Addy Foundation.

Located inside the front lobby of the Music Hall at Fair Park, South Dallas Stories: Fair Park Uprooted features stories from some of the neighborhood's most devoted residents, historical artifacts, and memorabilia. The exhibit is presented in a variety of media forms, and every six months elements of the exhibit will change resulting in a rotation of content for visitors to experience.

South Dallas Stories: Fair Park Uprooted is free and open to the public from 9 a.m. to 5 p.m. on weekdays and during performances at the Music Hall at Fair Park.

Exhibit contributors include Daisha Board Gallery, Inyang Essien, Nitashia Johnson, Jennifer Monet Cowley, Jodi Voice-Yellowfish, Lucy Cain, Dr. Marta M. Torres, Stuart Williams, Marilyn Clark, The Honorable Diane Ragsdale, Dallas Public Library- Lens on Dallas, Forest Forward, FGIII Fine Art Productions, and Soul Rep Theatre Company.
About Broadway Dallas
In 2022, Dallas Summer Musicals changed its name to Broadway Dallas. Since 1941, the non-profit Broadway Dallas has presented the Best of Broadway to North Texas audiences. Located in the historic Music Hall at Fair Park, Broadway Dallas promotes excellence in live musical theatre with year-round performances for diverse audiences of all ages, impacting the lives of children and families through education and community outreach programs, while enriching the cultural landscape of North Texas and the Southwest Region.

As a 501(c)(3) non-profit organization, Broadway Dallas relies on a variety of funding sources to offer affordable ticket prices, preserve the beautiful historic theatre, educate young audiences and develop impactful community programs.

Broadway Dallas gratefully acknowledges the support of our season sponsors, annual fund donors and corporate partners Germania Insurance, American Airlines, Texas Instruments, The Dallas Morning News, and WFAA TV Channel 8. For more information about Broadway Dallas, visit our website at BroadwayDallas.org.
# # #
---