< ?php esc_html_e( 'Skip to content', 'broadway-dallas' ); ?>
MINIMALISM BRINGS DOWN BARRIERS IN 'THE COLOR PURPLE'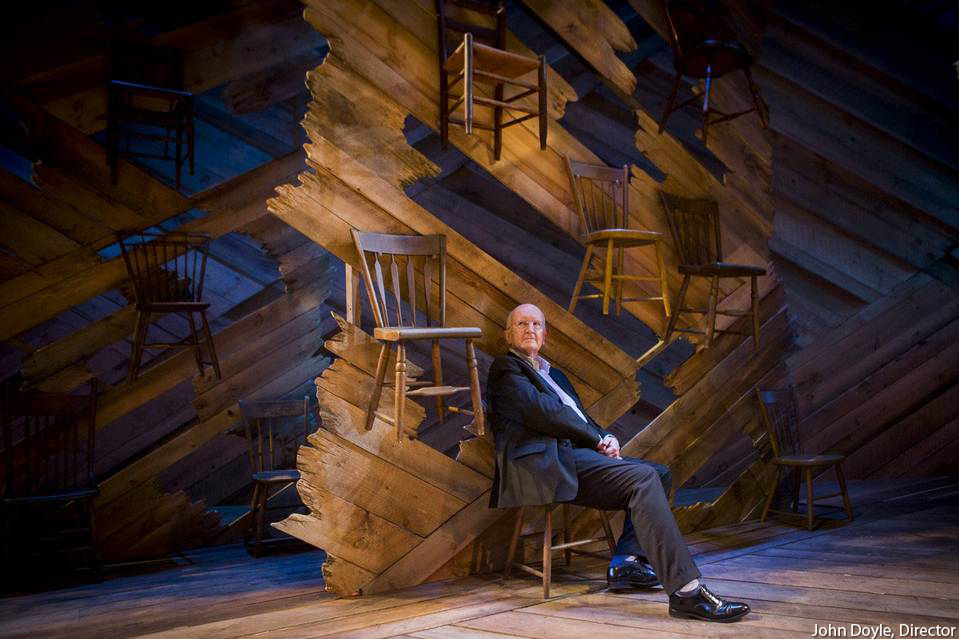 In the current revival of "The Color Purple," rural Georgia meets spare minimalism.
The action takes place on a plain wooden stage. Props are few: a cluster of well-worn chairs, woven baskets, some fabric, a Bible.
Even less would be effective, said director John Doyle, who designed the set himself, as long the audience is willing to pitch in and activate their imagination.
"We have Easter dinner at a table that doesn't exist," he said. "We put a circle of chairs together, and it makes a prison. But it only makes a prison if the audience is prepared to invest in the image." 
Minimalism might seem an odd pairing with Alice Walker's vivid, heartbreaking 1982 novel about racism, abuse and redemption in the American south. And this revival is a major contrast to the 2005 original Broadway production, which had detailed costumes and makeup that aged the characters over a half century.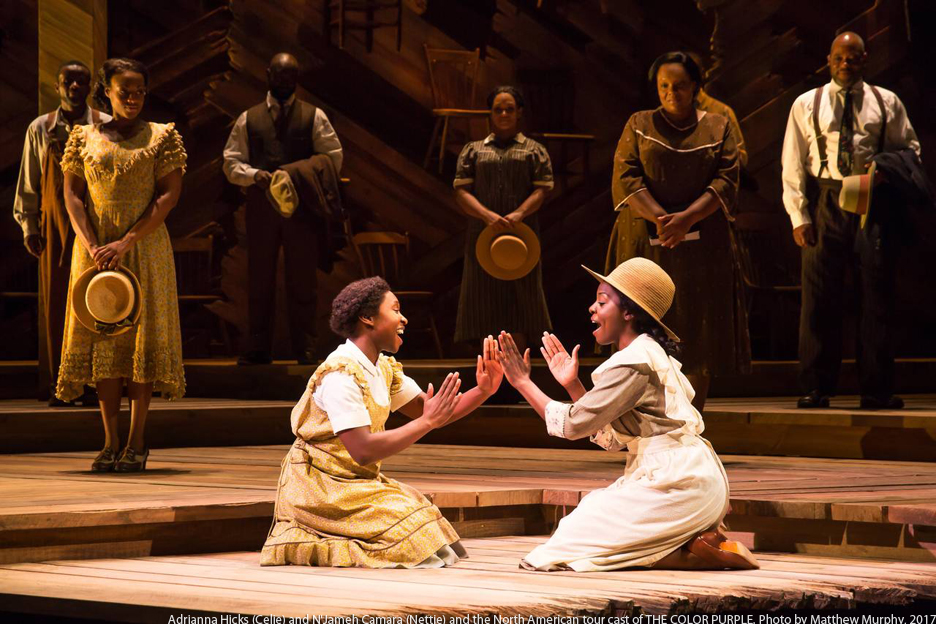 But Mr. Doyle, a seasoned director with four prior Broadway shows to his credit…, wanted to eliminate any barriers between the audience and the emotional lives of the characters.
Even deeper was an urge to plug the audience into the interactions onstage, just as a reader would absorb Ms. Walker's voice via the printed page, he said.
And if that requires viewers to do more than show up, that's the plan.
"I not only like it, I insist upon it," he said gently. "If theater is going to continue to survive and grow, it has to do stuff that other art forms can't do."
Producer Scott Sanders agrees: "In many cases, we spoon-feed audiences so much."
Mr. Doyle has developed a reputation for the style… and sees more of a connection between his most recent Broadway production, "The Visit" (2015), which was set in a rundown town, and "The Color Purple," with its jagged, crumbling backdrop.
"They both happen in broken worlds. I think we live in a broken world," he said. "So that's probably my way of asking the world to look at itself."
By Pia Catton
As published in The Wall Street Journal December 8, 2015

TX-OU Weekend PARKING ALERT
Dear Music Hall THE COLOR PURPLE patrons, Fair-goers, and Footballers:
We expect record heavy traffic for the TX-OU football game this Saturday. Please consider arriving early than you may have planned to avoid traffic (at least 2-3 hours early). The State Fair is opening their gates at 7 AM. Football fans will probably take up all of the available parking spaces in and around Fair Park between 7AM and 11AM, as well as causing serious traffic congestion in the area. Please be aware that the State Fair of Texas does not reserve any parking spaces exclusively for the Music Hall.
We ask that as many patrons as possible will take advantage of DART's TX-OU "Park-n-Ride" opportunity to minimize the actual number of vehicles in the vicinity:
1. Instead of going to the fair grounds, head to the downtown and park in the available paid parking lots near the DART Pearl St. Station. 80 shuttle buses will be on a non-stop rotation taking people to the fair grounds.
2. You will be dropped off at the fair grounds, at Pennsylvania & 2nd avenue where fair-ground-shuttles will be taking patrons to the Music Hall.
3. Fair-ground shuttles will return patrons to the DART shuttle buses, which will return them to the Pearl St. station downtown.
4. DSM has confirmed with Fair Park officials that these shuttle buses will be running until MIDNIGHT.
Alternatively, The Box Office is selling 2008 State Fair of Texas Prepaid Valet Parking tickets. The tickets are $30 each, must be purchased in person at The Box Office and guarantee the bearer to a valet parking space in the State Fair's valet lot (enter at Grand or MLK). There are some still available for your performance, but they must be purchased by 6 PM on Friday in order to ensure the correct number of parking places are reserved. (No day-of sales are allowed.)Thank you!
DSM
In 'Purple', story is the star
In 'Purple', story is the star
By PUNCH SHAW
Special to the Star-Telegram
permalink to the post on Star-Telegram website
DALLAS — In the end, it is the story that prevails.
The Color Purple, a musical retelling of Alice Walker's 1982 Pulitzer Prize-winning novel that opened at the Music Hall at Fair Park on Tuesday night, is an outstanding production in almost every regard. The cast is stellar, and the vocal work is especially first-rate, but no one forgets the acting chores, either.
Every visual detail — sets, lighting, costuming — is also right on the money. The music, by a committee of three, is solid and serviceable, and only occasionally rises above the ordinary. The quality of the singing in this production, however, elevates it.
But, while this show wows with its "big musical" trappings, it is ultimately Alice Walker's vivid characters and heart-wrenching story that carry the day. Book author Marsha Norman has done a superb job of capturing the straight-to-the gut emotions of the source material. And, better still, she has peppered the show's grim story of loss and oppression with just enough humor in just the right places.
Of course, it doesn't hurt that director Gary Griffin's cast is led by three of the finest musical theater actresses to be found in one show.
It is hard to image anyone doing more with the central role of Celie than Jeannette Bayardelle. Her character moves from scared and beaten-down at the opening curtain to confident and empowered in the closing numbers. Tony nominee Felicia P. Fields provides the desperately needed comic relief for the show as Sofia. A more subtle performance is turned in by Angela Robinson as the Bessie Smith-like Shug Avery. She explores all of the corners of her complex, free-spirited character and sings up a storm in the process.
Mention must be made of LaToya London as Celie's sister, Nettie. Many will remember that this AmericanIdol competitor of a few seasons back was championed by Elton John when she failed to win.The only real problem with this show is its length. Stretching two hours and 45 minutes, it really loses steam in the second of its two acts. It needs to be at least 30 minutes leaner. But fans of the Walker book or the movie will be delighted with this gorgeously mounted musical. Finally, don't forget that this show takes place close enough to the State Fair of Texas to be able to smell the cotton candy. Traffic and parking can be issues.
The Color Purple Through Oct. 19
Music Hall, Fair Park, Dallas
8 p.m. Tues-Sun; 2 p.m. Sat-Sun
214-691-7200; http://www.dallassummermusicals.org/
Run time: 2 hours and 45 minutes, with a 15-minute intermission
Be advised: There is little objectionable language, but this is a mature story unsuitable for preteens.
Best reason to go: Alice Walker
Performances overcome a lackluster score in 'The Color Purple'
By LAWSON TAITTE / The Dallas Morning News
Epic novels often have a rough transition to the stage: Events fly by so fast they feel like a historical pageant rather than a play.
Oprah Winfrey presents The Color Purple, the stage musical adaptation of Alice Walker's novel, exhibits such symptoms early on. The Dallas Summer Musicals opened the area premiere, its 2008 State Fair show, on Tuesday at Fair Park Music Hall.
The childhoods of the heroine, Celie (Jeannette Bayardelle), and her sister are over after two short choruses of the opening song. Horrors of domestic violence bump rudely against stylized comedy, even in the scenes in which Sofia (Felicia P. Fields) begins to show Celie she doesn't have to accept the abuse that has been heaped on her all her life.
The show really doesn't come to life, though, until the notorious Shug Avery (Angela Robinson) returns to town. Shug was the true love of Celie's cruel husband, Mister (Rufus Bonds Jr.), but convention prevented them from marrying. Mister takes his disappointment out on Celie for years. During one of Shug's periodic visits home, though, Celie nurses her back to health and the two women develop a sisterly relationship that eventually turns sexual. As this happens over the last half hour of the first act, we finally get characters interacting with one another.
The second acts ratchets things up by finding some creative solutions to the problems of long-range storytelling. To begin with, a dream – or rather a letters – ballet, spectacularly set in Africa, shows Celie what has become of her long lost sister. The successive stages of Celie's evolution into a free woman each get a neatly turned scene or song, or both.
The score doesn't have many grab-you tunes, a disappointment given the rich musical styles of the early 20th century, in which the story is set. But the performers are uniformly terrific, dramatically as well as vocally.
The gorgeously designed sets and costumes envelop the actors in swirling color. Donald Byrd, a significant modern dance choreographer, has the entire cast moving and shaking.
Occasionally Ms. Bayardelle's gestures and expressions seem modeled a little too closely on Whoopi Goldberg's in Steven Spielberg's film version of The Color Purple. But Ms. Bayardelle does create a character that evokes sympathy and, eventually admiration.
PLAN YOUR LIFE Through Oct. 19 at Fair Park Music Hall. Runs 170 mins. $25 to $77. Ticketmaster at 214-631-2787, http://www.ticketmaster.com/.