Posted on May 19th, 2016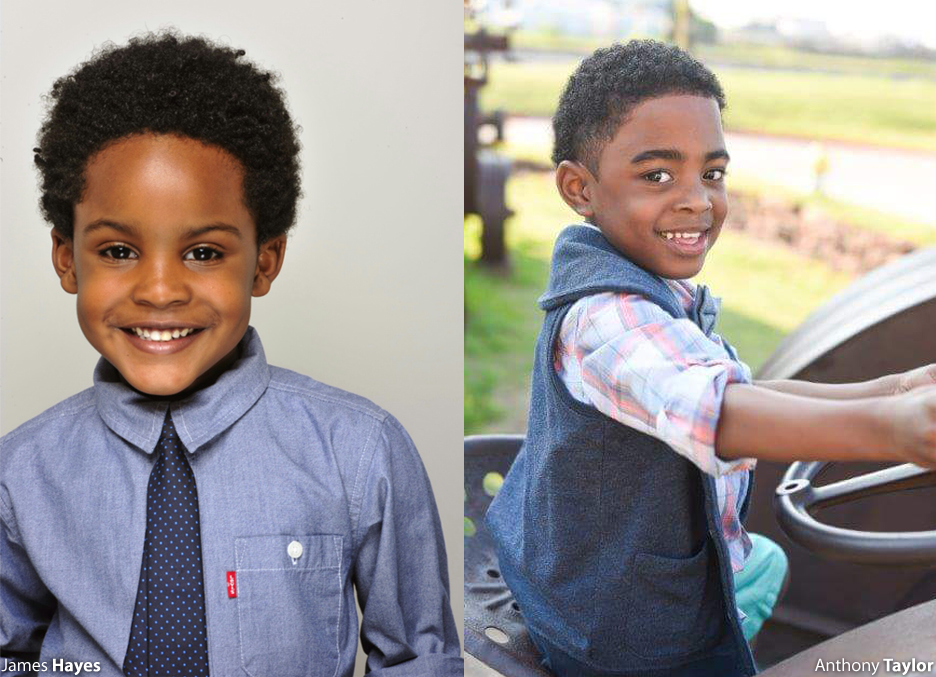 Dallas TX (May 18, 2006) – Dallas Summer Musicals is pleased to announce that James Hayes (age 7) and Anthony Taylor (age 5) from St. Phillip's School & Community Center have been cast as Young Coalhouse in the upcoming Dallas engagement of the 2015/2016 National Tour RAGTIME at the Music Hall at Fair Park May 24 – June 5.
In an initiative to elevate the arts, Dallas Summer Musicals in conjunction with Broadway World DFW and WFAA Channel 8 have partnered up and developed a fun summer series of walk-on roles to give audiences an inside look at the life of an actor. Young Coalhouse is the sweet and innocent boy of Sarah and Coalhouse Walker, Jr.  His walk-on role occurs in the final, uplifting moments of the show.
James Hayes, a Dallas native, is currently in first grade and attends St. Phillip's School & Community Center. James loves to play the drums which he has played since he was three years old. He plays for St. Luke Children's choir, Salem Institutional Baptist Church children's choir, and his school's Chapel Service every morning. James interests include basketball, drawing, collecting airplanes and he enjoys listening to music. 

Anthony Taylor, a Dallas native, is currently in PK4 at St. Phillip's School & Community Center and will be entering kindergarten in the fall. Anthony loves participating in his school theater program which he has been involved in since he was four years old. Anthony has played as part of the ensemble in St. Phillip's School's Destiny Musical 2016 and Christmas Musical 2015 & 2016. Anthony's interest include dancing, singing, painting, drawing, watching plays, visiting museums, running and soccer.
"The performing arts scene in Dallas is evolving and its future has never looked brighter," says Paulette Hopkins, DSM Director of Marketing and Patron Services, "Live theater is a magical experience and with opportunities such as this DSM seeks to continue a long tradition of investing in our youth by sparking their interest in the arts as we showcase the incredible talent Dallas has to offer while encouraging them to build their craft."
---
At the dawn of a new century, everything is changing…and anything is possible. RAGTIME returns to the road in an all-new touring production that Bloomberg News hails as "explosive, thrilling and nothing short of a masterpiece." Dallas will be swept away by this ravishing and relevant production on May 24 – June 5 at the Music Hall at Fair Park presented by Dallas Summer Musicals.
Winning Tony Awards for Best Book and Best Musical Score, this 13-time Tony Award nominated musical is a timeless celebration of life – what it could and should be!  The Hollywood Reporter declares that RAGTIME is "one of the best musicals of recent decades." Its celebrated score includes "Wheels of a Dream," "Back to Before" and the title song, "Ragtime."
RAGTIME features a book by Terrence McNally, music by Stephen Flaherty, lyrics by Lynn Ahrens and is based on E.L. Doctorow's best-selling 1975 novel.  Tony-nominated Director & Choreographer Marcia Milgrom Dodge will helm the production.   Scenic Design by Kevin Depinet, Lighting Design by Mike Baldassari and Sound Design by Craig Cassidy.
The stories of an upper-class wife, a determined Jewish immigrant and a daring young Harlem musician unfold – set in turn-of-the-century New York – all three united by their desire and belief in a brighter tomorrow.  Their compelling stories are set to theatre's richest and most glorious Tony Award®-winning score.
RAGTIME, E.L. Doctorow's 1975 novel, won the National Book Critics Circle award and sold 4.5 million copies. It became a film in 1981 and a Broadway musical in 1998.  The original 1998 production ran on Broadway for 834 performances. A 2009 Broadway revival received rapturous reviews and is now on tour throughout North America.
The RAGTIME tour for North America is produced by Phoenix Entertainment www.phoenix-ent.com.
For more information, visit www.ragtimeontour.com.
---
Single tickets for RAGTIME, from $20-$99 (pricing subject to change), are now on sale at DallasSummerMusicals.org, by phone at 1.800.514.ETIX (3849) and at The Box Office, 5959 Royal Lane, Suite 542 in Dallas, TX.
Groups of 10 or more receive a 15% discount, priority seating, and many more benefits. Please call 214.426.GROUP (4768) or email Groups@DallasSummerMusicals.org.
Dallas Summer Musicals' 2016 Season will continue with BULLETS OVER BROADWAY, June 14-26, 2016; and closing the season will be 42ND STREET, June 28 – July 10, 2016. DSM's highly awaited 2016 – 17 Season Announcement 'Broadways Most Wanted' is set to be revealed soon. A season teaser campaign is now online and throughout DSM's social media platforms!
Choose Your Own packages for the last three DSM 2016 season shows, are now on sale online at DallasSummerMusicals.org and by phone at 1.800.514.ETIX (3849). They can also be purchased at The Box Office, 5959 Royal Lane Suite 542 Preston Royal Shopping Center.
---
About Dallas Summer Musicals:
Dallas Summer Musicals, Inc. (DSM) is the preeminent nonprofit presenter of Broadway theatre in North Texas. DSM produces, presents and promotes excellence in live musical theatre with year-round performances for diverse audiences of all ages, impacting the lives of children and families through education and community outreach programs, while enriching the cultural landscape of Dallas/Fort Worth, North Texas and the Southwest Region.
As a 501(c)(3) nonprofit organization, DSM relies on a variety of funding sources to bring the Best of Broadway to Dallas at affordable ticket prices, as well as to preserve the beautiful historic theatre, educate young audiences and create important community programs. DSM's Seats for Kids program provides a meaningful arts education experience to thousands of low income, at-risk and special needs children. DSM Kids Club is a program created to foster tomorrow's musical theatre audience. Through exciting activities children gain an interest, hands-on-knowledge and appreciation of the performing arts. In addition, Dallas Summer Musicals Academy of Performing Arts offers professional theatre arts training and scholarships to talented students in need. DSM's High School Musical Theatre Awards are patterned after Broadway's Tony® Awards and celebrate the power of the arts to significantly improve all areas of education. DSM Associate Producers is a dynamic group of young professionals with a mission to support DSM by cultivating future patrons and leaders making DSM part of the culture for young professionals in Dallas. DSM Guild is a group of individuals who share a love of musical theatre and support DSM by providing stellar service and hospitality to the cast and crew of every show.
Since 2010 the experts at DSM have made significant changes and upgrades to its acoustical systems to improve the sound quality of the productions for all its patrons, including the hearing impaired, leading to the development of Hear Us Now!™; a device which utilizes five assistive listening technologies (T-coils, FM Classroom, Streamers, FM systems, and traditional headsets) to deliver a clear and direct audio signal. It is so unique that a trademark has been allowed by the United States Patent and Trademark Office. Seats for Vets, DSM's newest initiative, serves war veterans and their families by providing them discounted access to a unique theatrical experience as a way of thanking them for their service. Ticket sales alone do not sustain these endeavors. Only support from committed businesses, foundations and individuals make these programs possible.
Dallas Summer Musicals is presented by Texas Instruments and gratefully acknowledges the support of our season sponsors and partners The Dallas Morning News, WFAA TV Channel 8, American Airlines, and The Original Cupcakery.
For more information about Dallas Summer Musicals, please call 214.421.5678 or visit our website at DallasSummerMusicals.org.
#   #   #
---