Posted on May 9th, 2016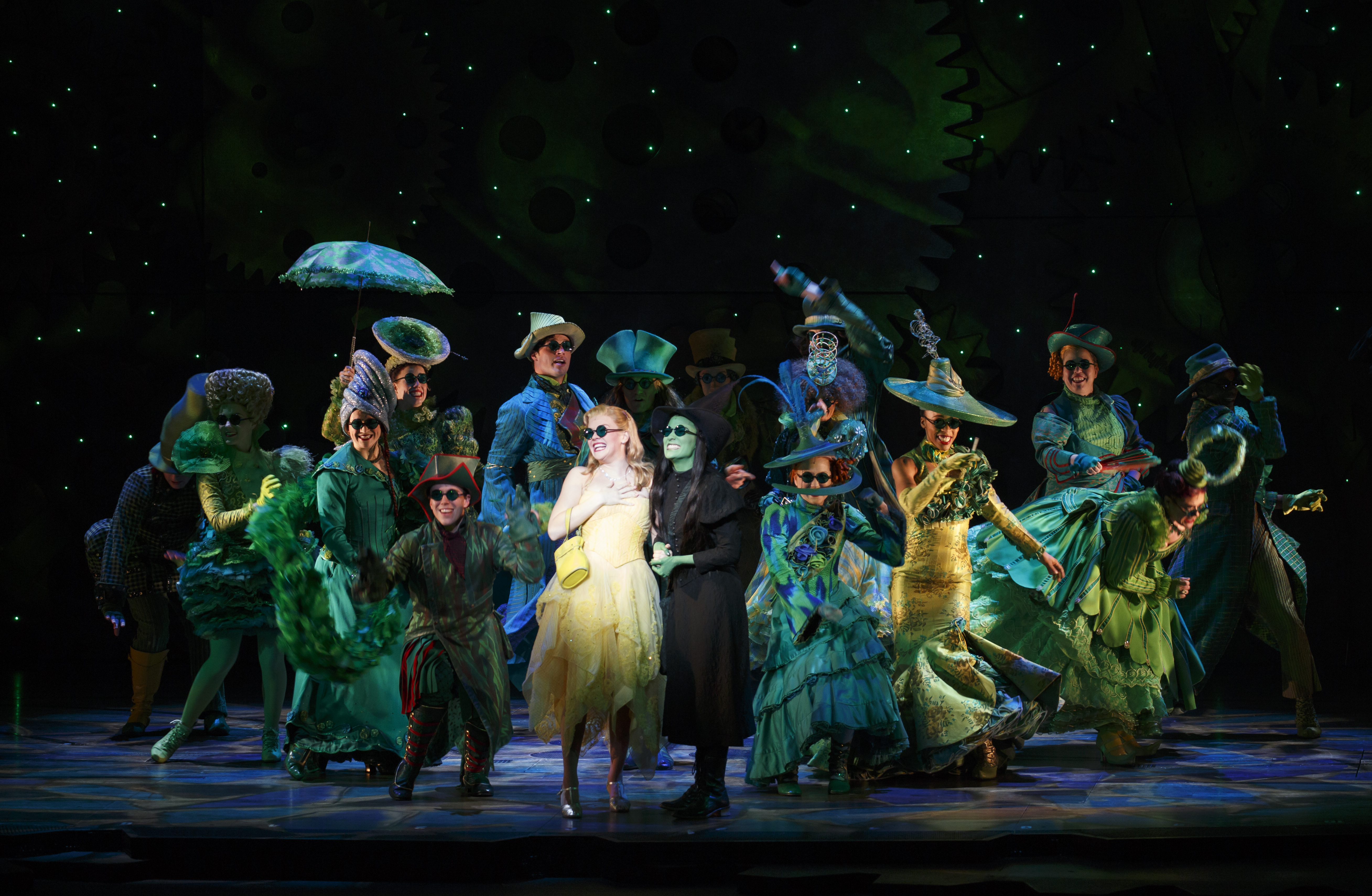 Back by "popular" demand, Dallas Summer Musicals is thrilled to present its 5th and longest engagement of the cultural phenomenon, WICKED at the Music Hall at Fair Park April 20 – May 22, 2016. Winner of over 100 international awards, including a Grammy and three Tony Awards, WICKED continues to break box office records across North America. Long before that girl from Kansas arrives in Munchkinland, two girls meet in the land of Oz. One – born with emerald green skin – is smart, fiery and misunderstood. The other is beautiful, ambitious and very popular. How these two grow to become the Wicked Witch of the West and Glinda the Good makes for the most complete – and completely satisfying – musical in a long time. Check out what the DFW Metroplex has to say about it. – DSM Cisco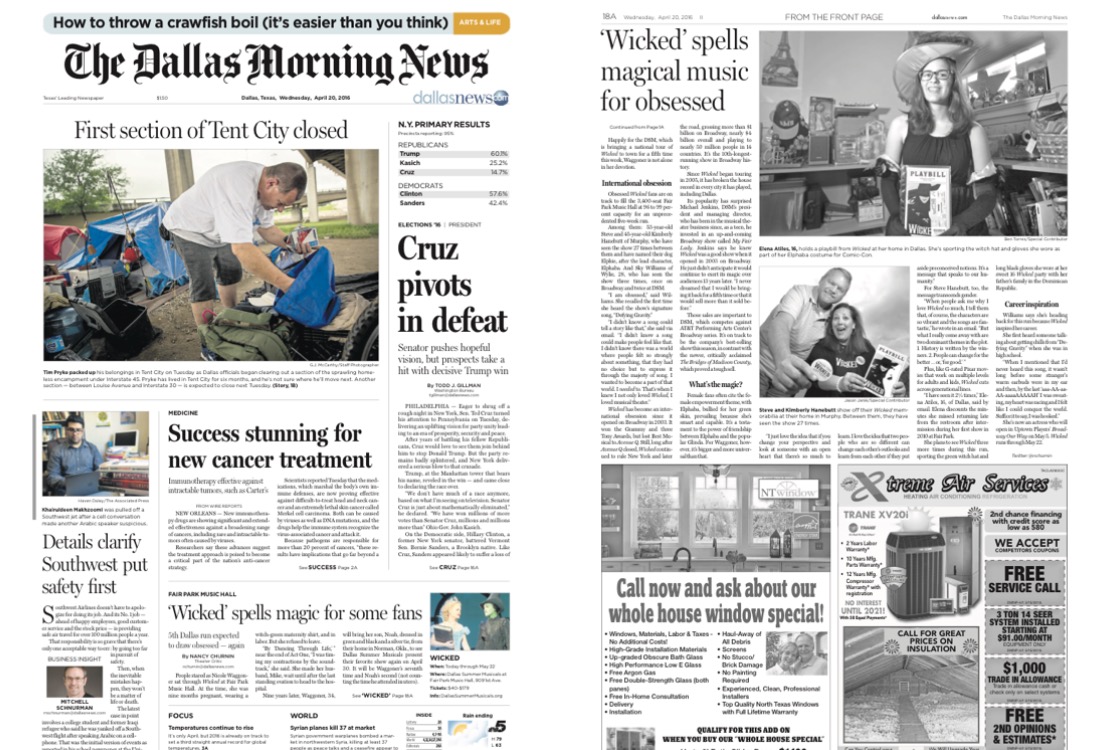 Front Page Story in The Dallas Morning News: 'Wicked' expected to work its usual magic on enchanted fans in fifth Dallas run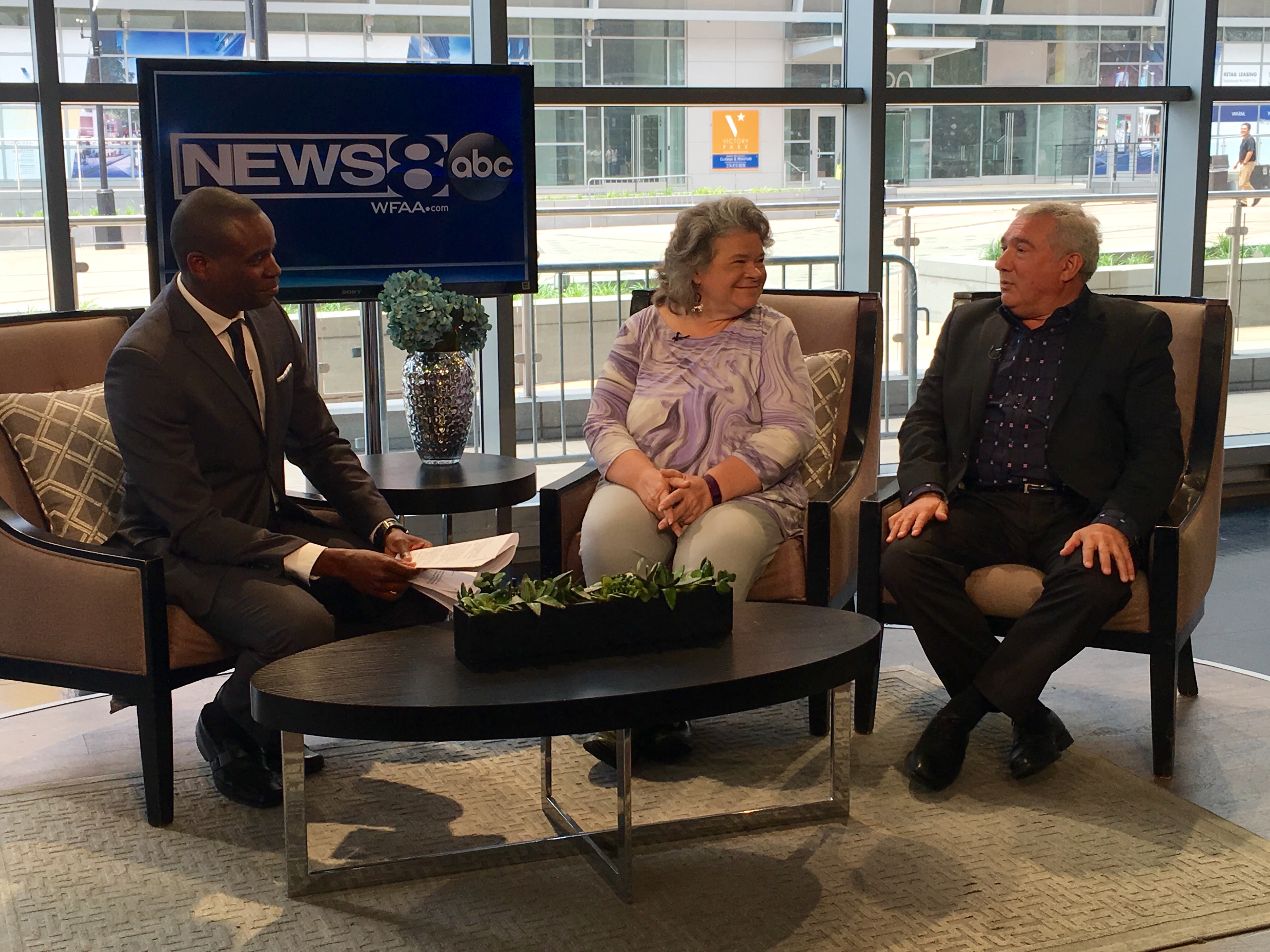 Wendy Worthington (Madame Morrible) and Stuart Zagnit (The Wizard of Oz) chat with Marcus Moore on Midday about WICKED's 5th engagement in Dallas
REVIEWS
"'Wicked' celebrates friendship that crosses barriers, punctures political spin" – The Dallas Morning News
"The witches of Oz are back for one of the strongest tours of Wicked, presented by Dallas Summer Musicals" – TheaterJones
"Believe me when I say, you have not seen nothing like this before thanks to this sensational cast!" – The Column
"'Wicked' is popular with sold-out Dallas audience" – White Rock Lake Weekly/Katy Trail Weekly
"Musical, La Bruja Mala Del Oeste…Tienes que verla" – Uptown Latino (In Spanish/En Español)
"The untold story of OZ returns to Dallas Summer Musicals" – Focus Daily News
"The blockbuster Broadway musical that is the most popular musical in Dallas" – CBS DFW
"'Wicked' always seems to deliver a thrill to everyone in the houses it packs" – The EDGE
"The fun characters come to life on stage with the upbeat music, bright colors and flashy lights" – Clink!
"Amanda Jane Cooper and Emily Koch provide strong comedic fervor to the already-funny classic script to make the show even more 'thrillifying'" – The Flash List
"'Wicked' Is Just Brilliant" – Red Carpet Crash
"The cast, all in all were perfect, and I don't say that lightly. The leads were spectacular both individually and as a whole. The ensemble of this particular production is the single best ensemble I have ever seen in any show, period." – Irish Film Critic
The Clubhouse Podcast Special Edition Review (Audio)
"The performances here are nothing short of amazing…also a technical marvel, with visuals that are simply stunning" – Rob from The Clubhouse Podcast
"This production was breathtaking in every sense of the word" – Chad from The Clubhouse Podcast
"I will definitely recommend this production and as the high honor I can give of no matter the ticket price" – Don from The Clubhouse Podcast
FEATURES
"Surrender Dallas: Wicked's on its way and in this week's top 5 picks" – The Dallas Morning News
"Making Wicked Tick: A Behind-the-Scenes Look at the Touring Production of the Smash-Hit Musical" – The Flash List
"Bringing Wicked to Life Takes The Magic of Many" – This Week In Texas
"The Witches Have Arrived" – Southlake Style Magazine
"'WICKED', Broadway's Biggest Blockbuster, Returns To Dallas!" – Brandon Does Dallas
"WICKED – Broadway's Biggest Blockbuster Returns To North Texas!!!" – Flicks & Food
Best Weekend Events – CultureMap
Things To Do In Dallas – D Magazine
WICKED is on stage NOW through Sunday, May 22nd at the Music Hall at Fair Park. Click here for details and ticket information.
Join us and don't miss this WICKED production!
---