Vote for our Top 5 DSM Hero Nominees!
Posted on August 26th, 2015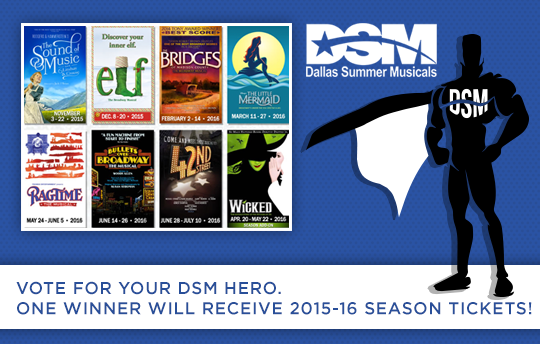 It's time for you to vote!
This year, we want to honor a special, deserving person with 2015/2016 DSM Season Tickets! The nominations have been submitted and after A LOT of thought, we've announced our 5 ‪DSM Hero finalists! Now it's your turn to vote at this link for the person who you feel deserves 2015-16 season tickets to Dallas Summer Musicals the most. Thanks for your votes – voting ends Sunday! -DSM Amanda
Thanks for voting! We wish the nominated heroes good luck!
‪#‎DSMSeason ‪#‎SeasonTicketContest ‪#‎DSMHeroes
-DSM Amanda
Vote Here: http://bit.ly/VoteDSMHero
---