Posted on July 20th, 2015
Menopause The Musical – Meet The Cast: Teri Adams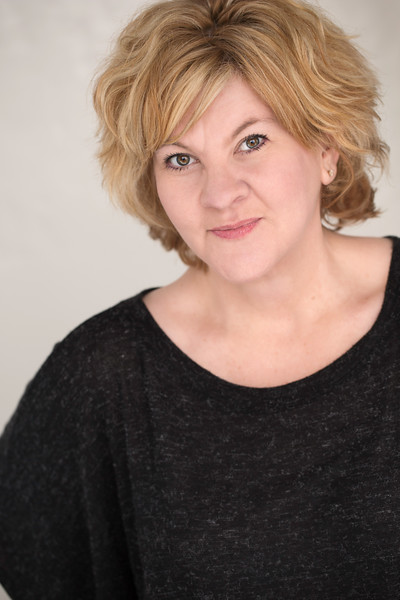 Teri Adams (Iowa Housewife) has been with Menopause The Musical®! since 2006, where she first played IH at The American Heartland Theatre in her hometown, Kansas City, where it ran for 5 months. Since then, she has joined the MTM national touring company, and although still based out of KC, she has performed this role on numerous tours and sit-down productions across the country. Regional credits include Ruthless!, Blues In The Night, Dirty Blonde, Baby, Lend Me A Tenor, 25th Annual Putnam County Spelling Bee, and the World Premiere of Gregg Coffin's Rightnextto Me. Teri most recently appeared in MTM, as well as Church Basement Ladies (The Last Potluck Supper) at The Merry Go Round Playhouse (NY) for the Fingerlakes Musical Theatre Festival. Thanks to my G4 family and my actual family, and thank you all for supporting live theatre.
MY STORY
Cancer. I hate that word. The fact is, the word cancer strikes a terrifying chord with everyone, and most especially if you've watched it decimate your family. Everyone on my Mother's side had had a cancer diagnosis, three out of five dying from the disease, and my paternal aunt died of breast cancer at 31. I knew all too well about my family history. Cancer had been up close and personal.
I had just turned 40, gotten married and was enjoying a particularly busy time in my career on stage. And then my doctor called. My cancer was discovered after a routine mammogram came back abnormal, resulting in a biopsy that revealed DCIS—a noninvasive, early form of breast cancer. It was good news, I was told. "If you're going to get cancer," my doctor said, "this is the type that is easiest to treat." I breathed a little easier and met with the surgeon who would perform the lumpectomy. My surgeon, the first of many, as well as my Oncologist were the same two women who had treated my Mother five years earlier. I was all scheduled to have the same surgery that had successfully removed my mom's tumor, when the doctor decided on a last minute scan. The technology involved, she explained, hadn't even been available when my mom was sick. That decision may have saved my life. The MRI discovered that I had several other spots in my right breast, and after biopsy, they told me that I would need a mastectomy. At that point, based on all of the information, as well as my family history, it didn't take very long for my doctors and I to decide to remove both breasts. On July 1st, 2008, I underwent a bilateral mastectomy. While in surgery, doctors discovered that the cancer had micro-metastasized, and my sentinel node biopsy revealed invasive cancer. I was diagnosed with Stage IIA ER-/PR-, HER2+ breast cancer, and after that things got complicated. As the diagnosis changed, so did the treatment plan.
I went through a year of chemotherapy with docetaxel (Taxotere), carboplatin and trastuzumab (Herceptin). I was also treated for iron-deficiency anemia, and over the next few years I underwent multiple surgeries due to infections and other complications. There were too many bumps in the road to count. So many scopes and scans. So many needles. So much of my time for so long was spent inside the walls of the Cancer Center or in the hospital. Five years after my initial diagnosis, I'd had 12 surgeries—the last one to remove a small mass on my kidney.
During treatment I was extremely tired, lost all but a tiny cap of my hair, and suffered from blood loss, resulting in severe anemia. There were countless sutchers, dressings and drains. And there was pain. But the body is an amazing thing, and after everything mine has been through, I'm starting to appreciate it in a much deeper way.
Through it all, I made a point to be an active participant in the development of my treatment plan. I did a lot of online research and discovered that although there is useful stuff out there, contradictory information can get confusing and even cause more anxiety than peace of mind. I finally had to trust my medical team and started carrying a notebook with me to write down any questions I had, so I could later ask my doctor.
My family was my backbone, and my husband was an amazing caregiver. They were there for me every step of the way. I also had support from a local organization that offered support groups, exercise classes, nutritional information and even help finding bras and wigs. Having support from women who understand your journey and are living proof that you can survive is beyond measure.
The emotional impact, however, was a bit harder to handle. I felt like I was being pushed and pulled this way and that, from appointment to appointment, for different tests and treatments. It was easier to just go with the flow than to stop and digest how I was really feeling. I realize now that I dealt with the emotions more after the fact than in the middle of it all. Now, as I look back over that time, I am just now starting to fully appreciate and understand everything I went through and what it all means.
It's been an incredibly long road, but I've officially graduated from doctor visits every three months to an annual checkup with my oncologist. Although I'm still processing everything, I've come to realize that my cancer diagnosis helped me put a lot of things into perspective. I try to not sweat the small stuff, to be kinder to myself and others, and to accept that I cannot control everything.
My scars make me beautiful. They remind me every day that I am a survivor. Cancer isn't as strong as I am. I realize now that I am stronger than I ever knew.
---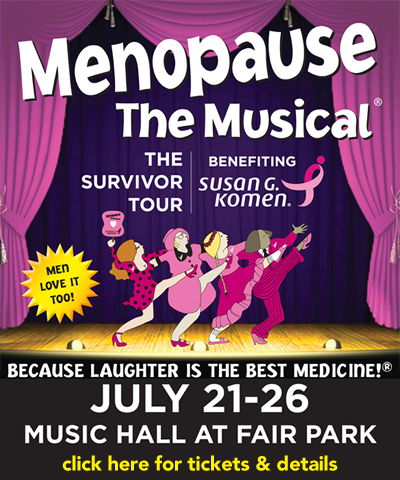 Menopause The Musical®: The Survivor Tour® is presented by DSM Management Group, Inc. July 21-26 at the Music Hall at Fair Park.
TICKETS ON SALE NOW!
The show that's brought joy to millions worldwide is proving that laughter truly is the best medicine. With a cast of breast cancer survivors and co-survivors, Menopause The Musical® is partnering with Susan G. Komen® to offer inspiration, sisterhood, and hope.
Four women at a lingerie sale have nothing in common but a black lace bra AND memory loss, hot flashes, night sweats, not enough sex, too much sex and more! This hilarious musical parody set to classic tunes from the '60s, '70s and '80s will have you cheering and dancing in the aisles! Menopause The Musical®: The Survivor Tour® Benefiting Susan G. Komen® is the first of its kind, donating a portion of every ticket sale directly to the ongoing effort to save lives and end breast cancer forever.
For more details and tickets, click here.
---