Posted on July 21st, 2015
Menopause The Musical – Meet The Cast: Judy Blue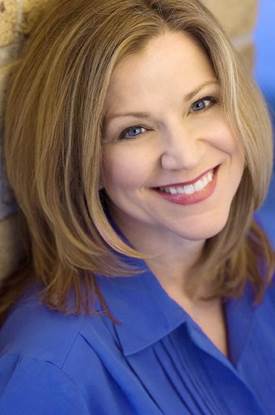 Judy Blue (Soap Star) is once again delighted to be a part of this celebration of women with this incredible company. She is proud to have been a part of the Chicago company of Menopause, the Musical for over 2 years and a veteran of many adventurous MTM tours. Some of Judy's credits include: Gary, and The Way West (Steppenwolf Theatre); Talking Pictures/Blind Date, Frank's Home, House/Garden, and A Little Night Music (Goodman Theatre); Romeo and Juliet, Richard III, and Winter's Tale (Chicago Shakespeare Theater); I Am Going to Change the World, Grande Hysterie, and Liquid Moon (Chicago Dramatists). Most recently having directed a well-received production of Mia McCullough's Impenetrable at Clockwise Theatre she is currently narrating the audio book series of The Sleuth Sisters. Favorite musical roles have included the Baker's Wife in Into the Woods, Edith Piaf in Piaf and Eva Peron in Evita. Other theatre's include: Writers Theatre, Collaboraction, Theatre At the Center, Dallas Theater Center, B Street Theatre, Syzygy, NY Henry Street, Arkansas Rep, Theatre Three and Stagewest. TV/Film includes: Chicago PD, Breakfast with Joe, The Onion, and Hollywood Jerome. An Actors' Equity member for almost three decades, she is also a member and served on the board of SAG-AFTRA. She is an associate of The Shakespeare Project of Chicago, Chicago Dramatists and Syzygy Theatre of L.A.   Love to the Girlie Girls.
MY STORY
Ah, the story. I am so grateful for here and now. I feel like the luckiest person. My breast cancer in 2011 could be removed with a lumpectomy and controlled with radiation and (seemingly) endless medication. All around me are other women who have gone through a similar experience and those women who are forced to embrace a much deeper battle. I remember the daily fear of not knowing, and the happiness and sweet smile of my surgeon, Dr. Jeruss, when she reassures me that my surgery was successful and I can begin to feel normal again without the worry. I will never forget the friend who called and simply said, "well, …you're in the club." Gee, that's exactly how it feels. Now there is a responsibility to myself and to others to do what I can to keep the disease from returning. And a responsibility to pass on the information that is flooding to me, that has taken me out of denial. I am ready to find the answer for my nieces, their children, my friends and their children – I am not ready to welcome any more women into this club.   We have better places to be.
---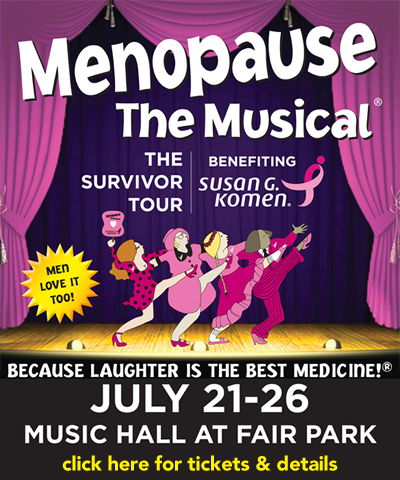 Menopause The Musical®: The Survivor Tour® is presented by DSM Management Group, Inc. July 21-26 at the Music Hall at Fair Park.
TICKETS ON SALE NOW!
The show that's brought joy to millions worldwide is proving that laughter truly is the best medicine. With a cast of breast cancer survivors and co-survivors, Menopause The Musical® is partnering with Susan G. Komen® to offer inspiration, sisterhood, and hope.
Four women at a lingerie sale have nothing in common but a black lace bra AND memory loss, hot flashes, night sweats, not enough sex, too much sex and more! This hilarious musical parody set to classic tunes from the '60s, '70s and '80s will have you cheering and dancing in the aisles! Menopause The Musical®: The Survivor Tour® Benefiting Susan G. Komen® is the first of its kind, donating a portion of every ticket sale directly to the ongoing effort to save lives and end breast cancer forever.
For more details and tickets, click here.
---