Posted on May 26th, 2017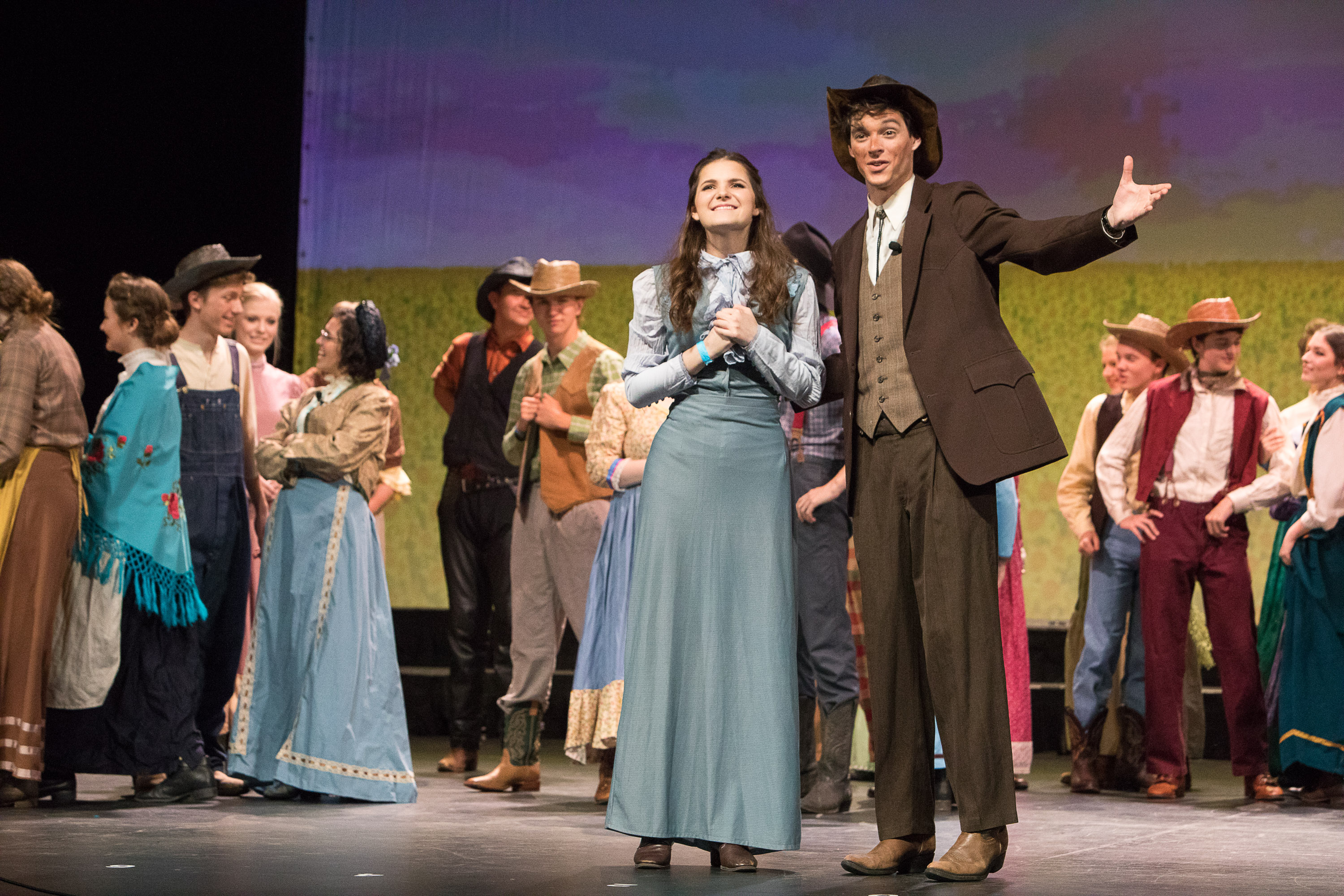 HIGH SCHOOLS FROM ACROSS NORTH TEXAS CELEBRATED
AS WINNERS WERE ANNOUNCED AT THE 6TH ANNUAL
DALLAS SUMMER MUSICALS HIGH SCHOOL MUSICAL THEATRE AWARDS
Dallas, TX (May 23, 2017) – High school students, parents, friends, arts advocates, celebrities and city officials from all over North Texas celebrated as the winners and scholarship recipients were announced on May 18 at the 6th Annual Dallas Summer Musicals High School Musical Theatre Awards (DSM HSMTA). Patterned after Broadway's Tony Awards®, DSM HSMTA celebrates the power of the arts and its ability to significantly improve all areas of education. Best Musical Award went to Flower Mound High Schools' production OKLAHOMA! and $55,000 in scholarships were awarded to various deserving students.
Nominees were chauffeured to the red carpet in cars sponsored by RideCentric and their arrivals announced while photographers snapped and media cameras broadcasted live. Arts philanthropist, City Council members and sponsors joined in the VIP reception with Kenneth T. Novice, DSM President; John R. Clutts, DSM HSMTA Chair; Paddy and Barry Epstein, DSM HSMTA Honorary Chairs; Ted Munselle, DSM Board of Directors Chair; and Tracy Jordan, DSM HSMTA Director.
4th time emcee Ron Corning, WFAA Channel 8 News Anchor, began the show by welcoming everyone and introducing the opening number; a medley specially arranged to showcase each individual category. The crowd cheered on their favorite Best Musical nominee performances, while the Best Actor and Best Actress nominees performed medleys choreographed by Penny Maas. All performances were accompanied by a live 25 piece professional orchestra conducted by Mark Brymer. A special appearance by two-time Tony Award® nominee Stark Sands excited the crowd with his performance of Soul of a Man from his originated role as Charlie Price in KINKY BOOTS. The show was topped off with a finale of more than one hundred performers from each participating high school and a shower of popping streamers.
Through private donations and ticket sales, DSM HSMTA Angels Host Committee raised $200,000 to benefit HSMTA and scholarships.  Historically seven scholarships have been presented to deserving students. This year DSM HSMTA awarded 17 scholarships to continue to foster the great talent North Texas has to offer – 17 for 2017. This year's College Scholarship program consisted of ten Ambassador Scholarships at $1,000 each, five Theater Major Scholarships (in all areas of theater) at $5,000 each, and two $10,000 scholarships for the winners in the Best Actor and Best Actress categories. DSM HSMTA is the only program in the nation, other than the National High School Musical Theatre Awards (the Jimmy™ Awards), to offer Best Actor and Best Actress winners $10,000 scholarships to continue their education. To date, DSM HSMTA College Scholarship program has awarded $190,000 in cash scholarships to deserving students.
"This has been an unforgettable evening as we recognize the incredible talent and passion of hundreds of high school students. We thank John R. Clutts for his dedication and vision as this year's program chair and the North Texas arts community for all of their wonderful support," said Novice.
Stark Sands was the recipient of this year's Fullinwider Award for his roots and educational years in the Dallas theater community. Sands is a Dallas native who attended Highland Park High School. He is known for his role as Tunny in the original Broadway cast of AMERICAN IDIOT, and originating the role of Charlie Price in KINKY BOOTS on Broadway. The Fullinwider Award was created in honor of Leah and Jerry Fullinwider, DSM HSMTA Founding Donors, for their initial gift of $100,000 which helped fund and produce DSM HSMTA and the College Scholarship program in 2012.
A three-judge panel of entertainment industry professionals and veteran educators visited each high school and judged the performers in 16 categories: Best Musical, Best Direction, Best Musical Direction, Best Choreography, Best Orchestra, Best Scenic Design, Best Costume Design, Best Lighting, Best Ensemble, Best Crew, Best Actor, Best Actress, Best Supporting Actor, Best Supporting Actress, Best Featured Male Performer, and Best Featured Female Performer. Ballots were tabulated by the accounting firm of Grant Thornton – the official ballot professional service partner of the 2016 Tony Awards®.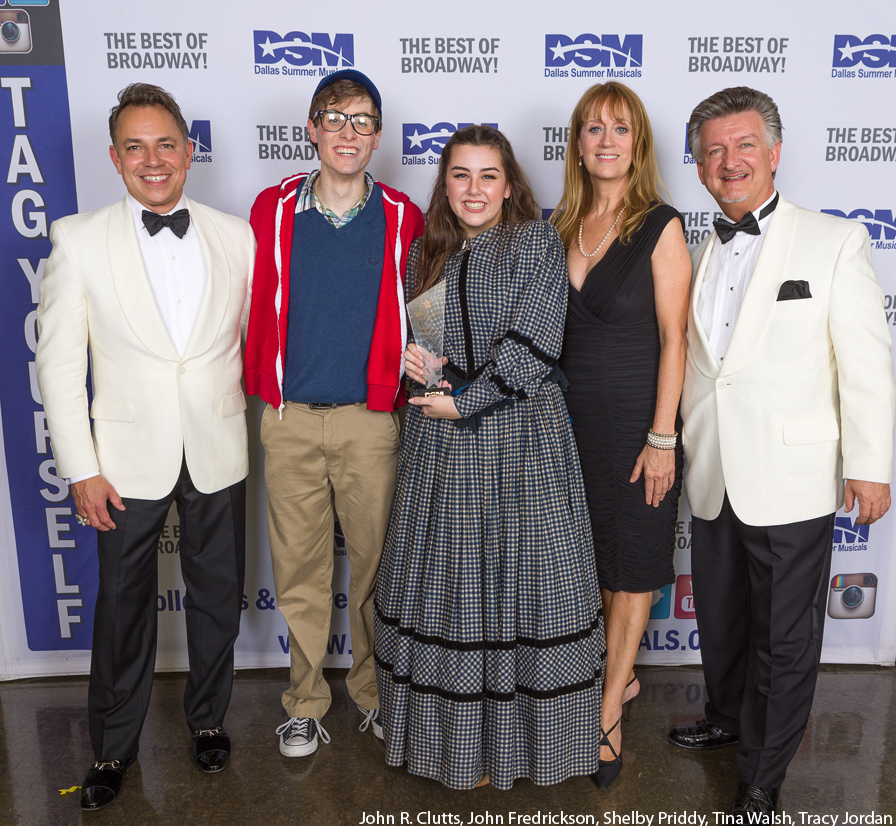 John Fredrickson from Guyer High School took home the Best Actor Award for the second consecutive year and Shelby Priddy from Mansfield High School won the Best Actress Awards. Fredrickson and Priddy each receive a $10,000 scholarship and an all-expense paid trip for five days to New York City to represent their high school in the National High School Musical Theatre Awards (the Jimmy™ Awards) on June 26th for the chance to win prizes and other scholarships, which vary by year.
"I am thrilled that this year we were able to give 17 scholarships for the first time. From year one to year six, the quality of the performances among all the schools has increased in every category. It is wonderful to know that DSM High School Musical Theatre Awards impacts the quality of musical theater training as theater directors use the results to benchmark their productions and return with impressive improvements year after year," said Clutts.
"DSM is pleased to create opportunities for young performers to develop their talents and pursue their dreams. These students are truly our future leaders, teachers, innovators, creators and the stars of tomorrow," added Jordan.
Since DSM's first HSMTA in 2012, this has truly developed into a regional program, accepting schools as far away as Lubbock and Oklahoma as well as new and returning schools from the DFW Metroplex. DSM's HSMTA has grown to be the largest program of its kind in the state of Texas and the second largest program in the nation. DSM HSMTA has been recognized by The National High School Musical Theatre Awards as their official affiliate program for North Texas.
All winners, participating high schools and their shows are listed at www.DSMHSMTA.org.
DSM HSMTA media sponsor is People Newspapers. DSM season sponsors are American Airlines, The Dallas Morning News, Texas Instruments and WFAA Channel 8.
---