Posted on September 29th, 2020

Dear Friends,
In the age of Covid-19, we have become all-to-familiar with the acronym P.P.E. — for Personal Protective Equipment.  But during this extended period when our stages are empty, DSM is taking this acronym back and redefining what P.P.E. stands for:
Preparation. The DSM team is working tirelessly to get ready for live Broadway at the Music Hall.  We have been working with our partners at Broadway Across America, and numerous producers and booking agents, to determine when we can reschedule shows (announcement coming soon!).  Our operations team has been working with our newly hired Industrial Hygienist to ensure that a when the state, county and city authorities allow us to reactivate our theatres, we have all of the necessary safety measures in place.  Our #1 priority is to ensure that our audiences, our staff and our touring companies are as safe as possible.
Participation.  The DSM family has been very active in the community during the pandemic.  We are regularly volunteering at City Square (including our Board of Directors who volunteer en masse just last week), we are on the cusp of announcing a major new partnership with DISD, and we have been an active voice for social justice and equity through our Black Art Matters video series.  Even when are stages are dark, we take our responsibilities as a member of the Dallas community very seriously.
Entertainment. Last month, we presented a livestream concert by Christopher Jackson, Hamilton's original George Washington. This program was such a huge success that we are launching today a 3 show livestream concert series called: Live From the West Side: Women of Broadway. Featuring one concert per month, this series will spotlight full live cabaret sets from Patti Lupone, Laura Benanti and Vanessa Williams—all emanating from the Shubert Virtual Studios on Manhattan's West Side. More information is below, and we hope you will join us for this new live entertainment concept you can enjoy from the comfort of your own home. We are grateful to PNC Bank for sponsoring this series.
While the "usual" PPE is still a major part of our lives (and likely will be for some time) – I hope you enjoy DSM's unique version.

Ken Novice
DSM President
---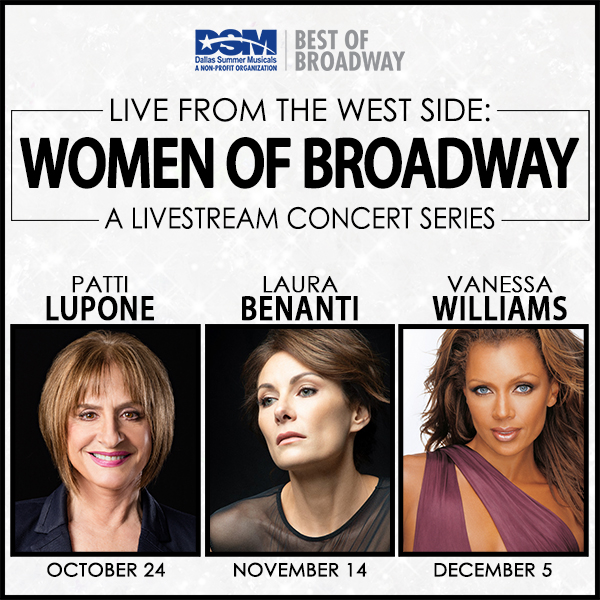 ---

JOIN US FOR VIRTUAL BROADWAY TRIVIA!
Put your knowledge to the test and sign up to compete in our multi-week virtual DSM Broadway Trivia contest starting on October 7th! The grand prize winner will receive four premium tickets to the first show that is back on DSM's stage as well as a one-on-one virtual meet-and-greet with a cast member from the show. Click here and sign up to play!
---
EMPLOYEE SPOTLIGHT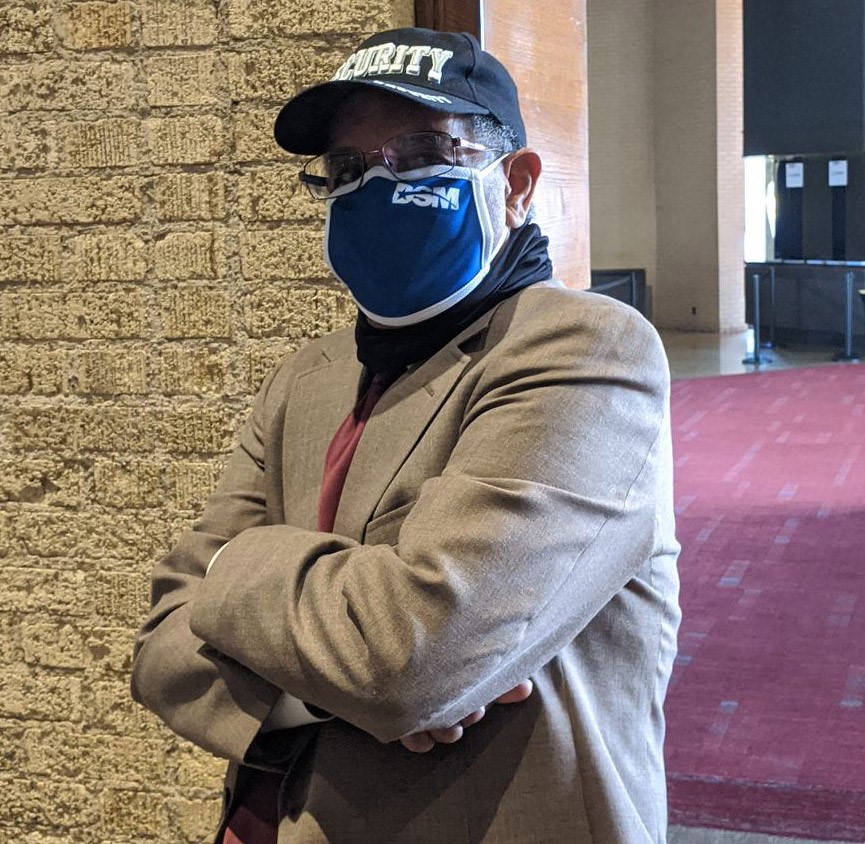 BURTON SAYLES
Building Security Supervisor
Years at Music Hall: 22 years
Hometown: Dallas (by way of Kansas City and San Francisco)
Favorite Shows at DSM: Aida, The Lion King, South Pacific
Notable Memory of a Show at DSM: I remember with South Pacific, the Music Hall was full of decorations. There were columns wrapped in palm leaves, hula dancers, sandbags, barrels, and a screen with a plane flying over it—it looked like a bunker out front.
What do you enjoy about your job? I enjoy meeting and talking with people—the patrons, coworkers, and anyone who steps inside Music Hall. Over the years, I've met so many wonderful people and have very much enjoyed everyone I've worked with.
What are some words to live by? Always treat people like you want to be treated—no matter who it is. It goes a long way!
What do you like to do in your free time? Well, now with the current times it's a little different, but I love spending time with my grandkids and great grandkids. I always like going to the park or playing games with them, and finding ways to get little teaching moments in there.
What are you looking forward to in the future? Well, I am so thankful to be with DSM. It's not the same right now with the building so empty, but I keep thinking about the "tomorrow" when everyone can return to the Music Hall. I can't wait to see everyone again!
---
THE ART & BUSINESS OF BROADWAY
The Art & Business of Broadway is a new interactive video series presented by DSM. Held on the third Thursday of the month, each session will highlight different topics to give you a behind-the-scenes look at DSM operations and the Broadway industry overall. Click here to catch up on our latest episode: The Art and Business of Broadway: Intersections – DSM and Community.
---

THANK YOU!

Thank you to our supporters during North Texas Giving Day who helped us raise $36,664. Your gift will make an impact through our community outreach and education programs! 
SUBSCRIBER TESTIMONIALS
There's still time to share your theatergoing experiences with us on camera! Nothing fancy needed—a smartphone and your living room will do just fine. We plan to compile your clips to share across our social media channels, in hopes of reliving the magic of live theatre virtually, while we wait to be together in person. Click here to participate!
Click here and sign up for eNotes to receive the next edition of DSM NEWS!
---