Posted on January 28th, 2020

Dear Friends,
We are less than a month into a new decade. What will the 20s be remembered for?
It's my hope that this new decade will see a renewed focus on arts in public education. The data is clear: when young minds are provided opportunities to participate in the arts in their classrooms their social skills improve, their confidence improves, their creative thinking improves, and incontrovertibly, their performance in all core STEM subjects improves.
Arts in our schools may be the solution we have been looking for to— the new acronym being STEAM. The "A" is for arts, but I would go a bit further and say that the arts can positively impact performance across each of the STEM disciplines, essentially floating above STEM and supporting each subject area equally.
At DSM we present Broadway shows, but our education and community outreach programs, which impact tens of thousands of kids, are what really get our pulses racing. Read on, and please help us in our quest to put arts back in the classroom.
See you in the lobby!

Ken Novice
DSM President
---
GARLAND ISD STEP PERFORMANCE
In partnership with the Step Teams from Garland ISD, DSM presented a collaborative, percussive Step show before the performance of BLUE MAN GROUP on Thursday, January 16th. The performance took place in Hamon Hall inside of the Winspear Opera House. The Step teams worked together across schools to bring a group performance from representatives from at least three different GISD campuses.
GIRL POWER AT DSM
DSM hosted 26 high school-aged girls at DEAR EVAN HANSEN as part of Big Thought and the State Fair of Texas' organization, Girl Power. Students from Irma Lerma Rangel, Madison, Lincoln, and Samuel engaged in an arts-based workshop inspired by the show's theme of asking for help. The workshop was led by two licensed mental health counselors and executed using arts-based techniques. The students enjoyed a meal together and then came to see the show!
EMPLOYEE SPOTLIGHT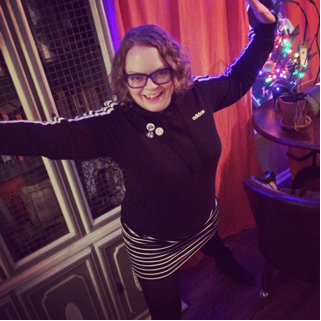 PAULA RAE BROWN
Donor Relations and Operations Manager
HOMETOWN: Jackson, MS
COLLEGE: Louisiana Tech University
MAJOR: Speech/theater with a double-emphasis in stage management and arts administration
YEARS AT DSM: 2
FAVORITE BROADWAY SHOW: RENT
WHAT DO YOU LOVE ABOUT YOUR JOB?
From an early age, I have had two main passions. One was to be involved in the performing arts, most specifically live theater, and the other was to be an active part of community building. Being a fundraiser for DSM feeds my love of Broadway and also allows me to connect with others who are passionate about philanthropic community building. I'm able to help them realize ways to create and sustain programs, through our Artistic and Educational Excellence Fund, that will yield benefits in North Texas and beyond for generations. I love to say that what our team does is create miracles and memories!
WHAT IS YOUR FIRST MEMORY WITH LIVE THEATRE?
Like a lot of my generation, the first live performance I saw was CATS. Family lore states that it was directly after this I declared my intention to "be in the-ah-tur" (said very dramatically I'm sure). What I remember capturing the most that day—and what can still get me today—is the quiet energy of being in "the house." There is a shift in our behavior as audience members turning your sole attention to the story in front of you, and a little on the side of you in the case of CATS! It is a truly beautiful feeling to feel and cemented my love of musical theater as an art-form and story-telling medium.
WHAT DO YOU DO IN YOUR FREE TIME?
Spending time with our 2 dogs, ages 11 and 6. Hiking, running. Reading. Lots and lots of podcasts. Thrifting and decorating from those finds. Art, art, art – museums, local shows and exhibitions, live performances. Anything with puppets. Cooking. Good food and good drinks – I am a big supporter of buying local, and living in the metroplex there is no shortage of places to go to get the best food, coffee, and Texas craft wine, beer, and liquor.
JOIN THE DSM ASSOCIATE PRODUCERS!
Associate Producers (AP) is Dallas Summer Musicals' young professionals group with dynamic members interested in learning about musical theater, networking with peers, and supporting the performing arts. Membership benefits include discounts to certain performances, preferred block seating, and invites to social events throughout the year including our Season Wrap Party. AP members also receive exclusive access to touring casts through members-only pre-show events and invitations to select cast parties. AP is also committed to supporting the arts community of Dallas through volunteer opportunities throughout the year. AP strives to connect and empower theatre enthusiasts (ages 21+) representing diverse professions and backgrounds who want to support the arts and meet others in the Dallas area! LEARN MORE
WHY GIVE TO DSM?  
"I support Dallas Summer Musicals because they bring Broadway quality shows to the Dallas market and they enabled me to expose live musical theater to my daughter at a young age."
–Jennifer Curtis, DSM Donor & Season Subscriber
With your support, we can continue to make a difference and leave a lasting impact in the communities we serve. We hope you'll consider giving to DSM today.
LEARN MORE
DSM IN THE NEWS

Click here and sign up for eNotes to receive the next edition of DSM NEWS!
---