Posted on April 7th, 2020

Dear Friends,
While we are physically separated, we want to help you stay connected with your DSM family. 
We hope this edition of DSM News will offer you a brief distraction, make you smile, and help you look forward to the day that we are all back together enjoying the magic of musical theater.
In this edition of DSM News you'll learn about some of the actions DSM has undertaken in the last few weeks, including volunteering at CitySquare and hosting a massive pop-up blood drive at the Music Hall in partnership with Carter BloodCare. 
It's our honor to give back to the community that has so loyally and generously supported us.
Stay safe – we will see you back at the Music Hall as soon as we possibly can!

Ken Novice
DSM President
---

#GIVEFORLIFE
On Friday March 27, 2020, Dallas Summer Musicals teamed up with Carter BloodCare to host a one-day blood drive at the Music Hall at Fair Park. Blood donation is essential to the medical community, but due to the recent closures of businesses, churches and universities as a result of the COVID-19 pandemic, there have been over 400 lost blood drives in North Texas which can impact up to 30,000 patients. The Music Hall at Fair Park allowed for the recommended social distancing between donor beds and in waiting areas, and DSM was grateful for the opportunity to support Carter BloodCare during these uncertain times. We want to extend a huge THANK YOU to Carter BloodCare and all who came to donate blood. As a result, in six short hours our community donated enough blood to save 216 lives! Cue the standing ovation!

LEND A (VIRTUAL) HAND
We recognize so many industries are being impacted by COVID-19. If you'd like to lend a (virtual) hand to the theater community, follow this link to learn how you can help bring light to our industry in these times of darkness: LEARN MORE.
DONOR SPOTLIGHT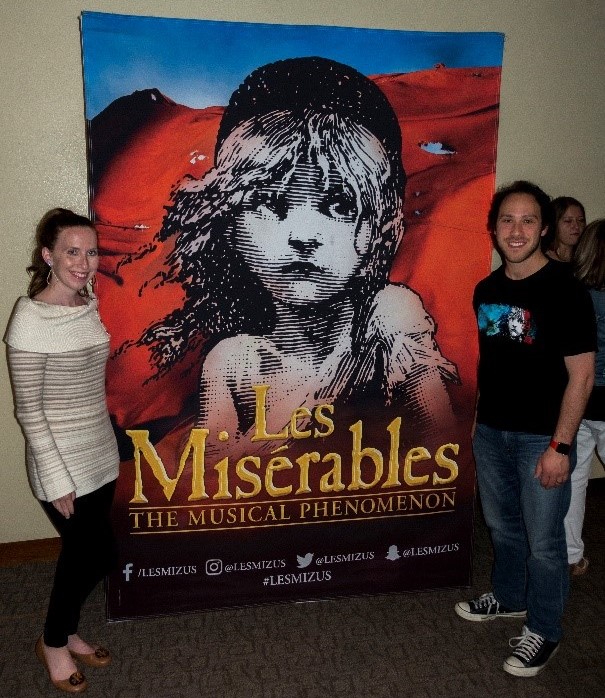 ALAN & LESLIE ROSE
Alan and Leslie's love for musical theater runs deep and holds a special place in their relationship. Alan fondly remembers attending his first musical, The Music Man, with his grandparents when he was a young boy. Leslie ignited her love for musicals when she heard the French album of Les Misérables. She even tried to learn the French version of "Castle on a Cloud" phonetically! On one of their first dates, Alan took Leslie to the touring production of Happy Days at the Music Hall at Fair Park. Since that 'doo-wop' filled night in 2009, they've loved attending musicals together at DSM. Before becoming season ticket holders, Leslie would interview touring cast members with her puppet, Bleeckie Streetie, to help promote kid-friendly DSM musicals. Over the past two years, they've been members of the DSM Associate Producers (AP) and decided to become more involved this year by serving as Co-VPs of Membership and Marketing on the AP Executive Board. Alan also is a member of the DSM Advisory Board and serves on the EDIA (Equity, Diversity, Inclusion and Access) Committee.
DID YOU KNOW…
In 1951, after ten years in the Fair Park Band Shell, the Starlight Operettas finally escaped the Texas heat by moving into the Music Hall at Fair Park thanks to the installation of air conditioning! This move boosted audience comfort, expanded production capability, and even inspired the organization to change its name to The State Fair Musicals.
IN CASE YOU MISSED IT:
Playbill's Video Roundup: Andrew Lloyd Webber and Lin-Manuel Miranda Duel, Joshua Henry Croons Carousel, and More!
#StarsInTheHouse with Seth Rudetsky & James Wesley
Magic! Cooking Disasters! Bathtub Sax! See 11 Surprising Moments from The Rosie O'Donnell Show Benefit
Follow Choreographer Spencer Liff's Workout Routine for a Broadway Body
COVID-19 UPDATE
Dallas County has extended its ban on gatherings of 500 or more until 11:59pm on April 29, therefore COME FROM AWAY has been rescheduled and will play the Music Hall at Fair Park January 5-17, 2021. All ticket holders have been notified. For performance details, click here. We are currently working to reschedule RENT. Please hold onto your tickets until we are able to determine if this is possible. JESUS CHRIST SUPERSTAR falls partially within the current emergency period. We are working to resolve this issue with the tour producers and will address as soon as the situation is resolved. Again, we ask that you please hold on to your tickets for the time being. We will be in communication via our website, social media and email with further details. Thank you for your patience!
---
Click here and sign up for eNotes to receive the next edition of DSM NEWS!
---