Posted on April 15th, 2016
DSM High School Musical Theatre Awards started in 2012, just as I was wrapping up my first year of college. Over the next couple years, I heard it mentioned as my former high school and high school friends were nominated for different awards, not knowing that I would end up as an intern for DSM. Over the past few months I have had the unique experience to look behind the scenes as this event was carefully planned.
This past Tuesday the auditions for the Best Leading Actor and Best Leading Actress were held at the Karaynis Rehearsal Production Center, where the Dallas Opera rehearses. I got to there to help with live streaming the event (for parents, family, and friends who were not able to be in the room where it happened). As soon as the students stepped in the room, you could feel their excitement and nerves as they performed the medleys for the Best Actor and Best Actress categories. It's been a while since I have been to a high school production, and I had forgotten how immensely talented some of those students are. The actors and actresses in that room were the best of these students! After the medleys, there was a brief intermission while the nominees went to change for their individual performances. Their individual performance had to be a song that contrasted with the one they sang in the medley. As well done as the medley was, this was my favorite part of the auditions. What song they choose for themselves really says a lot about the person, and it was fun to see their versatility! (Also, I love performances like this, because I keep a running list of new music I need to listen to and shows I need to see!) The videos for the live stream currently have over 13,000 views and are still up on DSM's Facebook page, so go check out these talented performers!
I came prepared for the long and busy day on Thursday with excessive amounts of coffee. I knew that everyone was well prepared for the event, but there was still so much to do and so much happening around the Music Hall at Fair Park!! All day, there were rehearsals going on onstage, special DSM HSMTA T-shirts were being sold in the lobby, and students were arriving from schools as far away as Abilene! The opening number, featuring the nominees for Best Lead Actor and Actress, Best Supporting Actor and Actress, and Best Featured Actor and Actress, was rehearsed in the morning. Students and teachers got a break, when lunch was kindly provided by In-n-Out! Throughout the afternoon the schools nominated for Best Musical were given a chance to perform their number on stage during the dress rehearsal while fellow nominees cheered them on from the audience.
However, the real fun started later: in the Music Hall driveway was a red carpet, surrounded by screaming fans, family and friends. At the end of the red carpet was a news crew from WFAA doing a live-stream of the event for their website, and paparazzi waiting to ambush the nominees and their dates at the step-and-repeat.  As the Toyotas rolled into the driveway and nominees stepped out, the noise level noticeably increased, as people got more and more excited about seeing their favorite performers. The nominees walked down the red carpet, occasionally stopping for pictures from their fans/parents and were interviewed by WFAA before entering the Music Hall!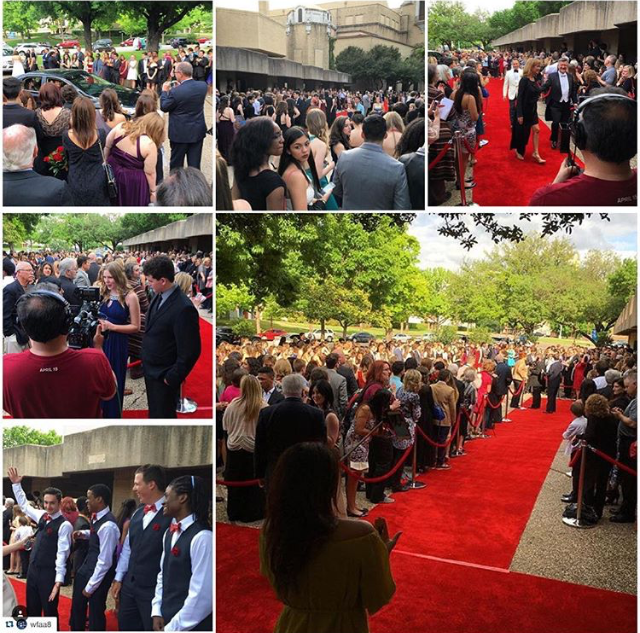 Inside the Music Hall, it was organized chaos! High schoolers, parents, and teachers were roaming about getting pictures to make sure they remember every second of this night! Throughout the Music Hall, nominees were being pulled aside to be interviewed for podcasts, or by the DSM Opening Night Video team! In the Music Hall restaurant, there was a V.I.P. reception for the wonderful donors who made this night possible!
As 7:00 got closer, I went backstage to assume my position at the social media table, where Amanda had already started live tweeting the whole event. The energy was palpable, as the opening number participants prepared themselves for their Jersey Boys medley and emcee Ron Corning got ready to take the stage. The whole show was a blur of activity, as performers rushed on and off stage, announcers were ushered in and out of the wings, and winners were announced! Through each reading of the nominees, cheers were heard from the audience as their school was called. The excitement grew, as the big awards of Best Lead Actor, Best Lead Actress, and Best Musical grew closer! The night ended with the award for Best Musical being presented by Michael Jenkins, DSM President and Managing Director, to Waxahachie High School for Spamalot, followed by two students from each of the 70 schools that participated in this year's High School Musical Theatre Awards singing "Stronger" from Finding Neverland.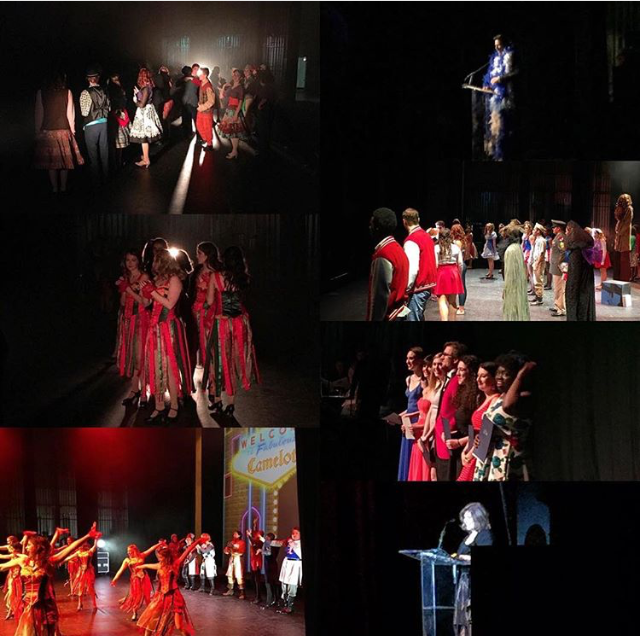 This is a one of a kind experience for these high schoolers. Theatre is a naturally competitive world, and giving the students a chance to compete at a higher level for something they love, makes them more motivated to achieve their dreams. DSM has created an environment that shows them that their dreams of Broadway can happen, and it gives them stepping stones (and even scholarships) to make that happen. The Best Lead Actor, John Fredrickson, and Best Lead Actress, Kaiden Maines, will have a once in a lifetime opportunity to go to New York City over the summer to participate in the National High School Musical Theatre Awards. While they're there, they will meet agents, actors, and other industry professionals who will teach and encourage them to continue following their dreams!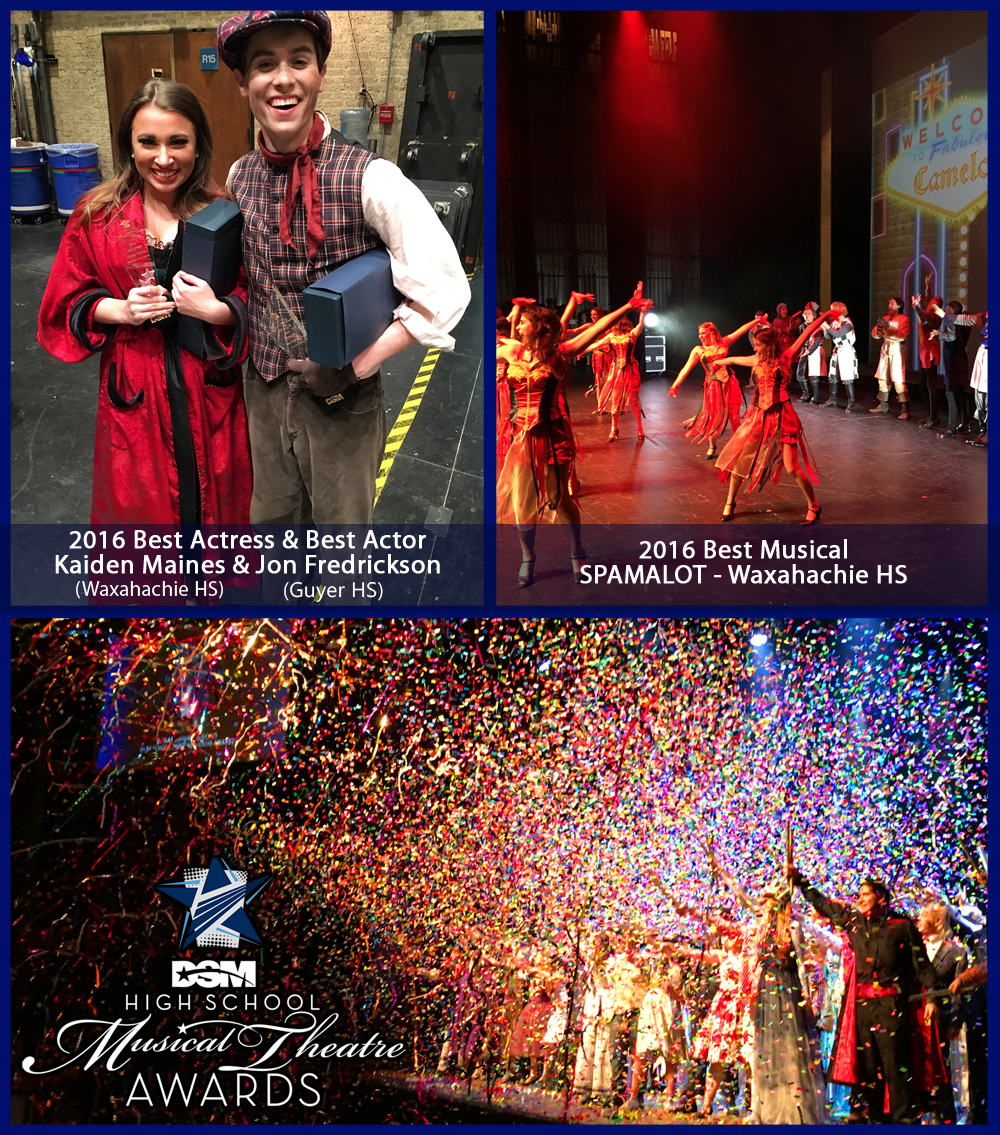 My favorite part of this whole week was not the music being performed, the excitement in the air at the red carpet, or even the confetti at the end of the show. I loved getting to see how these nominees have bonded with each other throughout this whole process. I noticed it at the auditions on Tuesday, how encouraging they were to each other, and even more so at the show itself. Being in such a competitive environment, these high school students were so genuine about their excitement for friends who won awards. This attitude towards others is so important, so shout out to the teachers and parents and other influential people in these students lives. Last night was a win for everyone involved!
Megan Anthony is originally from Flower Mound, TX and has been an Intern with DSM last summer and this spring. She attended Hardin-Simmons University, where she graduated with a degree in Music Business/Management.
---