Posted on August 18th, 2015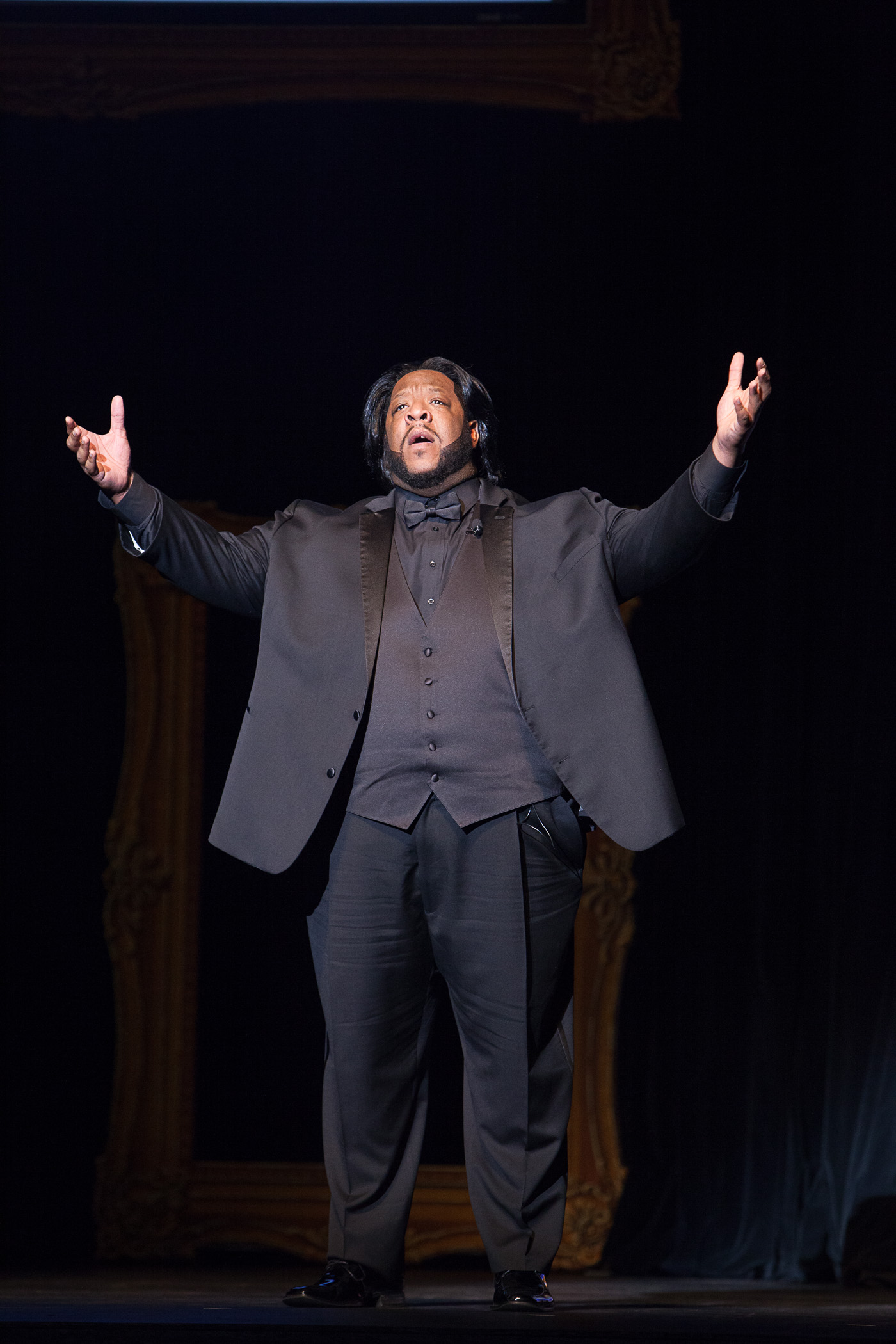 Keron Jackson has a voice that hits you like a wave. Whether performing for DSM's Curtain Call gala or at an intimate gathering, the power of his singing leaves an indelible impression. But the journey to shape and share his gift has been riddled with difficulty, beginning with an unstable, unsafe home life.
Keron and his sisters experienced bouts of homelessness and bounced from house to house, living, as he puts it, "a life without a foundation. A one-note kind of life. The way I grew up, I didn't know what it was to go to college, to have a career path, to pursue something. I knew what it was to stand on the corner and sell drugs, to be a hoodlum."
At 11, Keron's grandparents took him in and enrolled him in middle school. He recalls wondering what the point of school was, not being able to see a tangible reward. That changed when his school took a field trip to see The Princess and the Pea, for which he had to forge his parents' signatures on the permission slip. This was Keron's first experience with the arts, and he laughs deeply as he remembers the awe he felt when looking up at the actors on stage. It was also the first time that he imagined a possibility for himself outside the bounds of a life whose only potentials seemed to include drugs, theft, and gangs.
During high school, Keron had the amazing support of his theatre teacher Ernestine Rose. Rose exposed Keron to UIL competitions, took him under her wing, and further solidified his interest in the performing arts. He recalls watching his first UIL performance and knowing that he had found his calling.
But after high school, Keron was again left on his own financially and struggled once more with homelessness. "It is one thing to start to believe in a dream and it is another to know how the dream is going to happen. If you don't have support, it isn't possible." Rose had given Keron the exposure necessary to ignite his passion and the support necessary to instill self-confidence, but he still could not see the path to making his dreams a reality. He says he felt "torn between two worlds," a world of clear but strife-filled boundaries and a world of hazy possibility.
In his early 20s, dreams began to take shape. With the help of John and Janice King and the guidance of church organist Joyce Hughes, Keron began daily voice lessons and focused intently on honing his craft. He emphasizes, "Amateurs practice until they get it right. Professionals practice until they can't get it wrong." Keron began winning music competitions and eventually earned a scholarship to Baylor. He attributes his success to a philosophy of perseverance: "Even if nobody else shows up for your dream, you still have to show up for it every day."
After a life of struggle, Keron is finally beginning to reap the rewards of developing self-worth and dedication. In the last year, Keron has performed at DSM's Curtain Call gala, begun production on an album and received back-to-back standing ovations at Carnegie Hall. He swells with pride recalling that DSM President and Managing Director Michael Jenkins told him, "the world has chosen you."
Beyond sharing his voice, he says his purpose is to share hope with children who have a dream but don't know how to realize it. "The importance of DSM's programs is to see a new path. Kids in Compton have never seen the ocean. They live five miles from it and have never seen it. I want to show kids the ocean."
You're invited to see Keron Jackson perform live at the House of Blues on September 17th for our North Texas Giving Day celebration from 4:00-8:00pm. A gift on this day benefits the significant education and outreach programs that DSM promotes to open the door of possibility for at-risk and underserved youth.
Together, let's Do Something More!
#GiveDSM         #DSMisBIG        #NTXGivingDay        #DoSomethingMore
---
About Dallas Summer Musicals
Dallas Summer Musicals, Inc. (DSM) is the preeminent nonprofit presenter of Broadway theatre in North Texas. DSM produces, presents and promotes excellence in live musical theatre with year-round performances for diverse audiences of all ages, impacting the lives of children and families through community outreach and education, and enriching the cultural landscape of Dallas/Fort Worth, North Texas and the Southwest Region.
As a 501(c)(3) nonprofit organization, DSM relies on a variety of funding sources to bring the Best of Broadway to Dallas at affordable ticket prices, as well as to preserve the beautiful historic theatre, educate young audiences and create important community programs. DSM's Seats for Kids program provides a meaningful arts education experience to thousands of low income, at-risk and special needs children. DSM provides positive incentives for youth that are at risk for gang membership through the Stage Right program. In addition, The Dallas Summer Musicals Academy of Performing Arts offers professional theatre arts training and scholarships to talented students in need. DSM's High School Musical Theatre Awards are patterned after Broadway's Tony® Awards and celebrates the power of the arts to significantly improve all areas of education. Hear Us Now!™ is DSM's newest initiative. Since 2010 the experts at DSM have made significant changes and upgrades to its acoustical systems to improve the sound quality of the productions for all its patrons, including the hearing impaired. It is so unique that a trademark has been allowed by the United States Patent and Trademark Office. Ticket sales alone do not sustain these endeavors. Only support from committed businesses, foundations and individuals make these programs possible.
Dallas Summer Musicals is presented by Texas Instruments and gratefully acknowledges the support of our season sponsors and partners The Dallas Morning News, WFAA TV Channel 8, American Airlines, and The Original Cupcakery.
For more information about Dallas Summer Musicals, please call 214.421.5678 or visit our website at DallasSummerMusicals.org.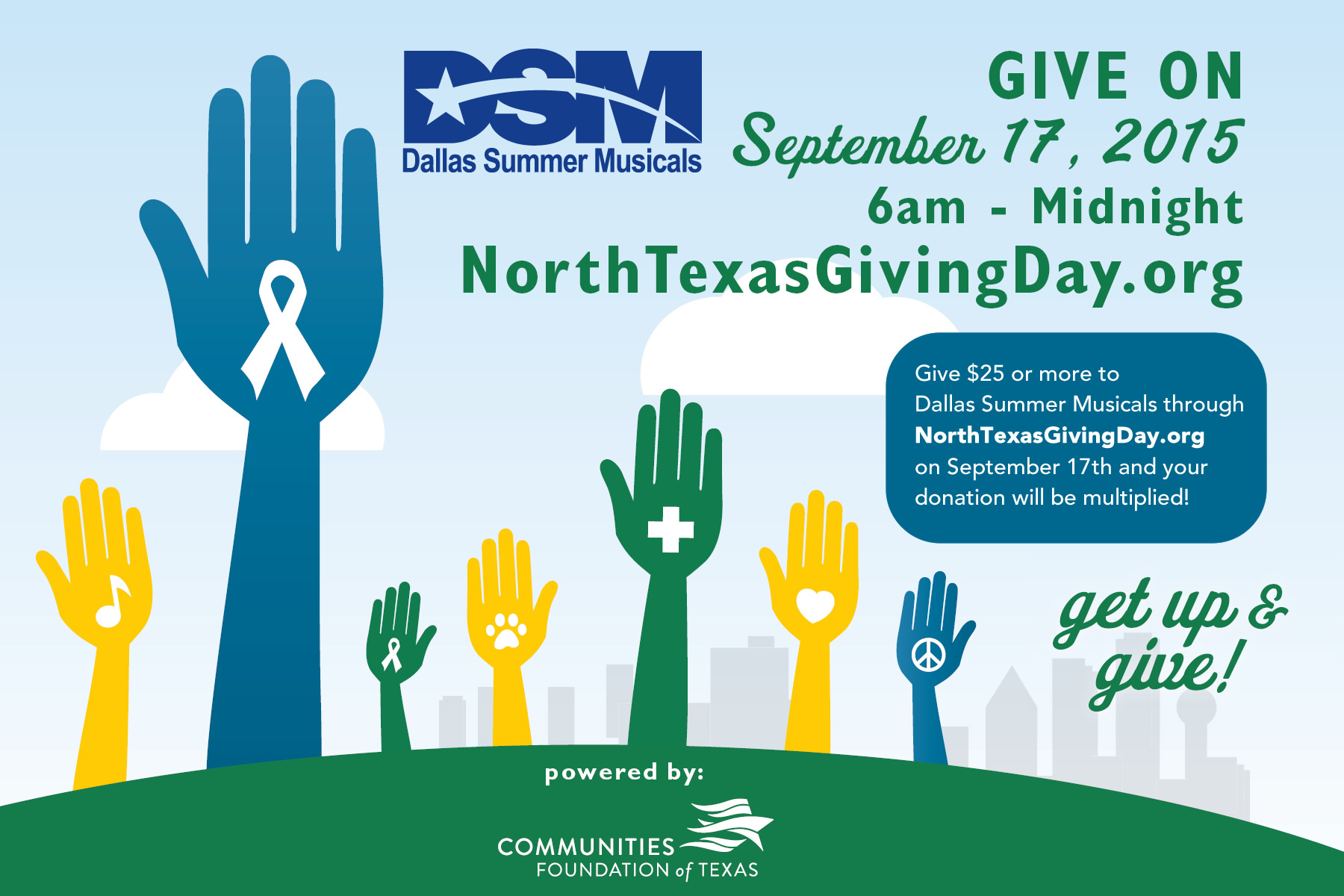 ---