Posted on August 25th, 2015

An affiliate of Dallas Summer Musicals, the DSM Academy of Performing arts was founded in 1999 to engage and educate children and young adults in musical theatre training. Accredited arts teachers and theatre professionals lead four comprehensive sessions yearly, all culminating with a public performance of a student production. Master classes also give students a taste of Broadway in lessons led by touring performers. The program is intentionally designed as a confidence-building experience, with a guarantee that every child will receive a speaking part. (For current class offerings and more details, click here.)
Each year, nearly 500 students take their first steps on the path to Broadway at the Academy. For some, the experience is made possible because of generous gifts from arts and education supporters. Among the most ardent of these supporters are DSM Board member Robert L. Thompson and his wife Lynne. The two are longtime DSM subscribers and Guild members who have been deeply touched by the dedication and development of the students at the Academy. Discussing the Academy's importance, Mr. Thompson emphasized, "It means so much to the kids. It fosters their development which in turn fosters the development of the whole community. The Academy supports their self-esteem and worth, and it gives them a chance to develop into the great citizens that they have the potential to be."
In appreciation of his love of musical theatre, Endeavour International Corporation established the Robert L. Thompson Scholarship fund for Mr. Thompson as a retirement present in 2013. He and his family continue to financially back the fund and make musical theatre education possible for more students. "We want the community to know about the Academy and all of DSM. There is so much more happening at DSM than entertaining patrons. These experiences are integral to children's development. The growth experienced by these kids cannot be overstated, and the scholarship program extends that opportunity to those who cannot do it without help."
The Thompsons do not just offer their financial support to the students. Says Academy Director Kevin Cook, "Mr. and Mrs. Thompson attend the performance of each recipient to lend their support and applause." Lynne fondly recalls viewing the recent Pippin production. The Thompsons met Alexis Gonzalez, a scholarship student who starred in the production. "We were so impressed with Alexis and everyone's ability. When Alexis hugged Bob and got choked up as she said she couldn't have done it without him, we were so encouraged to stay involved and felt so rewarded."
Alexis became involved with the Academy after her high school theatre teacher encouraged her to audition. Alexis was interested in the program but was reluctant to audition because she knew her family couldn't cover the full cost of tuition. Deadline looming, her teacher pulled her aside and filmed Alexis' audition tape herself. Academy Director of Education Kevin Cook was impressed, and Alexis was brought into the Academy on scholarship.
Alexis recalls feeling a little frightened in her first days at the Academy, not knowing what to expect. She quickly found her footing and the support she needed to expand her limits. "That first day it was scary, but that feeling of being by myself helped me grow, and the teachers were always there to push and help support us all, while being so welcoming."
Once, Alexis remembers thinking she was in trouble when Mr. Cook gave her a sideways glance during auditions. She had gone out for the smaller, comedic role of the chicken in Pippin and got called up by Mr. Cook during auditions for the lead part. She asked him if she was in trouble and he exclaimed, "No! Go audition!" She shares, "Then I got the part. Mr. Kevin and Ms. Ty pushed me to see that I am way more than I think I am sometimes."
Recalling her meeting with the Thompsons, Alexis' voice floods with emotion. "Even though this man doesn't know me, he gave me the amazing opportunity to do what I love and to make people smile. I could see how proud he was that he was helping students accomplish their dreams. He was proud of me even though he had never met me before." She quickly transitioned from tears to laughter, "It made me laugh after the show because he said, 'I had a meeting to go to, but I'm going to stay for the second show!'"
Alexis plans to get a musical theatre education at NYU and pursue her Broadway dreams. She wants then to share her knowledge as a teacher and create the kind of experience that she had at the Academy for other students. "They all touch your heart and they all impact you. Those feelings like I learned at DSM of acceptance, confidence and love, they will stay with me."
Taking another moment of gratitude for the Thompsons, Alexis emphasized, "Just by one action, you can change someone's life. Even though he had not yet met me, he changed my life."
Please join us in taking one action to create positive change for the children of North Texas. Gifts given to DSM on September 17
th
through
northtexasgivingday.org
go father to support students of musical theatre who attend the Academy and all of the programs that DSM offers to open the door of possibility for underserved youth.
You're also invited to see Alexis perform at the House of Blues on September 17th for DSM's North Texas Giving Day celebration from 4-8pm. She will be joined by rocking Texas band GOODnGONE and local talent Keron Jackson.
Together, let's Do Something More!
#GiveDSM #DSMisBIG #NTXGivingDay #DoSomethingMore
---

Mission – Recognizing the positive influence of the arts on the human experience, DSM Academy of Performing Arts strives not only to increase appreciation of the performing arts, but to teach those arts professionally. The DSM Academy of Performing Arts was founded in 1999 and operates as an affiliate of Dallas Summer Musicals in several locations in the Dallas area. Dallas Summer Musicals is a company that produces and presents Broadway, off-Broadway, West End and touring theatrical productions. The DSM Academy is comprised of 75% teens and 25% adults ranging in age from 7 to adult. The Academy is proud of its diverse and ethnic student population. The DSM Academy has granted over 250 need-based scholarships. The Academy helps to prepare the amateur and the professional for involvement in the performing arts. The purpose of this page is to connect people who have a common interest in the performing arts of any type.
About Dallas Summer Musicals


Dallas Summer Musicals, Inc. (DSM) is the preeminent nonprofit presenter of Broadway theatre in North Texas. DSM produces, presents and promotes excellence in live musical theatre with year-round performances for diverse audiences of all ages, impacting the lives of children and families through community outreach and education, and enriching the cultural landscape of Dallas/Fort Worth, North Texas and the Southwest Region.
As a 501(c)(3) nonprofit organization, DSM relies on a variety of funding sources to bring the Best of Broadway to Dallas at affordable ticket prices, as well as to preserve the beautiful historic theatre, educate young audiences and create important community programs. DSM's Seats for Kids program provides a meaningful arts education experience to thousands of low income, at-risk and special needs children. DSM provides positive incentives for youth that are at risk for gang membership through the Stage Right program. In addition, The Dallas Summer Musicals Academy of Performing Arts offers professional theatre arts training and scholarships to talented students in need. DSM's High School Musical Theatre Awards are patterned after Broadway's Tony® Awards and celebrates the power of the arts to significantly improve all areas of education. Hear Us Now!™ is DSM's newest initiative. Since 2010 the experts at DSM have made significant changes and upgrades to its acoustical systems to improve the sound quality of the productions for all its patrons, including the hearing impaired. It is so unique that a trademark has been allowed by the United States Patent and Trademark Office. Ticket sales alone do not sustain these endeavors. Only support from committed businesses, foundations and individuals make these programs possible.
Dallas Summer Musicals is presented by Texas Instruments and gratefully acknowledges the support of our season sponsors and partners The Dallas Morning News, WFAA TV Channel 8, American Airlines, and The Original Cupcakery.
For more information about Dallas Summer Musicals, please call 214.421.5678 or visit our website at DallasSummerMusicals.org.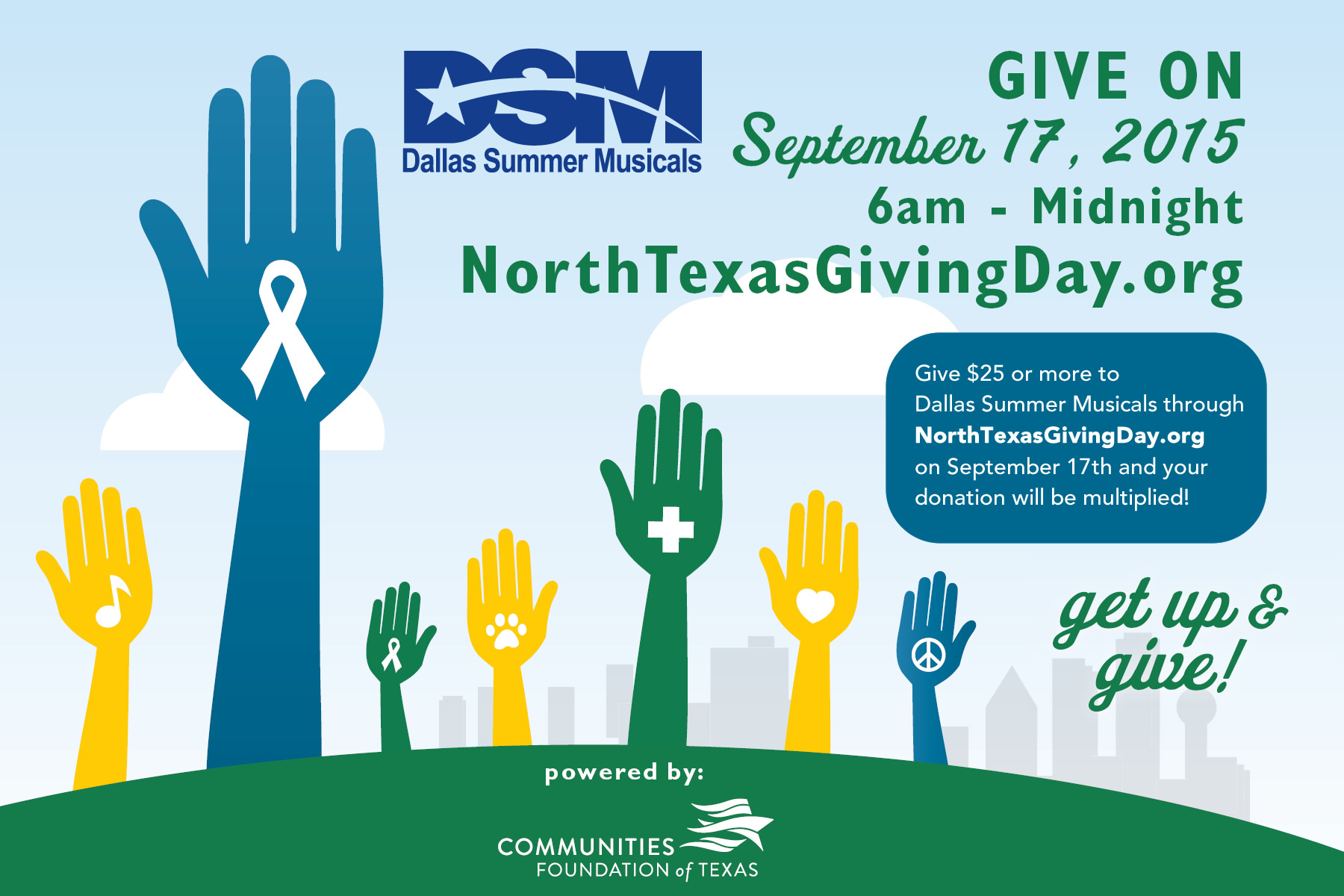 ---