Posted on July 24th, 2015
Do Something More on North Texas Giving Day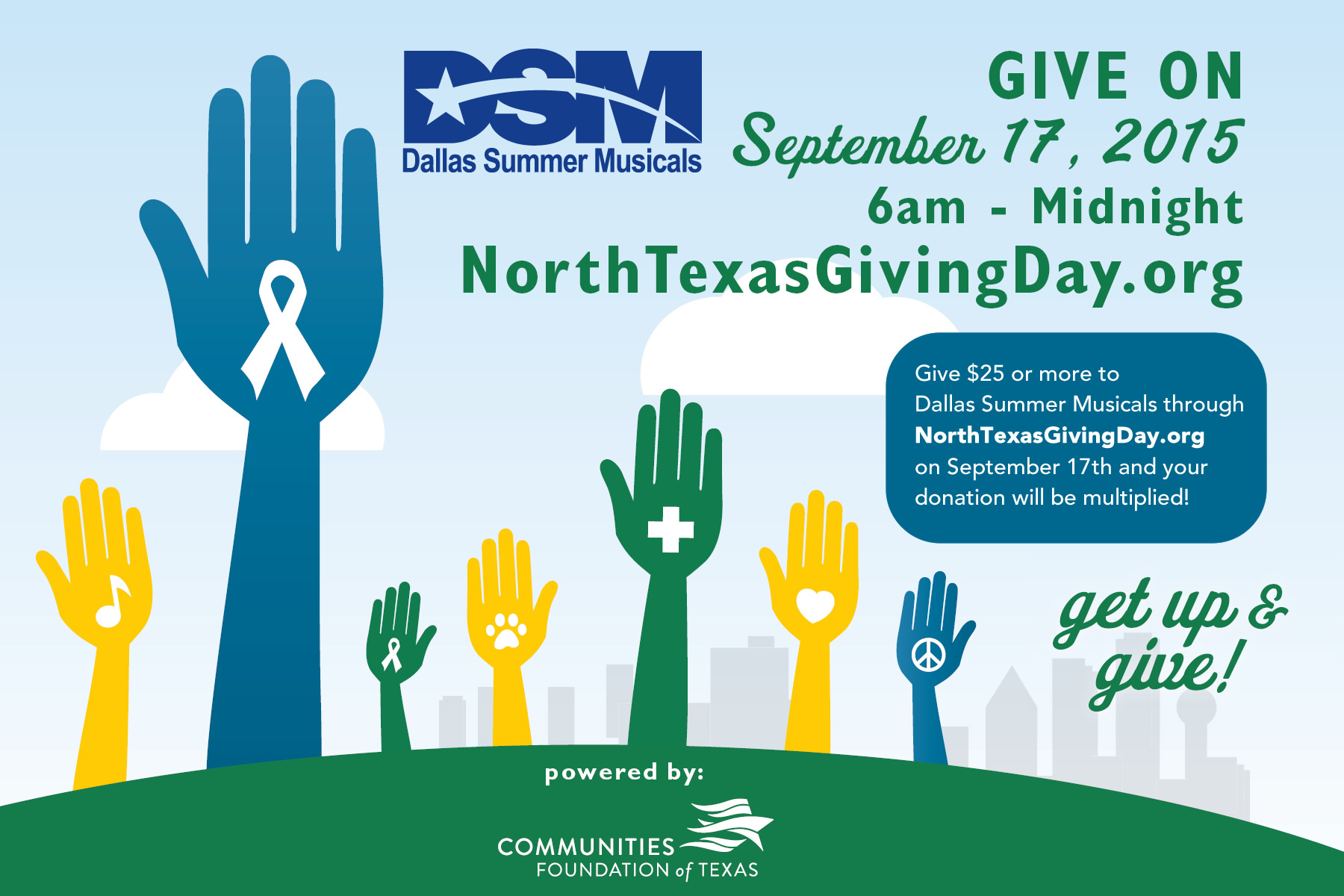 As our 75th year comes to a close, we want to thank you for making it a memorable one. The passion our patrons bring to the Music Hall is a huge part of why we are a cornerstone arts organization in Dallas. Last year, you vocalized your support of DSM on North Texas Giving Day and made us the number one performing arts organization in the online giving event. We need you to help us make this year an even bigger success! Every gift made through NorthTexasGivingDay.org on September 17th increases our chances of winning one of 70 prizes awarded by the Communities Foundation of Texas, and every gift of $25 or more will earn bonus funds. These incentives help you make the most of your generosity.
Beyond supporting the best of Broadway, a gift to DSM is an investment in the cultural fabric of North Texas. Your support directly powers the significant outreach programs that we offer to engage underserved children with musical theatre and the arts.
Seats for Kids gives children the opportunity to experience the magic of the musicals for what is likely their first time. Partnering with Title I schools and nonprofit youth agencies that serve at-risk and special needs children across the Dallas Fort-Worth area, DSM provides students and their chaperones with free seats for shows and a professionally drafted study guide to enhance the performance experience.
The Kids Club membership program deepens the developing arts appreciation of our youngest patrons through show-inspired art projects and activities as well as providing children with the unforgettable opportunity to meet cast members from their favorite shows.
Through the DSM Academy of Performing Arts and the annual High School Musical Theatre Awards, DSM cultivates and showcases the next generation of musical theatre talent. DSM also supports the promising talent of students who need financial assistance with scholarships.
Additionally, DSM is partnering with the Dallas Police Department to offer a positive alternative to gang-affiliated youth through our Stage Right program.
At the Kids Club Event during Cinderella
Students from our Stage Right program at Cinderella.
DSM Academy Studetns Say Thank you!
DSM Academy Students Say Thank You!
The success of these education programs and initiatives inspires creativity and imagination, promotes academic investment, and has realized the dream of musical theatre involvement for thousands of passionate young performers.
For our 76th season, DSM looks forward to expanding its efforts of community support with new initiatives. Imagine being able to provide seats to hundreds of veterans and their families. With your support, we can open the doors of the Music Hall to more of our community and pave the way for 75 more years of magic at the Music Hall.
We also want to celebrate you, our amazing patrons, and the spirit of giving in style this year! DSM will host a giving day soirèe at the House of Blues from 4pm – 8pm On September 17th. Join us for a live musical performance, donation stations for your giving convenience, cocktails and hors d'oeuvres, prizes, photo booth fun, and the opportunity to connect with fellow supporters.
Finally, we want to give you more opportunities to share your love of the musicals and our community. On September 1st, we will be instituting the North Texas Giving Day DSM Photo Challenge, where contestants will share photos of themselves "Doing Something More" in the North Texas community OR of themselves in costume from one of our upcoming shows. The contest will run until 11:59 p.m. on September 15th, with winners announced at our celebration at the House of Blues. Click here for the full scoop!
Thank you again for making the Music Hall your home for music and memories. Thank you for the generosity which gives the same opportunity to all members of our community.
Together, let's Do Something More.
#GiveDSM    #DSMisBIG    #NTXGivingDay   #DoSomethingMore
---