Posted on June 19th, 2016
 DALLAS SUMMER MUSICALS WILL PRESENT SIX
NORTH TEXAS PREMIERES IN ITS TEN SHOW SEASON
Dallas, TX (June 19, 2016) – Dallas Summer Musicals, Inc. (DSM) and Performing Arts Fort Worth (PAFW) are thrilled to announce their 2016-2017 Broadway seasons! Once again, the two performing arts groups will come together to co-present four titles, allowing patrons across North Texas ample opportunities to experience the Best of Broadway.
Dallas Summer Musicals will kick off its 2016-2017 Season with the dazzling holiday favorite, BROADWAY CHRISTMAS WONDERLAND. The season will continue with the Tony Award®-winning lavish and stunning Broadway hit AN AMERICAN IN PARIS; followed by the spectacular theatrical concert, LET IT BE, a tribute to The Beatles; back by popular demand, the high-heeled kicking sensation, KINKY BOOTS; the captivating circus extravaganza, CIRCUS 1903 – THE GOLDEN AGE OF CIRCUS; and closing the season, the romantic thriller based on the smash hit film, THE BODYGUARD, starring Grammy® nominee Deborah Cox!
In addition, the beloved family-friendly stage adaptation, RUDOLPH THE RED-NOSE REINDEER: THE MUSICAL; the Emmy® Award-winning classic hit TV series, CHEERS LIVE ON STAGE; the explosive and vigorously choreographed, STOMP; and the magical and thrilling return of, THE ILLUSIONISTS will be presented as season add-ons.
"The future of the performing arts has never looked brighter and our new season lineup brings the types of shows that remind us why we love live theater," states David Hyslop, DSM Interim Managing Director. "From classical lavish debuts like An American In Paris, to high energy returning engagements like Kinky Boots as well as fun family productions such as Broadway Christmas Wonderland, this season has something for everyone. We invite you to join us as we witness the beauty of the performing arts when the curtain goes up and the magical world of theater unfolds before your eyes."
Performing Arts Fort Worth's season is made up of eight shows, six of which are making their Bass Hall debuts.
Kicking off the season in January, 2017, will be the family favorite ANNIE, returning to the Hall in an all-new production. The Chicago Tribune called the show "one of the best family musicals ever penned."
The series will close in November, 2017, with another show back by popular demand, IRVING BERLIN'S WHITE CHRISTMAS.
In between will be the direct-from-Broadway AN AMERICAN IN PARIS, the acclaimed, Tony Award-winning musical about love and mystery in the City of Lights; the ultimate tribute to The Beatles, LET IT BE; MATILDA, based on the beloved novel by Roald Dahl and winner of 50 international awards, including four Tonys; THE BODYGUARD, a musical retelling of the hit 1992 film featuring singer Deborah Cox; BEAUTIFUL: THE CAROLE KING MUSICAL, which tells the inspiring true story of King's remarkable rise to stardom; and the 20th anniversary tour of the Broadway sensation RENT.
Continuing a partnership that blossomed two seasons ago, Dallas Summer Musicals and Performing Arts Fort Worth will co-present four of these titles: RUDOLPH THE RED-NOSED REINDEER: THE MUSICAL; AN AMERICAN IN PARIS; LET IT BE; and THE BODYGUARD.
"For the first time ever, we're offering eight shows, many of which have never played in Fort Worth before," says Dione Kennedy, President & CEO of Performing Arts Fort Worth. "And as we always strive to do, we've put together a season that offers something for everyone, from families to serious Broadway buffs to everyone in between. It's really a dynamite season."
Dallas Summer Musicals' season tickets start at $116 and will go on sale Sunday, June 19 at 10 a.m. online only at DallasSummerMusicals.org. On Monday, June 20 season tickets will be available online, by phone at 214-346-3300 and at The Box Office, 5959 Royal Lane, Suite 542 in Dallas, TX. Payment plan options are available. In addition, season ticket buyers have the option to include four season add-ons to their season subscription. Season add-on tickets are discounted for subscribers and range from $14-$82 per show.
Groups of 10 or more receive a 15% discount throughout the season. Orders of 10 or more placed before September 16, 2016 will receive a 20% discount. All groups receive priority seating and many more benefits. Please call 214-426-GROUP (4768) or email Groups@DallasSummerMusicals.org.
Broadway at the Bass season tickets go on sale online at www.basshall.com at 10 a.m. Sunday, June 7, and over the phone at 817-212-4280 and in person at the Bass Hall Box Office at 10 a.m.  Monday, June 8. Eight-show season ticket packages start at $287. For more information, call 817-212-4280 or visit www.basshall.com. Payment plan options are available.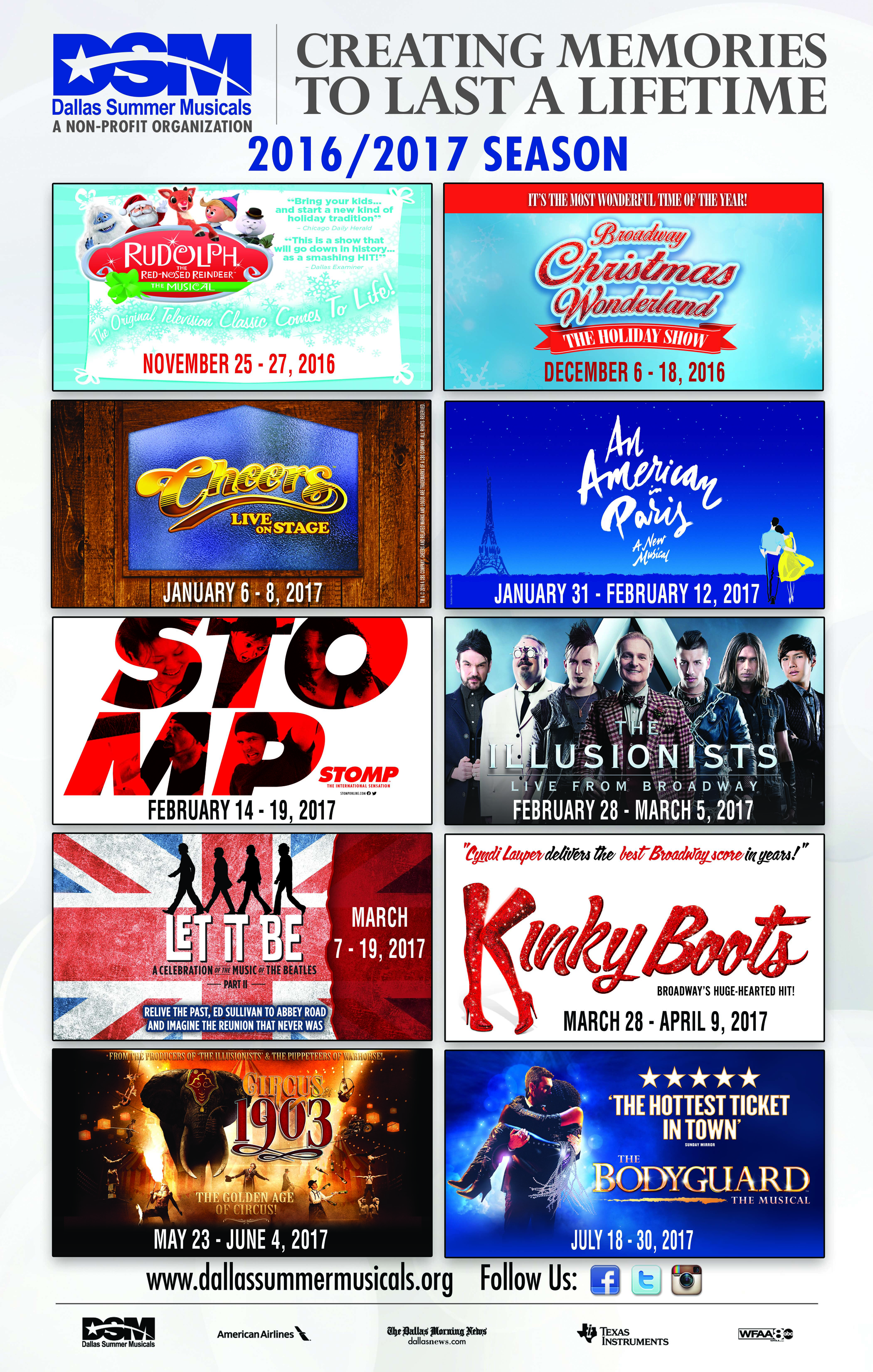 ---
About Dallas Summer Musicals:
Dallas Summer Musicals, Inc. (DSM) is the preeminent nonprofit presenter of Broadway theatre in North Texas. DSM produces, presents and promotes excellence in live musical theatre with year-round performances for diverse audiences of all ages, impacting the lives of children and families through education and community outreach programs, while enriching the cultural landscape of Dallas/Fort Worth, North Texas and the Southwest Region.
As a 501(c)(3) non-profit organization, DSM relies on a variety of funding sources to bring the Best of Broadway to Dallas at affordable ticket prices, as well as to preserve the beautiful historic theatre, educate young audiences and create important community programs. DSM's Seats for Kids program provides a meaningful arts education experience to thousands of low income, at-risk and special needs children. DSM Kids Club is a program created to foster tomorrow's musical theatre audience. Through exciting activities children gain an interest, hands-on-knowledge and appreciation of the performing arts. In addition, Dallas Summer Musicals Academy of Performing Arts offers professional theatre arts training and scholarships to talented students in need. DSM's High School Musical Theatre Awards are patterned after Broadway's Tony® Awards and celebrate the power of the arts to significantly improve all areas of education. DSM Associate Producers is a dynamic group of young professionals with a mission to support DSM by cultivating future patrons and leaders making DSM part of the culture for young professionals in Dallas. DSM Guild is a group of individuals who share a love of musical theatre and support DSM by providing stellar service and hospitality to the cast and crew of every show.
Since 2010 the experts at DSM have made significant changes and upgrades to its acoustical systems to improve the sound quality of the productions for all its patrons, including the hearing impaired, leading to the development of Hear Us Now!™; a device which utilizes five assistive listening technologies (T-coils, FM Classroom, Streamers, FM systems, and traditional headsets) to deliver a clear and direct audio signal. It is so unique that a trademark has been allowed by the United States Patent and Trademark Office. Seats for Vets, DSM's newest initiative, serves war veterans and their families by providing them discounted access to a unique theatrical experience as a way of thanking them for their service. Ticket sales alone do not sustain these endeavors. Only support from committed businesses, foundations and individuals make these programs possible.
Dallas Summer Musicals is presented by Texas Instruments and gratefully acknowledges the support of our season sponsors and partners The Dallas Morning News, WFAA TV Channel 8, American Airlines, and The Original Cupcakery.
For more information about Dallas Summer Musicals, please call 214.421.5678 or visit our website at DallasSummerMusicals.org.
---
About Performing Arts Fort Worth:
The mission of the Nancy Lee and Perry R. Bass Performance Hall is to serve as a permanent home to major performing arts organizations of Fort Worth and as a premiere venue for other attractions so as to enhance the range, quality, and accessibility of cultural fare available to the public; to promulgate arts education; and to contribute to the cultural life of Fort Worth, Tarrant County, and the region.
Built entirely with private funds, Bass Performance Hall is permanent home to the Fort Worth Symphony Orchestra, Texas Ballet Theater, Fort Worth Opera, and the Van Cliburn International Piano Competition and the Cliburn. Each resident company operates independently from Performing Arts Fort Worth and manages its own programming schedule at Bass Hall.
Performing Arts Fort Worth, the nonprofit organization that oversees management of the Hall, also presents national Touring Broadway product under the Broadway at the Bass banner, as well as programming that includes Family Series at the Bass, and the BNSF Popular Entertainment Series.
The 2,042-seat multipurpose Hall is characteristic of the classic European opera house form. An 80-foot diameter Great Dome tops the Founders Concert Theater while two 48-foot tall angels grace the Grand Facade. Since the Hall opened in May 1998, the angels have become preeminent cultural icons of the Dallas-Fort Worth community. The Hall itself is renowned for its superb acoustics, exceptional sight lines and ambience on level with the great halls of the world.
###
---