Posted on November 16th, 2017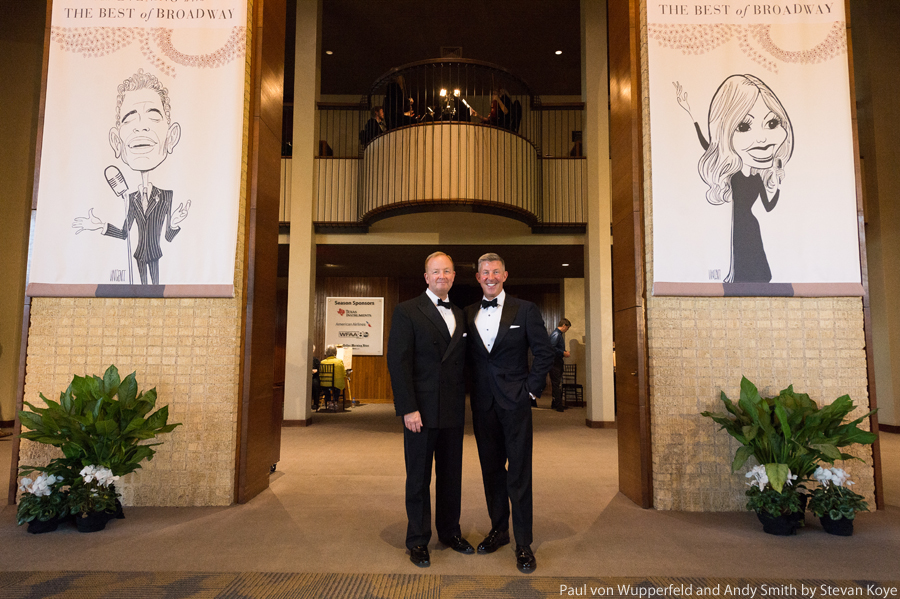 Dallas Summer Musicals Gala's smashing success echoes the tone of a new era
for the historic nonprofit Broadway presenter
Dallas, TX (November 13, 2017) – An Evening with the Best of Broadway filled the historic Music Hall at Fair Park with inspiration as philanthropists and corporate leaders came together to elevate the arts during Dallas Summer Musicals (DSM) 2017 Gala.
The evening began with red carpet arrivals as gala chairs Andy Smith and Paul von Wupperfeld welcomed supporters along with Ken Novice, DSM President, and his wife Kouy Kolar-Novice. Guests were greeted with gourmet passed hors d'oeuvres, cocktails and sketch artists who delighted patrons with caricature portraits as they enjoyed the sounds of a string quintet and the opportunity to bid in a silent auction filled with jewelery, memorabilia and special Broadway experiences.
DSM's celebration continued with a crafted menu of gourmet delights and entertainment as the crowd shared in the magic of musical theatre and everything they love about DSM and its education and community programs. Patrons enjoyed a break from the traditional seated dinner format and were treated to a creative dining experience featuring multiple vignettes of entrees prepared by the chefs of Culinaire International while a Jazz trio added a rhythmical ambiance throughout the venue.
As guests moved into the theatre, Andy and Paul were joined by Ken and one of the honorary chairs, Brad Cheves, on stage to thank everyone for their continued support. Novice expressed his appreciation to the gala chairs, honorary chairs Angela and Brad Cheves and Nancy and Ron Natinsky as well as to those in attendance for making the evening a great success. Cheves shared a special message of support from Ruth Altshuler who could not be in attendance. In the message, Gala presenting sponsor Altshuler expressed her excitement for the new direction of DSM under Novice's leadership. Von Wupperfeld thanked sponsors and underwriters while Smith shared a glimpse of their deep connection to DSM. "Our love of musical theatre was kindled in this hall, and we are grateful to join with others to keep that flame burning as we pass the torch to another generation," said Smith. A special video was played depicting DSM's efforts in the community through its multiple programs which closed with the tagline, Because of you, DSM makes a difference.   
Topping off the evening, show-stopper Katharine McPhee took the stage accompanied by notable pianist, Doug Petty, delighting guests with titles like Don't Forget Me from her role in the musical television series SMASH and Over the Rainbow from THE WIZARD OF OZ. McPhee made the evening an unforgettable experience by walking through the aisles and connecting with the crowd. McPhee also recorded a special live video on her phone as she performed on stage alongside her pup, Larry the Chihuahua.
Closing the night was the extraordinary vocal talent of two-time Tony Award®-winner, Brian Stokes Mitchell accompanied by renowned pianist, Mark Humell. Stokes captivated guests with the musings of Broadway such as Feeling Good from THE ROAR OF THE GREASEPAINT – THE SMELL OF THE CROWD and his performance of The Impossible Dream from MAN OF LA MANCHA. Stokes shared personal stories throughout his number and talked about the importance of programs like those of DSM that elevate the arts while educating and giving back to the community. He ended the night with a heartfelt rendition of What A Wonderful World which culminated with a few tears and a standing ovation from the crowd.  
An Evening with the Best of Broadway was a celebration of DSM and the magic of musical theatre – featuring the vocal talents of two extraordinary artists. The record breaking $500,000 raised will support the growing non-profit Dallas Summer Musicals' mission to bring the very best of Broadway to North Texas and its education and community programs. DSM brings the beauty of musical theatre to many through programs such as DSM High School Musical Theatre Awards, Seats for Vets, Seats for Kids, Kid's Club, Hear Us Now!™ and the DSM Community Performance.
The 2017 DSM Gala presenting sponsors are The David B. Miller Family Foundation, Ruth and Ken Altshuler, and Ticketmaster®. 2017 DSM Gala media sponsor is PaperCity Magazine. The official airline for the 2017 DSM Gala is American Airlines. DSM Broadway season sponsors are American Airlines, The Dallas Morning News, Texas Instruments and WFAA Channel 8.
For more information about DSM education and community programs, please call the DSM Development office at 214-426-6333.
For more information about Dallas Summer Musicals, please call 214-421-5678 or visit our website at DallasSummerMusicals.org.
For information about other events at the Music Hall at Fair Park visit www.LiveAtTheMusicHall.com.

---