Posted on July 3rd, 2015
The 'Pippin' Profiles: John Rubinstein, the first prince, is now his father
by John Moore | Aug 29, 2014
Stephen Schwartz talks about it like a giddy teenager.
"Isn't that the best? I mean, isn't that the best … ever?" he asks rhetorically.
The legendary composer is talking about one of those wonderfully quirky little creative coincidences that come around once in, oh, about every 40 years.
John Rubinstein was the first actor ever to play Pippin in the iconic 1972 Bob Fosse-Stephen Schwartz musical of the same name. Remarkably, he is now performing in the new national touring production of Broadway's 2013 Tony Award-winning revival that launches in Denver on Sept. 6.
Rubinstein is no longer a kid acting out the young prince's search for meaning in his existence. Now, he is a seasoned pro playing Pippin's disapproving father, King Charlemagne.
Isn't that the best … ever?
"We would not have done it if we didn't feel that John was the best choice for the role," Schwartz said. "But the idea of it was irresistible."
Gypsy Snyder, one of the key creators of this new version of Pippin, said watching Rubinstein audition for the role of Charlemagne was like … maple syrup. "It was just so sweet and so right and so juicy to see," she said.  "It was incredible. It was mind-blowing."
The new Pippin is significantly changed from the 1972 original also starring Ben Vereen, Jill Clayburgh and Irene Ryan. The story is now a yarn being told by a troupe of circus performers who impart it while performing death-defying acts of aerial and acrobatic skill. Vereen's dynamic, enigmatic Leading Player is now being played by a woman. And the ending of the show has been changed to better illuminate universal truths about any young person's quest to live an extraordinary life.
"The feeling of the show is bigger and brighter and faster," Rubinstein said.
He compares revisiting Pippin at this stage of his life to revisiting a childhood home.
"It's like you lived in a house," he said. "You were there when they built it; you were the first family to live in it, and you grew up in it. Then you go back to that house 40 years later, and there it is: Same house. Same place. Same birds singing in the trees outside. But it's all different now. They've redecorated the living room, and they have added a more modern feel to the old dining room where you all spent so many years eating together. Outside the window, they have added a swimming pool where there used to be a flower garden. You don't feel like you are in the same place. But you are. That's sort of what it is like. On the hot days, we used to have to turn on the hose and pour it over our heads. Now we can jump into this beautiful new swimming pool. But you sort of miss the old flower garden, too."
Rubinstein has enjoyed a steady career in TV and film, but the son of internationally acclaimed pianist Arthur Rubinstein is also an accomplished composer himself. He scored the music for the iconic 1970s Robert Redford films Jeremiah Johnson and The Candidate.
"One of the great thrills of my life, still to this day, was watching the Oscars when The Candidate won for best screenplay," Rubinstein said. "I was watching on the TV, and when Jeremy Larner walked up to the podium, they played my theme. I almost fainted."
Rubinstein won the 1980 Tony Award for his portrayal of James Leeds in Children of a Lesser God. Other Broadway appearances include Hurlyburly, M. Butterfly and Fools. His films include 21 Grams, Someone to Watch Over Me and The Boys from Brazil. His 150-plus TV credits include Family (as Jeff Maitland),Crazy Like a Fox, Star Trek: Enterprise, and the series finale of Friends. (He played the doctor who delivered Monica and Chandler's babies.)
But Pippin, Rubinstein said, will always be one of the seminal moments of his career.
"Doing your first Broadway show, at a time when I was having my first two kids? It was absolutely a gigantic moment in my life … one that lasted 2 1/2 years."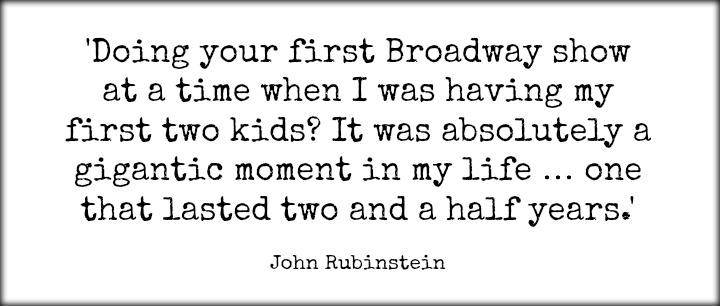 Please enjoy the following excerpts of our expansive conversation with John Rubinstein just before the cast shifted its base to Denver, where the national touring production of "Pippin" opens in the Buell Theatre on Sept. 6. Rubinstein had been temporarily added to the Broadway cast as part of his preparation for the tour: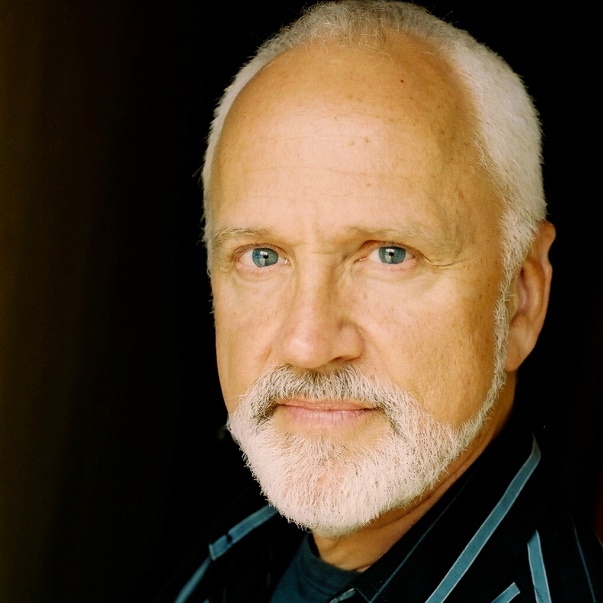 John Moore: So you have been rehearsing all day with the touring cast, and then performing at night with the Broadway cast. How weird is that?
John Rubinstein: Well, it's a little weird. I have been doing the show for nine weeks now, so I have a rhythm going with the Broadway cast. And we're all developing our rhythm together as a touring cast. It's not as hard as it seems. It's just long hours. It will be lovely to get out there to Denver and just focus on that.
John Moore: OK, but let's be honest: You have been doing this show for a lot more than nine weeks.
John Rubinstein: Ha-ha, yes … but with a very substantial break in between.
John Moore: Yes, like 40 years.
John Rubinstein: Exactly.
John Moore: Why was this something you wanted to do at this point in your life?
John Rubinstein: Well, it doesn't take a lot of convincing for me. I have a lot of children. I had my first child a week after I learned that I got the part in the first Pippin. My second child was born during Pippin on a matinee day. And I've had three other kids since. I now have two kids in college. And my youngest is now 8. So pretty much anybody who wants me, gets me (laughs).
John Moore: When you heard Pippin was coming back, take me through the audition process. Were you thinking, 'What a perfect way to complete a circle of life?' Or did someone from Pippin call you and say, 'You have to come in for this'?
John Rubinstein: It was a little bit of both. I live in Los Angeles, but I happened to be in New York to speak at my 50th high-school reunion. I delivered this big speech on that Friday. Rather late that day, my agent called and said, 'Hey, John, is there any way you can get yourself to New York?' And I said, 'Hey … I'm here!' And then he said, 'On Monday morning, they want you to audition to take over for Terrence Mann as King Charlemagne in Pippin.' And I thought that would be really fun. I hadn't been on Broadway since I did Ragtime in 1999. I had been looking for a reason to spend some time in New York again, so I said, sure. On Monday morning, I went in and auditioned, and there was good old Stephen (Schwartz) and (Book Writer) Roger Hirson and (Choreographer) Chet Walker and a bunch of old friends. I met Gypsy Snider for the first time and (Director) Diane Paulus and some of the other people involved. So I auditioned for them. Then they made me wait around for an hour or so while they got (Producer) Barry Weissler to come down. Then they made me do it all over again, and I flew happily back to California. The next week or so, they called and offered me the tour. And I thought, 'Gee, I haven't toured since 1968.' That was for On a Clear Day, You Can See Forever, a bus-and-truck tour with Howard Keel and John Raitt. Good people. But it was grueling. I remember we went through Denver on that tour.
John Moore: May I read you a quote from Stephen Schwartz about your audition?
John Rubinstein: Sure.
John Moore: He told me:
'There was this one moment when John read the chapel scene. There is a line where Pippin says, 'Time has passed you by, father,' and Charlemagne's line back is, 'And YOUR time has come, my son?'  I mean, hearing that from John? I can't even talk about it. It was just so emotional to hear John Rubinstein say that line. I know it doesn't have the same resonance for people who are just seeing the show for the first time, but for Roger Hirson and me? That was a pretty emotional moment.'
John Rubinstein: Oh, that's so moving. Those are very well-written scenes by Roger Hirson. Very actable. To me, the chapel scene is the best actor scene in the play. Now, keep in mind: I was not reading opposite the actor who is now playing Pippin. I was reading with a young lady from the audition team. But nonetheless, yes, to be looking at Pippin and saying that? I felt that resonance, too. When I said that line in the audition — 'And YOUR time has come, my son?' with that heavy sarcasm and that feeling of the inevitability of the passage of the baton, yeah, it was a thrill. When I do that scene in the show every night now, I get the chills just kneeling down and talking to Pippin about it.
John Moore: You can't take a thing from the great Terrence Mann. But for audiences who hear you say that line, it's just got to be different, given that you were the first Pippin.
John Rubinstein: Well, for audiences who are old enough to have either seen the original production or listened to the original cast album, maybe. I would say that only about 3 percent of the audience has any inkling about that. I'm just the old guy in the beard.
John Moore: Well, we're going to singlehandedly make it … 6 percent then.
John Rubinstein: OK, then.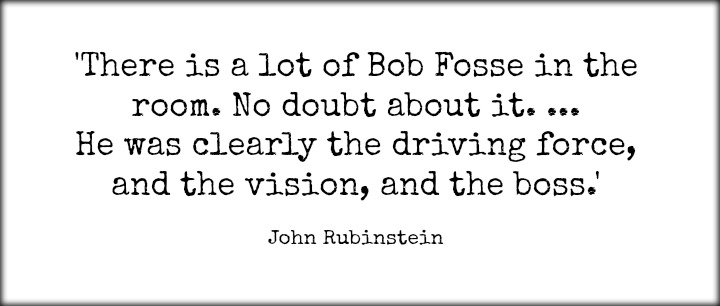 John Moore: We can't tell people specifically how the ending has changed in this new version of the show, but I think having the original Pippin performing as the new Charlemagne just makes the new ending that much more perfect.
John Rubinstein: Yes, that's true. Those little magic similarities are beautiful. And they are there for the finding in this show …  if you find them.
John Moore: How different has it been for you as a creative team putting together this new Pippin together without Bob Fosse in the room?
John Rubinstein:  Well, there is a lot of Bob Fosse in the room. No doubt about it. The show was certainly created by Bob and Stephen and Roger, but when you originate a show, whether you are one of the dancers or playing the title role, as I was, you are all creating it together as a team. That may sound ostentatious, but it is not entirely false to say that we all made that show. Bob Fosse was clearly the driving force, and the vision, and the boss. There's no way, not even 42 years later, that I don't carry a lot of the inner workings, and the subtext, and the background with me still. They are just there. When I hear the music, I feel them. When I say the words, I am living still with Bob Fosse in the rehearsal studio.
John Moore: In what ways does it feel different to you then?
John Rubinstein: This is a completely new re-imagining of the entire staging. When we first did it, there was plenty of entertainment value in it, for sure — but it was a darker show. What made it spectacular were the dancing and the dancers — every one of them hand-picked by Bob Fosse. And certainly Ben Vereen's performance as the Leading Player. Not to minimize the work of anyone else, but what really made that staging was the difficult choreography and how amazingly it was executed and interpreted by that particular group of dancers.
Do you still cross paths with Ben Vereen?
John Moore: John Rubinstein: Oh, sure. We're brothers. He has visited me a bunch of times while I have been doing the show in New York. We've eaten together. We've cried and laughed together. We love each other.
John Moore: I am curious how he feels about a woman now playing the Leading Player.
John Rubinstein: We haven't talked about that particular detail. We have just said to each other: 'This is a different show. It's not our Pippin revamped and re-mounted. It's Pippin re-conceived and re-presented. It's a different show. And there are some poignancies about that, for sure.
John Moore: OK, so when you are sitting in rehearsal, how do resist the urge to tap the new Pippin on the shoulder and say, 'Let me tell you how it's done, kid.'
John Rubinstein: No, never, never. I would never dream of doing it. It would be contrary to all etiquette. Aside from that, I don't need to. These guys are way better playing this part than I ever was.
John Moore: I would think that from the young actor's vantage point, you would be an incredible resource in the room.
John Rubinstein: He doesn't need to ask me anything. He really doesn't, and therefore … he doesn't. He's great. He's amazing. He's a wonderful actor. He's full of sensitivity. And he sings like an angel.
John Moore: But wouldn't that be a little like, say, if you did Jesus Christ Superstar in 1970, and now, 40 years later, Ben Vereen is back playing … Pontius Pilate? There's a new kid playing Judas and Ben Vereen is right there in the room. I don't know. I might have to ask him about the hanging scene.
John Rubinstein: You know what? I had that very experience. I'm talking to you by phone from the Union Square Theatre, where we are rehearsing for this tour. And it is in this very same theatre that, back in 1987, I played Guildenstern in Rosencrantz and Guildenstern Are Dead. That is a very difficult, challenging, wonderful masterpiece written by Tom Stoppard in 1966. And the third character in the play is, get this … the Leading Player. That's no coincidence. Certainly they (Stoppard and Schwartz) got that from Hamlet. The Leading Player brings the acting troupe. And I believe that when Stephen first wrote Pippin, the Leading Player was not supposed be a song and dance person — man or woman. It was supposed to be an old fuddy-duddy, Shakespearean actor, just like he is in Hamlet. The head of a troupe of players. An older guy with a huge repertoire and a big, booming voice. I think it was the combination of Bob Fosse and Stephen and Roger working together that changed that concept, and the Leading Player became … Ben Vereen.
John Moore: Awesome. But back to 1987.
John Rubinstein: I am playing Guildenstern and Stephen Lang is playing Rosencrantz. In the room with us, playing the Leading Player, was the great British actor John Wood, who had originated the role of Guildenstern on Broadway 20 years earlier — and he won a Tony Award for it. Now he is 20 years older and playing the Leading Player in our show, and he is watching me struggle to put Guildenstern together, day after day in rehearsal. So I definitely lived that experience, and it was very daunting. I was like, 'How do I do this?' And there is John Wood, standing there watching me do it. But he never said a single word to me — and I never asked him, because that's just not what's done.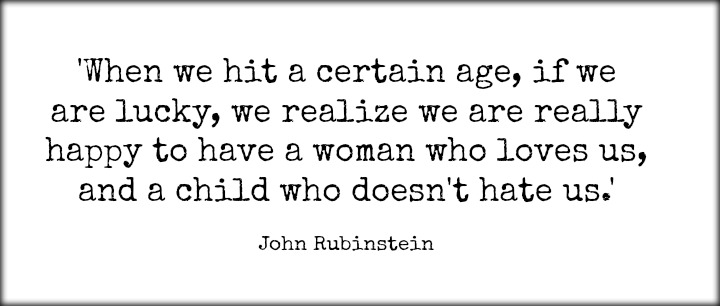 John Moore: Stephen Schwartz and I talked about the 1972 production being a real reflection of its times. So I am curious what the original Pippin thinks about why it is still relevant for a teenage boy or girl to experience the message of this show now.
John Rubinstein: It's a very universal tale. It's an everyman's story. It's got elements of Huck Finn and Candide. The framework is this callow youth who is born into privilege and he has all these choices. He's slightly narcissistic and slightly arrogant. He's easily displeased and even spoiled, you could argue. But then he goes on this journey of discovery and self-discovery. And what he discovers is humility and being peaceful and feeling satisfied with a life that is relatively commonplace and relatively mundane. That's a very moving story, because we all go through this as we are growing up. When we are children, we all want to be a policeman or a fireman; an astronaut or a movie star. We want to be a great athlete or a rich tycoon. We want to be glorious and amazing and accomplished, And then when we hit a certain age, if we are lucky, we realize that we are really happy to have a woman who loves us … and a child who doesn't hate us …  and a dog who is happy to see us when we come home. And maybe that's our greatest accomplishment.
John Moore: Bigger than all of those other things.
John Rubinstein: In this country, we are taught from birth that money is the only thing that matters. When they say the United States is about democracy and freedom, they really mean it's about money. Your worth as a person is only really measured by the amount of money you make, or that you have. It doesn't matter if you are the Koch brothers, and you never did a lick of work in your life, and you inherited everything from your father. You are still considered a driving force in this country. Because you have money. You are listened to, and you are respected. Now if you are a great human being and you have done amazing things but you don't have a big bank account? Not so much. Pippin is a story that says your biggest accomplishment is how you find happiness in the little things. In the commonplace. In what we all have within our reach.
John Moore was named one of the 12 most influential theater critics in the U.S by American Theatre Magazine in 2011. He has since taken a groundbreaking position as the Denver Center's Senior Arts Journalist.
Note: "The Pippin Profiles" is a series of interviews by Arts Journalist John Moore with the "Pippin The Musical" cast and creative team leading up to the launch of the first national touring production in Denver on Sept. 6. Dallas Summer Musicals is re-posting these on the DSM Blog to countdown the Opening Night of PIPPIN at the Music Hall at Fair Park – July 7-19!

---

PIPPIN is presented by Dallas Summer Musicals July 7-19 at Music Hall at Fair Park. TICKETS ON SALE NOW! Just go to http://tinyurl.com/og2sxh7. For more details, click here.

Want a chance to win tickets to opening night? Download our mobile app and take our quick trivia quiz! To download our app, Apple users click here and Android users click here!
---