Posted on July 1st, 2015
The 'Pippin' Profiles: How Stephen Schwartz ran off with the circus
by John Moore | Aug 20, 2014
Stephen Schwartz likes to joke that somewhere, "Bob Fosse is surely looking up and laughing."
He kids about the direction. But not the director. Fosse was Schwartz's legendary collaborator on the musical Pippin, which in war-torn 1972 brought a surreal collision of violence, innocence and sexuality to the Broadway stage.
Fosse, known for his provocative choreography and fiery temper, died in 1987. Last year, a significantly re-imagined Pippin won the Tony Award for Best Musical Revival, and its new national touring production will launching in Denver on Sept. 6.
"I think Bob would be thrilled with this," said Schwartz, the composer who 40 years ago openly questioned the darkness and overindulgence that Fosse brought to Schwartz's sweet story of a naïve boy searching for meaning in his life.
"There were specific choices Bob made that I honestly thought were heavy-handed and crude, and not in a good way," Schwartz said. But now at age 66, Schwartz added, "I joke that I have ironically become the defender of Bob's vision."
Schwartz and book writer Roger O. Hirson have been approached dozens of times over the years by artists wanting to revisit Pippin.
"Frankly, I think merely reproducing the original — if that were even possible —  would have felt quite dated," Schwartz said. "And none of the new approaches made much sense to us."
Any revival would bring big challenges. "The Fosse choreography is so iconic, and the performance of Ben Vereen (as the Leading Player) was so indelible, even to people who didn't actually see it," Schwartz said. "So it really would need a concept that was going to overcome all that without obliterating the show. And that was quite difficult to come by."
Enter Diane Paulus, the groundbreaking director who brought the Vietnam musical Hair back to explosive life on Broadway in 2009. Her new idea? The original mysterious troupe would now be a circus family performing the story of Pippin. Now the young prince's quest for meaning would be a death-defying one, set against live and often breathtaking acrobatics.
Schwartz and Hinson were apprehensive at first. "But I think I can speak for Roger when I say we have been totally won over," Schwartz said. "Frankly, I think Diane is a better director of scenes and actors than Bob Fosse was. And consequently, I think the story is better told."
Pippin began as a 17-year-old Schwartz's spin-off of The Lion in Winter, a play about the foibles of King Henry II in 1183. Over the next seven years, the Pippin project came to reflect Schwartz's own journey as a young man in his 20s.
Fosse, then 47, agreed to direct and choreograph Pippin on Broadway if allowed to make the story more dark and sophisticated. Fosse brought in Ben Vereen, fresh off his electric performance in Jesus Christ Superstar, to play the Leading Player, a narrator of sorts who leads Pippin down many dangerous roads.
Schwartz says it's "absolutely accurate" to suggest that, essentially, he is Pippin, "particularly in talking about me at age 24," he said. "I think more and more that the character of Pippin became a great deal like me at that time."
But what became intriguingly clear to Circus Creator Gypsy Snyder, who had never seen Pippin before the recent revival, is that Fosse is the Leading Player.
"When you look at the sexuality and the seduction and the violence and the eroticism of the piece," Snyder said, " …  then we are really looking at a retrospective of Fosse's life. And then you have is the innocent side of Pippin: The loving family man, the 'Corner of the Sky" Pippin. That was absolutely the Stephen Schwartz that I got to know through this production. He's just so positive and so hard-working and he keeps an innocent eye. That's Pippin."
Schwartz concurs.
"Bob's was the more worldly-wise point of view," Schwartz said. "And Roger Hirson, who was in his 40s when we opened, may have been the Charlemagne character."
Read more about this and more in this exclusive, expansive interview with one of the leading figures in American theatre history. Schwartz, who has contributed to Wicked, Godspell, Children of Eden and many more, is a member of the Theatre Hall of Fame and president of the Dramatists Guild. He has three Academy Awards, four Grammy Awards, four Drama Desk Awards and, shockingly, no Tony Awards.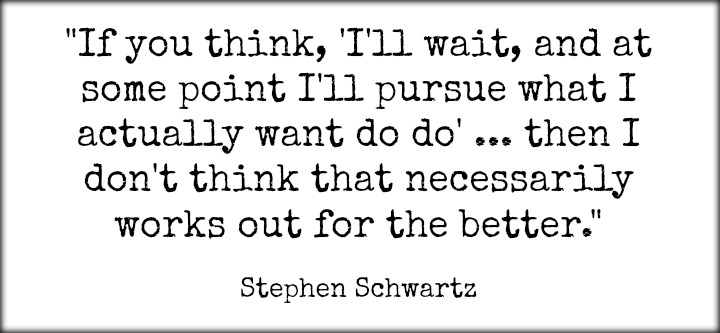 John Moore: So where did I find you today?
Stephen Schwartz: I am getting ready to visit Trumbull, Conn., because a high school there has a drama troupe run by a girl who very bravely last year resisted censorship on their production of Rent. And The Directors Guild, of which I am president, has honored her with a courage award. Now her troupe is doing Children of Eden, so it's kind of come full circle. And so, in appreciation for what she has done, I am taking myself to Trumbull.
John Moore: It meant a lot to the students attending last month's Jimmy Awards in New York when you stopped by to speak to them.
Stephen Schwartz: Well, Music Theatre International, which represents most of my shows, is very active with the Jimmy Awards, and they asked if I would come and talk with them. And pretty much anything MTI asks me to do, I do —  because they have been very good to me over the years.
John Moore: Well, I  think you have been pretty good to MTI, too.
Stephen Schwartz: (laughing): Well, thanks. I really enjoyed getting a chance to talk to the kids. They were amazing. It was really cool to spend a little time with them.
John Moore What was your message of encouragement to them?
Stephen Schwartz: I am a big believer in — and living proof of — the theory of 'follow your bliss.' This is a very difficult and often very mean business. But if this is your dream, and you persevere at it, it is possible for people to make a living, and make a life, in this profession. My advice to them is the same as my advice to my own children: If you pursue what you want to do, you may not wind up where you thought you were going to, exactly, but it will take you somewhere you are more likely to want to be than if you made the 'safe,' or perhaps the 'sane' choice. If you think, 'I'll wait, and at some point I'll pursue what I actually want do do' … then I don't think that necessarily works out for the better.
John Moore: Wait, I didn't think we were talking about Pippin yet. But apparently we are.
Stephen Schwartz: Well yes. There we are… You know, Pippin, in the end, makes the sane choice.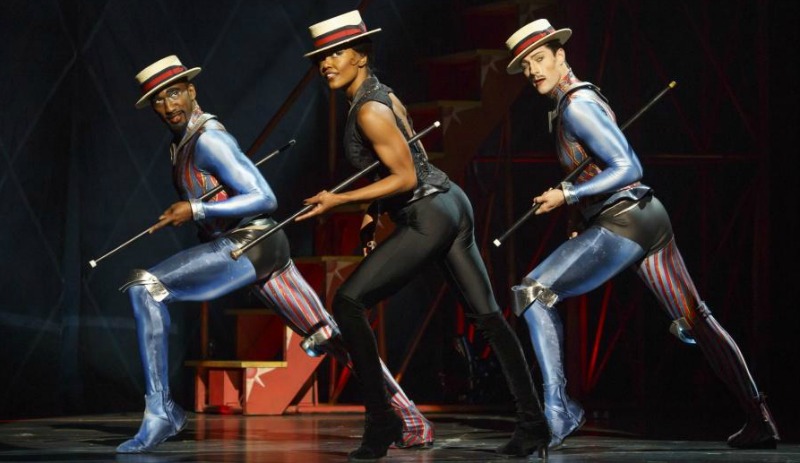 John Moore: I am sure you have been told over and over about how your music has changed the course of young peoples' lives. But for my generation, it was  and Pippin doing the life-changing, and now you have this whole new generation of theatre kids all geeked out because, hey: You're the guy who wrote Wicked.
Stephen Schwartz: It is sort of strange, isn't it? But obviously it's nice that at my … advanced … age, if you will, that I have come up with something – along with my collaborators — that has spoken to people of all ages, but particularly to a young generation.
John Moore: So whose idea was it to revisit Pippin now?
Stephen Schwartz: It was really (Director) Diane Paulus, who had been wanting to do it for quite a while. I was an admirer of her work, particularly on (the Broadway revival of) Hair, which I thought was excellent. I felt Diane had managed to both honor the original but also make it fresh, and that is a quite tricky line to walk. After I really got to see her way of thinking, and her creativity, in a show called Blue Flower at her (American Repertory Theatre) in Boston, I became enthusiastic that she was someone who might be able to pull this off. And, of course, she has proven that in spades. 
John Moore: So what did you think when Diane said, 'I want to put this in a circus'?
Stephen Schwartz: I had actually heard the idea of a circus before. And it wasn't something that I thought was a great idea, to be honest, because I was picturing a different kind of circus. But then Diane, who has done work with Cirque du Soleil, told me about this troupe from Montreal called Les 7 doigts de la main, or 'The 7 Fingers of the Hand.' I went to see a show of theirs that happened to be touring the States. We discussed it further and I began to have a glimmer of what Diane was talking about. But I have to say that until I saw it, I really didn't truly understand what she meant, and what her vision was. I just didn't. I think that's one of the things about someone who is as gifted and as visionary as Diane. She had these ideas in her head that are difficult to express verbally — but then when you see them, you get them.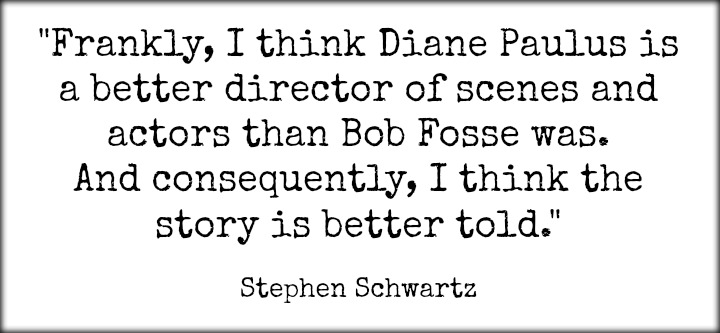 John Moore: And so now that you have lived in it, how do you articulate to people that this is the winning formula?
Stephen Schwartz: That is a good question. Other than by assertion, I'm not sure that I know how to do that. It's important for you to understand that Diane did not just overlay circus performance on top of the show as some kind of gimmick. First of all, she integrated the idea of the circus performances into the storytelling. It's not as if the show grinds to a halt and they do a circus trick, and then the story starts up again. Secondly, the way that she and Gypsy Snider did the circus part of the show, and the way Chet Walker did the choreography, is very special, I think. In some instances, the choreography is a very faithful re-creation of Bob Fosse's work. And in other places, I think what Chet has done is a very creative interpretation of what Bob might have done under these new circumstances. So it really is a complete re-envisioning of Pippin. This is a revisal as well as a revival of the show — on all levels.
John Moore: How do you think Bob would have liked this new approach?
Stephen Schwartz: I think Bob would be thrilled with this. I think if we had been able to think of some of the changes we have made together, he would have been extremely enthusiastic about them. Just the sheer sort of theatricality of the staging and this presentation, I think would have pleased him very much. 
John Moore: You have said the inspiration for Pippin actually comes from James Goldman's play The Lion in Winter.
Stephen Schwartz: That's true. It started as a sort of a medieval court intrigue musical melodrama.  And then it gradually transmogrified into being semi-autobiographical. And then it turned into the story of my generation — as I saw it.
John Moore: So here's a quick Lion in Winter story: I was reviewing a production by a venerable community theatre for The Denver Post. And as we are leaving, an older audience member sees my notebook and stops me. She says, 'Now you be sure to put in your review that that was the most understandable Shakespeare play I have ever seen!'
Stephen Schwartz (laughing): That is so great. And you know what? She is right. That is absolutely the best description of The Lion in Winter I have ever heard. I hope you put it in your review. That is perfect.
John Moore: You bet I did.
Stephen Schwartz: That is just hilarious.
John Moore: So getting back to of Bob Fosse … I've noticed over the years that whenever you are interviewed, you are so disarmingly honest in your answers. One might even say Pippin-esque —
Stephen Schwartz: Yes, and that gets me into trouble a lot of the time.
John Moore: Well I respect how you've openly discussed your initial, honest discomfort with how far Mr. Fosse was taking things. So I am wondering how you feel about this new version in those terms.
Stephen Schwartz: I do feel quite honestly that there were some choices Bob made that I thought were just – well, overindulgent is the best word. That went beyond the concept of the sexuality that he injected into it.
John Moore: And here's where I think the real danger lies: It's not whether Broadway gets it right, or the national touring production, because you control that. But you can't know how that indulgence expresses itself in local productions across the country that might not have someone to reign it in. I have seen productions of Pippin where they take that Bob Fosse element and they times it by 10.
Stephen Schwartz: Yes, I know — and that's so not the show. And it really misses the tone that Bob was going for, and I think largely succeeded with. What I like about this new production, is that, yes, it is still a very sexy show. And a lot of those elements that Bob created remain in the show intact. But I think Diane, with her intelligence — and frankly with her taste — never lets it go over the line. Even in the famed 'sex ballet' section, it doesn't go over the line, I feel.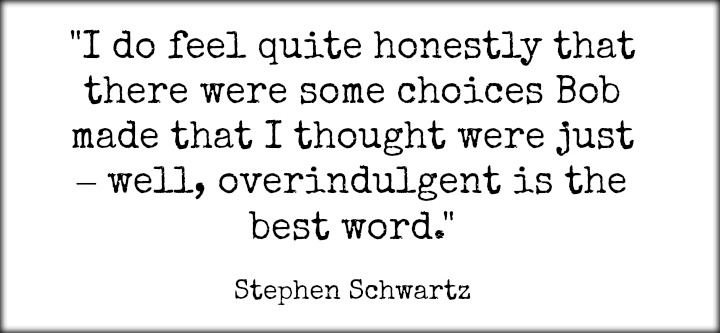 John Moore: You may get a kick out of the headline of my essay after having seen the new revival on Broadway last October. It read: "Broadway wins over a Pippin pessimist." 
Stephen Schwartz: Well you know what? That could MY headline on this one, too.
John Moore: You're kidding … Really?
Stephen Schwartz: Oh, yeah. Because Roger and I resisted for so long going forward. I don't know if we were pessimistic, but we certainly had trepidation about it. And I think I can speak for Roger when I say we have been totally won over. I am just a huge fan of this production.
John Moore: I never had any question about Pippin the character, or his story, because it's so clearly universal. I wrote, 'You don't have to be 17 and coming of age to feel this show in your open heart and rambling bones. You just have to have come of age.' That has to be somewhat true of any 17-year-old of any century. But my first Pippin was a very small community theatre production in 1986, and I remember feeling that it felt like this was a signature work for its time – which was the 1970s. So at first, I wasn't sure how revisiting it in 2012 could really work, or why it was even necessary – not without turning it into a whole new modern, hipper theatre experience. But I think what impressed me the most about this new version was how muscular it was. I mean, this show is a true physical display of athletic and acrobatic skill.  I also thought it was just charming in how self-deprecating it was in its telling.
Stephen Schwartz: I agree with all of that. So much of Pippin was of its time. It was written in the time of the Vietnam War and the Generation Gap and 'Don't trust anybody over 30.' And in that whole context, frankly, I think merely reproducing the original — if that were even possible —  would have felt quite dated. That's one of the reasons I was optimistic when Diane approached me, because that's one of the things she achieved with Hair. It was of its time, but it had a contemporary sensibility. It was like living in the moment, and then looking at the moment at the same time — and I thought that was a pretty remarkable achievement. Pippin is certainly less specifically of its time than Hair was of its, but I still think that's part of what Diane has achieved here.
John Moore: I'm glad you brought up the Vietnam War, because I am of the generation that just missed most of that, so I did not grow up thinking of war as a universal. But now, everyone who is Pippin's age in America has lived their entire conscious lives with their country in a state of military conflict.
Stephen Schwartz: Exactly.
John Moore: … So maybe young people today will take a perspective into this new Pippin that's more in line with the young people who saw Pippin in 1972. War is a universal for this generation – because, for them, it's always been there.
Stephen Schwartz: Well, that's unfortunately a "for sure." And in that same kind of controversial and divisive way that the Vietnam War was. It's not like World War II, where everyone was united in thinking this was something that we had to do as a country. Iraq was extremely polarizing and divisive, so … yeah.
John Moore: Let's touch on a couple of other key elements. First, you have changed the ending. What can we say about that without giving anything away?
Stephen Schwartz: Now, that is something I have no doubt Bob Fosse would have been happy with, if only we had thought of it back then. There are reasons we couldn't have – reasons that go beyond just that we weren't smart enough to think of it. But I will say this new ending is so clearly the right ending for the show.
John Moore: Why do you say you two could not have eventually come up with this new idea the first time around?
Stephen Schwartz: It has to do with the fact that, in the original show, the character of Theo was a little boy. He was 6. In this cast, he is a bit older than that.
John Moore: OK, I am going to leave it at that.
Stephen Schwartz: And so will I.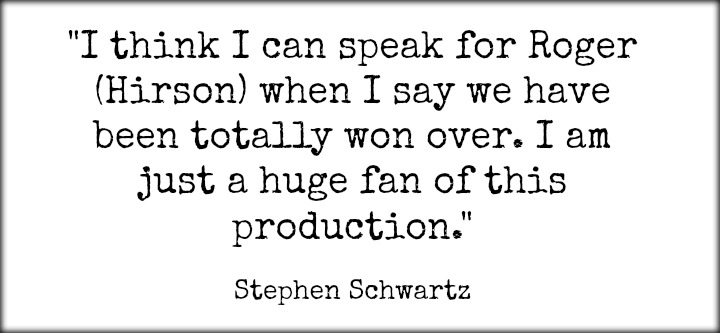 John Moore: You mentioned Ben Vereen. Obviously a huge change is having your Leading Player be played by a woman.
Stephen Schwartz: I knew one of the problems we would have to overcome in doing any big, commercial revival of Pippin would be memory of Ben Vereen everybody would bring into it. You'd start out with people wanting to see that. And, of course, that's impossible. So we had to either somehow break that — or overcome that. So when Diane said, 'Well, what if the character of the Leading Player is a woman?' — that made us think, 'Well … then you can't be sitting there saying, 'He's no Ben Vereen!' —  which is what I think any male performer would have encountered. Oddly enough, I feel like, now that we have done this — If at some point in the future we wanted to go back to a male Leading Player, there are certain things about the way the show is written, and some of the new things that we have added — particularly between the Leading Player and Catherine — that I think would not go down as well if the Leading Player were male. It would seem a little brutal.
John Moore: And before we leave: How great is it that you have John Rubinstein coming on board to play Pippin's father after having originated the role of Pippin in 1972?
Stephen Schwartz: Is that the best? I mean, is that the best ever? And this was not stunt casting. We walked into the auditions and John Rubinstein's name was on the list. There were some other really good people, too. Of course, we were amazed and delighted that John was coming in to audition. But he was the best. Frankly, I don't think we would have done it if we hadn't felt that he was the best choice. But the idea of it was so irresistible. There was one moment in auditions, and it was only for Roger and me. John read the chapel scene and there is a line where Pippin says, 'Time has passed you by, father.' And Charlemagne's line back is, 'And your time has come, my son?'  I mean, hearing that from John? I can't even talk about it. It was just so emotional to hear John Rubinstein say that line. I know it doesn't have the same resonance for people who are just seeing the show for the first time. But for Roger and me? That was a pretty emotional moment.
John Moore was named one of the 12 most influential theater critics in the U.S by American Theatre Magazine in 2011. He has since taken a groundbreaking position as the Denver Center's Senior Arts Journalist.
Note: "The Pippin Profiles" is a series of interviews by Arts Journalist John Moore with the "Pippin The Musical" cast and creative team leading up to the launch of the first national touring production in Denver on Sept. 6. Dallas Summer Musicals is re-posting these on the DSM Blog to countdown the Opening Night of PIPPIN at the Music Hall at Fair Park – July 7-19!
---

PIPPIN is presented by Dallas Summer Musicals July 7-19 at Music Hall at Fair Park. TICKETS ON SALE NOW! Just go to http://tinyurl.com/og2sxh7. For more details, click here.

Want a chance to win tickets to opening night? Download our mobile app and take our quick trivia quiz! To download our app, Apple users click here and Android users click here!
---