Posted on July 2nd, 2015
The 'Pippin' Profiles: Circus Creator Gypsy Snider
by John Moore | Aug 09, 2014
In Pippin the Musical, a family of circus performers defies death to tell their story with every flip, tumble and mid-air spin.
The same is true of those actors performing in Pippin the Musical.
And the same has been true of Pippin Circus Creator Gypsy Snider since she began her career as a circus performer at the tender age of 4.
With all respect to Stephen Schwartz, composer of Wicked and Pippin, Snider was defying gravity long before Elphaba was a green twinkle in his orchestral eye.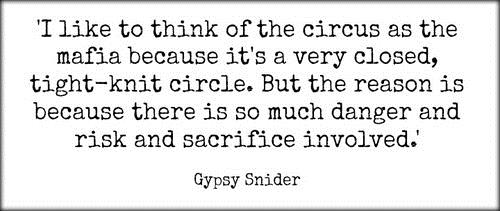 Snider's parents are the founders of San Francisco's pioneering Pickle Family Circus, an acclaimed alternative circus often cited as a primary influence on the creation of Cirque du Soleil. Snider is the co-founder of Montreal's 7 Fingers (Les 7 doigts de la main), a pioneering form of live entertainment that has twice brought Traces to Denver. That innovative show used astonishing displays of athletic skill to tell the real-life stories of seven street teens.
Snider embraces circus as its own narrative storytelling form. Her brand of physical theatre requires strength, agility and grace.
Her upbringing was like no other. She grew up around the likes of circus legends Bill Irwin and Geoff Hoyle. She appeared among an entire town of street performers in Robert Altman's 1980 film Popeye. By 18, she was attending a physical-theater school in Switzerland.
She co-founded 7 Fingers in 2002 and, for her first foray into Broadway, she was called upon by Pippin Director Diane Paulus to help re-tell Schwartz's iconic story of a young prince's quest for meaning in life set within the world of circus. Pippin won the 2013 Tony Award for best musical revival. Its first national touring production launches at Denver's Buell Theatre on Sept. 6.

Modern audiences who have a familiarity with circus generally think of Cirque du Soleil. But while Snider toured with Cirque and has a deep love for it, she says Pippin should not be mistaken for it. If anything, she said, it should evoke the old days of the Ringling Brothers and Barnum and Bailey Circus.
"This is old-school, hard-core circus," she said.
We're talking juggling knives and swallowing fire.
"I would say that Cirque du Soleil is like the grandfather, and we are the rebellious teenagers," she said.
Pippin culminates with a boy becoming a man, having to choose between a life of adventure or family. Snider has never had to pick  between the two – her small children are also embracing the circus life. But Snider's life turned upside down in 2008, when she were diagnosed with advanced-stage colon cancer.
"It was definitely a life-changing experience," she said. Much surgery, chemotherapy chemotherapy and radiation followed.
"Suddenly, my work felt trivial and my family became more important than ever before," Snider said in a previous interview with Broadway Buzz. "I began to question how taxing show business can be and wondered if I should just move to the country and raise my two daughters in a stress-free environment, instead of in the glory of this wonderful but all consuming lifestyle. It was during this difficult time that Diane Paulus reached out to me about the possibility of collaborating on a new production of Pippin."
And when she did, her charge to Snider was simple:
"Come make this thrilling."
Here are more excerpts from our recent conversation with Snider for MyDenverCenter.Org. It took place just before rehearsals were to begin for the national touring production of Pippin as Snider and her family were visiting her parents' family retreat in the Berkshires.
John Moore: When you brought Traces to Denver in 2011, could you have even imagined what your immediate future had in store for you?
Gypsy Snider: Actually, Denver plays a semi-big part in this. When I was working in Denver, I saw all of the other productions that were being staged there at the time. I remember sitting there watching the (Denver Center Theatre Company's) A Midsummer Night's Dream. That's when I knew that I wanted to get back to the States, that I wanted to work in the English language and that I wanted to work in the theatre. I remember saying that to (Denver Center for the Performing Arts President) Randy Weeks afterward. I got really excited about the possibilities from Denver on.
John Moore: How did the Pippin opportunity come about?
Gypsy Snider: My first conversation with (Director) Diane Paulus and (Producer) Barry Weissler coincided with Traces being in Denver. She had just done a Cirque production called Amaluna, so she was really starting to be familiar with the Montreal circus scene. She had already seen tons of videos of things we had done. Barry had been following us for several years. At my first meeting with him in New York, I was like, 'What am I doing? How did I end up here?' But Barry said, 'Look, I don't know what to do with you. But I know that I love what you do.' And so, he continued to follow our shows. Later on, when Diane said, 'I think we need to put circus into the Pippin story,' Barry said, 'How about Gypsy? And she said, 'I totally know who you are talking about.' And so then they sent me the script.
John Moore: I read somewhere that you had never seen Pippin before.
Gypsy Snider: No, I had not. Maybe I had remotely heard the music, but I didn't associate it with the story. So I read the book and … it's a very strange piece of literature. But I fell in love with it. I instantly knew what I wanted to do with it. I read it in one hour in my bed and I just … knew. When I met with Diane, I rambled on and on. I had no idea what I was getting into. But she was sold.
John Moore: Sounds to me like you are the rambling river in that story.
Gypsy Snider: Oh, Diane Paulus is a big river instigator. She saw my enthusiasm. And when she feels someone has an idea that is flowing, she does an incredible job of pushing that flow and guiding that flow.
John Moore: What specifically did you bring to the creative conversation?
Gypsy Snider: At 7 Fingers, we have a way of bringing emotion and texture into acrobatics. In a way, I think the passion and the theatricality that circus brings to it quickly became the backbone of this new project. Of course, Bob Fosse and Stephen Schwartz are the backbone of Pippin. But in terms of rejuvenating it, the circus became the backbone of doing it this way.

John Moore: What was it like high-flying into the world of the original Pippin choreographer, the late Bob Fosse?
Gypsy Snider: I was fascinated to learn the extent to which Bob Fosse was a huge influence on my career — unbeknown to me. There is a kind of sexuality and a violence in his artwork that I always need whenever I am creating a show. I know that sex and violence sells TV shows, but Fosse really criticized the entertainment industry for the addictive and seductive nature of sexuality and violence in entertainment. I don't mean to go off on a crazy tangent, but if we are talking about seducing Pippin into a living a more extraordinary life by luring him into something that could be potentially fatal … that's the entertainment industry. In that way, we are really looking at a retrospective of Fosse's life. That's what I found so, so fascinating about it. And then there is the innocent side of Pippin: The loving family man, the "corner of the sky" Pippin. That was absolutely the Stephen Schwartz that I got to know, amazingly, through this production. He's just so positive and so hard-working.
John Moore: How do you think Bob Fosse would have liked the idea of setting Pippin in a circus?
Gypsy Snider: I feel like Bob Fosse would have wanted us to do this, and that he would have done it himself if this were available to him at the time. Maybe not to this extent, but …  it was there. It was already there in the words.
John Moore: With this reimagined version of Pippin – both setting it in the circus and, more tellingly, in consideration of the life choice Pippin faces in the end – it seems to me as if maybe Diane Paulus is saying that Pippin is you.
Gypsy Snider: I think so. Diane and I are both the same age, and we both have two daughters. We have discussed on a very personal level the seduction of the business and this balance you try to achieve, being professional women who have families. It's really like we are the Catherines — but we are also being seduced like the Pippins.  It was interesting for both of us how we connected on an emotional level to this musical. Pippin has this choice to make, and one of them it to embrace this simple home life with an older woman and her child living out in the country where there is no magic and there is no makeup — which is something Fosse presented in a very boring, very pejorative manner. And yet here I am talking to you right now while I am out here in the country with my children — and I love it. But I also love my work. I feed on it so much, and I am proud to show my children how passionate I am about my work.
John Moore: For 40 years, both audiences and writers alike have argued whether the ending to Pippin is a tragedy … or a compromise … or a perfect, happy ending. I imagine, given your life story, that you are split right down the middle.
Gypsy Snider: I am split down the middle. For me, circus is like eating and sleeping and family. It's my brother; it's my mother; it's my father. Just talking about it makes me so emotional. There were maybe a few moments in my life when I felt like walking away from it, or perhaps trying something totally different. Circus is a very physically demanding life. It's a very itinerant life. And when my kids started going to school, I was like, 'What am I doing?' But circus is my family, too. Sometimes I like to think of it as the mafia because it's a very closed, tight-knit circle. But the reason is because there is so much danger and risk and sacrifice involved. True circus people know each other, and there is a whole sort of respect and value system to it that is so honorable and so genuine and so truthful. To true circus people, there is no nonsense. There is no competition. There is no, 'I am better than you are.' There is no, 'I am going to be a star, but you are not going to be a star.' Each individual circus performer is absolutely unique, and that uniqueness is valued. There is no one way to do anything. Unfortunately, it's not like dance. To survive in the dance world, you have to sacrifice so much of your individuality and soul. Everyone wants to play Romeo, for example. In circus, that is not ever an issue. People don't compare themselves. There is somehow a place for everyone.
John Moore: How do you feel about getting the whole Pippin creative team together and doing this all over again with a new cast?
Gypsy Snider: Diane, (Choreographer Chet Walker) and I have been talking about how exciting it is going to be to get back in the room.  I am feeling like this is going to be an incredible reunion for all three of us.
John Moore: Well, then … welcome in advance to Denver.
Gypsy Snider: I am so excited.  There is a place in Denver that sells poutine (gravy fries with cheese curds), so I am definitely looking forward to that.
John Moore was named one of the 12 most influential theater critics in the U.S by American Theatre Magazine in 2011. He has since taken a groundbreaking position as the Denver Center's Senior Arts Journalist.
Note: "The Pippin Profiles" is a series of interviews by Arts Journalist John Moore with the "Pippin The Musical" cast and creative team leading up to the launch of the first national touring production in Denver on Sept. 6. Dallas Summer Musicals is re-posting these on the DSM Blog to countdown the Opening Night of PIPPIN at the Music Hall at Fair Park – July 7-19!

---

PIPPIN is presented by Dallas Summer Musicals July 7-19 at Music Hall at Fair Park. TICKETS ON SALE NOW! Just go to http://tinyurl.com/og2sxh7. For more details, click here.

Want a chance to win tickets to opening night? Download our mobile app and take our quick trivia quiz! To download our app, Apple users click here and Android users click here!
---