Posted on August 18th, 2017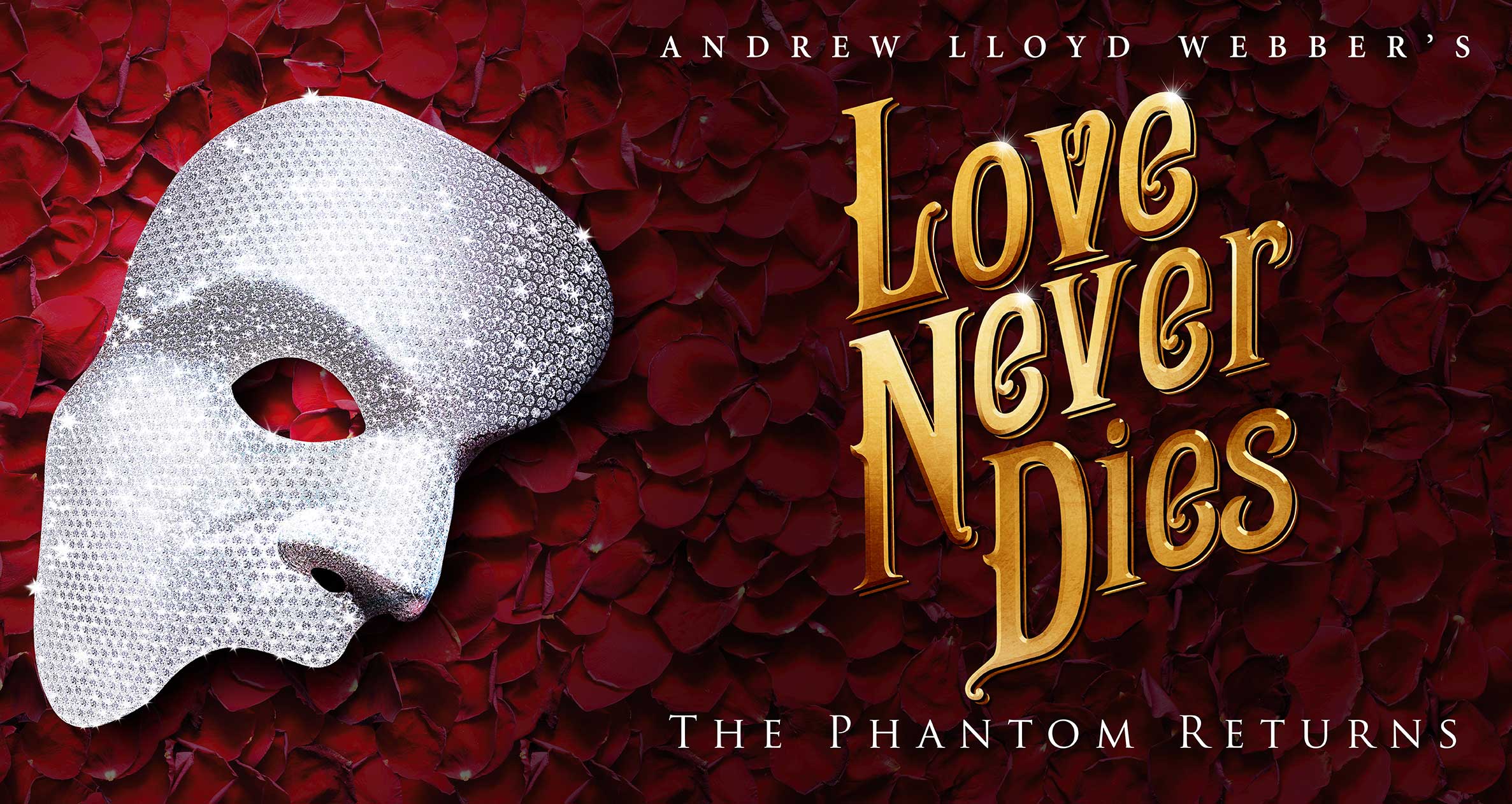 NORTH TEXAS' PREMIERE ENGAGEMENT COMES TO MUSIC HALL AT FAIR PARK
AND BASS PERFORMANCE HALL IN 2018!
Music
Andrew Lloyd Webber
Lyrics
Glenn Slater
Book
Andrew Lloyd Webber & Ben Elton
Additional Lyrics
Charles Hart
Orchestrations
David Cullen & Andrew Lloyd Webber
Dallas, TX (August 17, 2017) – Casting has been announced for Andrew Lloyd Webber's LOVE NEVER DIES, the spellbinding sequel to THE PHANTOM OF THE OPERA. The tour will play at the Music Hall at Fair Park July 24 – August 5, 2018 presented by Dallas Summer Musicals. The production will then head to Fort Worth, where it will play at Bass Performance Hall August 7-12, 2018 presented by Performing Arts Fort Worth.
Direct from the highly successful production of LOVE NEVER DIES in Hamburg, Germany, Gardar Thor Cortes will portray the man behind the mask, 'The Phantom,' with Meghan Picerno as 'Christine Daaé,' Karen Mason as 'Madame Giry,' Sean Thompson as 'Raoul,' Mary Michael Patterson as 'Meg Giry,' and Casey Lyons and Jake Heston Miller sharing the role of 'Gustave.' The trio of Phantom's henchmen include Katrina Kemp as 'Fleck,' Richard Koons as 'Squelch,' Stephen Petrovich as 'Gangle,' Gardar Thor Cortes is appearing with the permission of Actors' Equity Association.  The producers gratefully acknowledge Actors' Equity Association for its assistance of this production.
The ensemble includes Chelsey Arce, Erin Chupinsky, Diana DiMarzio, Tyler Donahue, Yesy Garcia, Alyssa Giannetti, Michael Gillis, Tamar Greene, Natalia Lepore Hagan, Lauren Lukacek, Alyssa McAnany, Rachel Anne Moore, Bronson Norris Murphy, Dave Schoonover, Adam Soniak, Kelly Swint, Lucas John Thompson, Correy West, Arthur Wise and Borris York.
LOVE NEVER DIES is a dazzling new production, which takes audiences on a thrilling rollercoaster ride of intrigue, obsession and romance. Audiences will be seduced by the beautiful, sometimes magical and poetic, sometimes joyful, and occasionally melancholic score. Don't miss this magnificent continuation of one of the world's greatest love stories.
The new touring production will reflect an extensive re-working of the material by an Australian creative team for the original Australian premiere in 2011. Described by Chris Boyd in The Australian as "The best thing Lloyd Webber has written in the quarter century since THE PHANTOM OF THE OPERA".
Directed by Simon Phillips (PRISCILLA QUEEN OF THE DESERT THE MUSICAL) with new set and costume designs by Gabriela Tylesova, choreography by 2011 Astaire Awards winner Graeme Murphy, lighting design by Nick Schlieper and sound design by Mick Potter, the show is one of the few instances of a major West End musical being given a complete makeover for subsequent productions.
Lloyd Webber said he knew about five minutes into seeing its first run-through that he and the new production team had achieved something special. "I have the great joy of being able to say that I think this production is probably the finest one I could ever, ever hope for."
The year is 1907. It is 10 years after his disappearance from the Paris Opera House and The Phantom has escaped to a new life in New York where he lives amongst the screaming joy rides and freak shows of Coney Island. In this new, electrically charged world, he has finally found a place for his music to soar, but he has never stopped yearning for his one true love and musical protégée, Christine Daaé.
Now one of the world's finest sopranos, Christine accepts an invitation to travel from Paris to New York to perform at a renowned opera house. Christine's marriage to Raoul is suffering at the hands of his drinking and gambling and they desperately need the financial rewards that America can give them.
In a final bid to win back Christine's love, The Phantom lures her, Raoul, and their young son Gustave, from Manhattan to the glittering and glorious world of Coney Island – not knowing what is in store for them.
Since its premiere in 2010, LOVE NEVER DIES has enjoyed productions worldwide in London, Australia, Denmark, Japan and Germany, as well as multiple recordings including a concept album and a London cast recording. A DVD release of the Australian production has delighted fans globally, and now the North American tour brings the musical to the US for the first time.
For more information, please visit www.loveneverdies.com.
Single tickets for the Dallas-Fort Worth engagements of LOVE NEVER DIES will go on sale at a later time. Please purchase a 2017-2018 Broadway season ticket(s) for access.
•     •     •
Dallas Summer Musicals' highly anticipated 2017-2018 Broadway season will kick off with the season add-on IRVING BERLIN'S WHITE CHRISTMAS, December 5-10, 2017; followed by THE COLOR PURPLE, Jan. 23 – Feb. 4, 2018; ON YOUR FEET!, Feb. 27 – Mar. 11, 2018; WAITRESS, Mar. 28 – Apr. 8, 2018; LES MISÉRABLES, Apr. 24 – May 6, 2018; DISNEY'S THE LION KING, Jun. 13 – Jul. 8, 2018; LOVE NEVER DIES, Jul. 24 – Aug. 5, 2018; and closing the season will be SCHOOL OF ROCK, Aug. 15-26, 2018.
Dallas Summer Musicals' seven show season tickets start at $150 and are on sale online at DallasSummerMusicals.org, by phone at 1-866-276-4884 Monday – Friday from 9 a.m. to 6 p.m. CST. Season tickets can also be purchased in person at the Music Hall at Fair Park box office Monday – Friday from 10 a.m. to 6 p.m. and Saturday from 10 a.m. to 4 p.m. Payment plan options are available. In addition, season ticket buyers have the option to include the season add-on to their season subscription, which is discounted for subscribers.
Perks of being a season ticket holder are interest-free payment options, savings over single ticket pricing, ticket exchange privileges, priority access to tickets, and free parking.
Groups of 10+ receive a discount and groups of 15+ receive a 15% discount to M Dining. Group orders placed before tickets go on sale to the general public get priority seating. For more perks and information or to purchase tickets please call 214-426-4768 or e-mail groups@DallasSummerMusicals.org. Discounts are subject to change depending on price level and performance.
HAMILTON and ALADDIN will be coming to Dallas Summer Musicals in its 2018-2019 Broadway season! Subscribers from the 2017-2018 Broadway season will have first access to HAMILTON and ALADDIN when renewing for the 2018-2019 Broadway season. Performance dates and times will be announced at a later time.

---