Posted on October 6th, 2023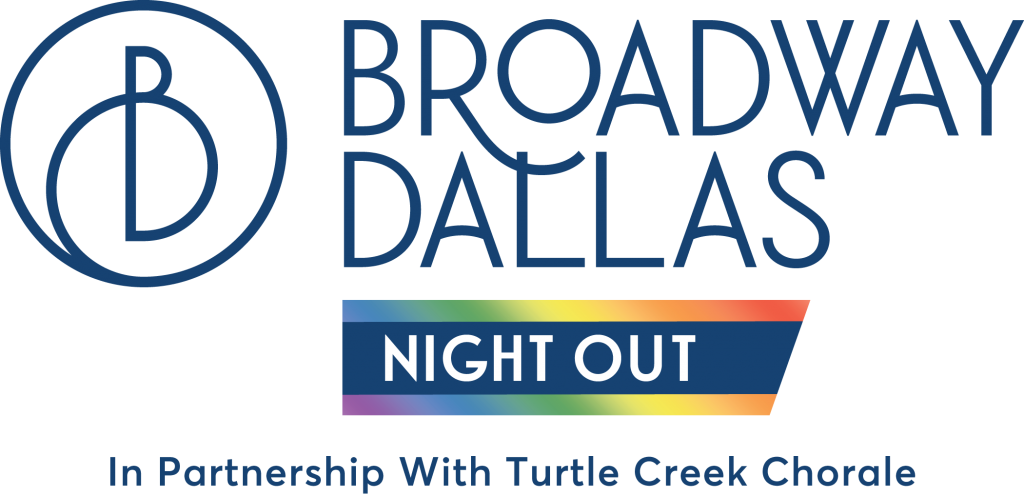 BROADWAY DALLAS LAUNCHES
NIGHT OUT
IN PARTNERSHIP WITH THE TURTLE CREEK CHORALE
Dallas, TX (October 6, 2023) – Broadway Dallas is thrilled to announce its newest affinity group Night OUT, in partnership with the Turtle Creek Chorale. Night OUT is the latest addition to Broadway Dallas' current lineup of groups including Associate Producers (AP) and the Guild. Night OUT is an exciting opportunity for members and allies of the LGBTQ+ community to gather, socialize, and experience the best of Broadway together. Night OUT will take place at a designated performance during the Dallas engagements of MJ, TINA – The Tina Turner Musical, and Hairspray. Attendees will enjoy pre-show mixers with complimentary drinks and apps at each selected performance. The inaugural event will take place Wednesday, November 29 with an MJ preshow mixer at the Music Hall at Fair Park. A ticket to the performance is required for entry. For more information, visit https://broadwaydallas.org/about/get-involved/#NightOUTSection.
"We are so honored and thrilled to partner with Broadway Dallas on this exciting initiative! Any opportunity to bring our community together to enjoy a night out for a Broadway show is a wonderful thing and we are grateful to Broadway Dallas for making this all possible," says Jeremy Wayne, Turtle Creek Chorale Executive Director.
Learn more about Broadway Dallas' other affinity groups below.
Associate Producers (AP) is the young professional affinity group of Broadway Dallas. AP helps bring Broadway Dallas to the forefront of the Dallas cultural scene through networking with peers and connecting over the excitement of live theater. AP membership benefits include discounted show tickets on designated AP nights with complimentary preshow mixers, 50% off tickets to season kickoff and wrap parties, exclusive access and discounted pricing to Broadway Dallas special events, discounted tickets to remaining Broadway shows on season, and additional meetups throughout the year. There is no membership fee to join; tickets to the shows on designated AP nights are your membership. For more information, visit https://broadwaydallas.org/about/get-involved/#AssociateProducersSection.­
The Broadway Dallas Guild is a social and hospitality organization that will allow you to take your engagement with Broadway Dallas to another level.  It's the ultimate Broadway fan club. If you want to get closer to the talent and spend time with fellow Broadway fanatics 40 years old and up, this is the organization for you. Guild membership benefits include preshow mixers on designated Guild nights, providing weekend meal service for cast and crew of touring Broadway Dallas shows, organize and host cast parties, community service volunteer opportunities, and more. There is no membership fee to join. For more information, visit https://broadwaydallas.org/about/get-involved/#GuildSection.
---
About Broadway Dallas
In 2022, Dallas Summer Musicals changed its name to Broadway Dallas. Since 1941, the non-profit Broadway Dallas has presented the Best of Broadway to North Texas audiences. Located in the historic Music Hall at Fair Park, Broadway Dallas promotes excellence in live musical theatre with year-round performances for diverse audiences of all ages, impacting the lives of children and families through education and community outreach programs, while enriching the cultural landscape of North Texas and the Southwest Region.
As a 501(c)(3) non-profit organization, Broadway Dallas relies on a variety of funding sources to offer affordable ticket prices, preserve the beautiful historic theatre, educate young audiences and develop impactful community programs.
Broadway Dallas gratefully acknowledges the support of our season sponsors, annual fund donors and corporate partners Germania Insurance, American Airlines, Texas Instruments, The Dallas Morning News, and WFAA TV Channel 8. For more information about Broadway Dallas, visit our website at BroadwayDallas.org.
About Turtle Creek Chorale
The Turtle Creek Chorale (TCC) is in its 43rd season as a world-renowned male chorus based in Dallas, Texas.  With over 250 singing members, the TCC presents a full annual concert series at the Moody Performance Hall, Meyerson Symphony Center, and other concert venues around the city of Dallas.  Cultural programs cover a wide range of musical styles with core messages combining laughter, tears, and inspiration to create extraordinary musical experiences – music that enhances the cultural lives of both audience and singers.
# # #
---