Posted on February 21st, 2023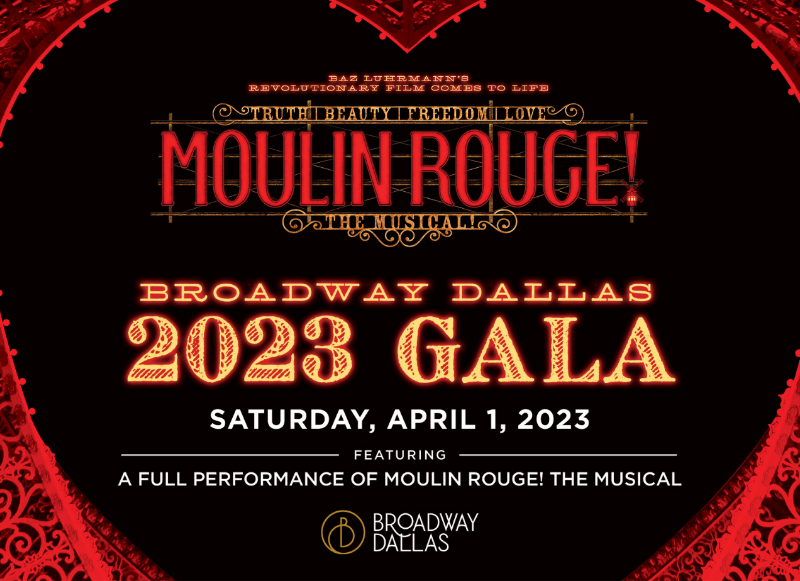 Broadway Dallas announces 2023 Gala featuring full performance of Moulin Rouge! The Musical
Dallas, TX (February 21, 2023) – Broadway Dallas is thrilled to announce its 2023 Gala featuring a full performance of MOULIN ROUGE! THE MUSICAL on Saturday, April 1 at the Music Hall at Fair Park, hosted by Gala Co-Chairs Jolie Humphrey and Gail Plummer with Honorary Co-Chairs Ambassador Kathryn Walt Hall and Craig Hall. For event information visit BroadwayDallas.org/shows/broadway-dallas-2023-gala.
The Broadway Dallas 2023 Gala is the organization's annual celebration of the best of Broadway. Guests will enjoy a cocktail reception and pre-show dinner, premium tickets to the full performance of MOULIN ROUGE! THE MUSICAL, intermission cocktails, access to the MOULIN ROUGE! THE MUSICAL After-Hours Fête post-performance party, and complimentary valet parking.
Single tickets are still available for the full gala evening as well as the MOULIN ROUGE! THE MUSICAL After-Hours Fête, hosted by Co-Chairs Emma Coppola and Hannah Hunt. The After-Hours Fête ticket includes the full performance of MOULIN ROUGE! THE MUSICAL, complimentary intermission cocktails, and a spectacular after-hours celebration featuring French-inspired fare, a full flowing bar, tunes spun by DJ Sheka, plus a special performance by Trap Opera Star Madelyn Brené, a late-night snack from Fletcher's Original Corny Dogs, and complimentary valet parking. Tickets to the after-hours event are available at bit.ly/broadwaydallasafterhours.
Gala proceeds support the nonprofit's mission to spread the gift of Broadway to more than 40,000 students and their families each year including 3,400 Dallas ISD students and more than 5,000 students from 72 schools who participate in our High School Musical Theatre Awards.
"We have a beautiful and exciting evening to look forward to, but it's important to remember that beneath all the glamour, we are gathering to support Broadway Dallas' ability to make a difference in the lives of children and families throughout our community," said Ken Novice, president and CEO of Broadway Dallas. "I'm grateful to this year's Co-Chairs, Jolie Humphrey and Gail Plummer, for their planning and leadership to ensure we're able to continue spreading the spirit of Broadway throughout North Texas and beyond."
"I grew up attending Dallas Summer Musicals (now Broadway Dallas) and my experience was so inspiring that I auditioned and performed in four musicals during my high school years, and I have loved the theater ever since," said Jolie Humphrey. "I want that same magical feeling for children all over the Dallas metroplex. The Give a Kid a Seat campaign is the perfect opportunity for our community to give back and make that magic happen. I served on the Advisory Board for many years and now I am honored to be co-chairing the Broadway Dallas Gala and want to see thousands and thousands of smiles on the children's faces when they walk out of the theater!"
"Broadway Dallas is a true historical treasure for Dallas and surrounding communities, bringing the best of Broadway in live musical theater right to our back door," said Gail Plummer. "One passionate mission for the organization is to give aspiring performers in our local high schools the opportunity to highlight their talents through the High School Musical Theater Awards, and our raised funds go to university scholarships for many of the program's participants. Through Broadway Dallas' Give A Kid A Seat program, young students are given the opportunity to attend a performance, many for the first time. The magic and wonder in the eyes of these kids is something I will never forget!"
---
About MOULIN ROUGE! THE MUSICAL
MOULIN ROUGE! THE MUSICAL is the winner of ten 2021 Tony Awards including Best Musical, two Drama League Awards including Outstanding Production of a Musical, five Drama Desk Awards and ten Outer Critics Circle Award Honor citations including New Broadway Musical.
MOULIN ROUGE! THE MUSICAL opened to critical acclaim at the Al Hirschfeld Theatre in the Summer of 2019 and reopened in September 2021 following the shutdown of Broadway due to the pandemic.
"Spectacular! Euphoric! In MOULIN ROUGE! THE MUSICAL, life is beautiful," raves The New York Times. "MOULIN ROUGE! THE MUSICAL is a fabulous new musical. The high begins the instant you walk into the theatre," said the New York Post. Entertainment Weekly concludes that "it's easy to believe that MOULIN ROUGE! THE MUSICAL could run for 50 years."
MOULIN ROUGE! THE MUSICAL is directed by Tony Award winner Alex Timbers and with a book by Tony Award winner John Logan, choreography by Tony Award winner Sonya Tayeh and music supervision, orchestrations and arrangements by Tony Award winner Justin Levine.
The design team for MOULIN ROUGE! THE MUSICAL includes Tony Award winner Derek McLane (sets), Tony Award winner Catherine Zuber (costumes), Tony Award winner Justin Townsend (lighting), Tony Award winner Peter Hylenski (sound), Drama Desk Award winner David Brian Brown (wig and hair design), Sarah Cimino (Make-up design) and Tony Award winner Matt Stine (Music Producer). Casting is by Jim Carnahan and Stephen Kopel.
Enter a world of splendor and romance, of eye-popping excess, of glitz, grandeur and glory! A world where Bohemians and aristocrats rub elbows and revel in electrifying enchantment. Pop the champagne and prepare for the spectacular spectacular … Welcome to MOULIN ROUGE! THE MUSICAL.
Baz Luhrmann's iconic film comes to life onstage, remixed in a new musical mash-up extravaganza. MOULIN ROUGE! THE MUSICAL is a theatrical celebration of Truth, Beauty, Freedom, and – above all – Love. MOULIN ROUGE! THE MUSICAL is more than a musical; it is a state of mind.
As in the film, MOULIN ROUGE! THE MUSICAL celebrates over 160 years of music – from Offenbach to Lady Gaga. The stage musical features many of the iconic songs from the movie, and also includes recent hits released since the movie premiered 21 years ago.
MOULIN ROUGE! THE MUSICAL is produced by Carmen Pavlovic and Gerry Ryan OAM for Global Creatures and Bill Damaschke. General management is by Foresight Theatrical.
Co-producers of the touring production include Aaron Lustbader, Hunter Arnold, Darren Bagert, Erica Lynn Schwartz/Matt Picheny/Stephanie Rosenberg, Adam Blanshay Productions/Nicolas & Charles Talar, Iris Smith, Aleri Entertainment, Sophie Qi/Harmonia Holdings, CJ ENM, Len Blavatnik, Ambassador Theatre Group, Endeavor Content, John Gore Organization, Spencer Ross, Gilad-Rogowsky/InStone Productions, AF Creative Media/International Theatre Fund, Nederlander Presentations/IPN, Cody Renard Richard, Jujamcyn Theaters, Eric Falkenstein/Suzanne Grant, Peter May/Sandy Robertson, Tom & Pam Faludy, Triptyk Studio, Carl Daikeler/Sandi Moran, Desantis-Baugh Productions, Red Mountain Theatre Company/ 42ND.CLUB, Candy Spelling/Tulchin Bartner, Roy Furman, Andrew & Ruby Ryan, Brent & Sarah Deboer and Michael Ryan.
Released by 20th Century Fox, Baz Luhrmann's MOULIN ROUGE! premiered at the 2001 Cannes Film Festival. At the 74th Academy Awards, the film was nominated for eight Oscars, including Best Picture, and won two.
The Moulin Rouge of Paris, managed by Jean-Jacques Clerico (CEO), is a dazzling and spectacular universe, the symbol of the Parisian way of celebrating since 1889. Starting life as a popular cabaret and dance hall, the venue became an iconic music hall in the Roaring Twenties, and then a theatre where numerous famous French and international artists stepped out into the limelight. Today, the Moulin Rouge and its 60 artists present the Féerie revue show: two hours of amazement between cabaret and music hall styles where dance scenes and surprise acts intersperse – without forgetting the Moulin Rouge's most emblematic dance, the French Cancan! Since its creation, the Moulin Rouge of Paris has always been an invitation to live and share all the emotions and effervescence of a unique party extravaganza. http://www.moulinrouge.fr/
The Grammy-nominated MOULIN ROUGE! THE MUSICAL Original Broadway Cast Recording, produced by Baz Luhrmann, Justin Levine, Matt Stine & Alex Timbers, is now available by Baz Luhrmann's label, House of Iona, and RCA Records. The album debuted at #1 on Billboard's Cast Album chart.
MAC is the Official Makeup Partner and Preciosa is the Official Crystal Partner of MOULIN ROUGE! THE MUSICAL.
About Jolie Humphrey
Jolie was born in Wichita Falls, Texas and moved to Dallas as fast as her parents could take her. She attended the local public schools and earned her BS in Fashion Merchandizing from The University of North Texas, Go Mean Green! Jolie met her loving husband (Bart) of 37 years at a discotheque called Incahoots during happy hour back in 1984. At that time Jolie worked at a fashion house as a fabric buyer where she spent many glamorous days counting dusty rolls of bulk fabric and placing orders overseas, while discovering that a major in Japanese or even Chinese would have been helpful. She also worked for her dad importing fancy cars from Germany and Italy where the best part of that job was getting to test drive each car as they arrived at the port in Houston Texas. One of these treasures has been sitting in her driveway ever since.
After Jolie married Bart in 1986, she decided she had to go back to school to get a second degree in Interior design earning her ASID, which was not being used since she was 9 months pregnant at her graduation ceremony. Then daughter number 2 and number 3 were born quickly after daughter number 1 all within 5 years. One craft Jolie perfected was her photography skills which she practiced on her daughters endlessly that they became smile robots leading into a semi-portrait photography career when she had time while being a mom. She kept up her photography education through several summer work shops where Bart was left at home perfecting his golfing skills with their three daughters hoping one of them would become a pro golfer. During all this, Jolie started her "charity-chick" career, not due to the lack of boredom but because a good friend of hers talked her into being co-president of the Dallas Woman's Opera Board….and there it all begun. Between being a mom, photography and some design work Jolie has gladly served on the Texas Ballet Theater board, Junior League of Dallas, Advisory Board member for Broadway Dallas for over 16 years, an active member of the Dallas Symphony Orchestra League where she served as Presentation Ball Chair, a local National Charity League chapter president, Kidney Texas president, AWARE president, AwareAffair co-chair, Aware Grant chair plus chairing the Dallas Arboretum's Mad Hatter's Luncheon 2021.
Jolie is thrilled to be working alongside Gail Plummer as the 2023 Broadway Dallas co-chair. She has grown up loving musical theater and still does to this day. Jolie accepted the co-chair position because of how Broadway Dallas gives back to the community spreading the magic of musical theater to 1000's of children in the metroplex. Hats off to Broadway Dallas!!!
About Gail Plummer
Gail Plummer is Chairman Emeritus of Altair Global, a full-service global mobility firm headquartered in Frisco, Texas with US offices in California and Connecticut; international offices in Brussels, Dublin, London, Paris, Shanghai and Singapore. Ms. Plummer co-founded the company in 1989 with husband Bill, and she served as its Chief Executive Officer from 2005-2012. She is presently an active member of the company's Board of Directors.
Ms. Plummer is a passionate advocate of giving back to the community and has been recognized for her dedication, service, and leadership, having served as a volunteer on numerous boards of non-profit organizations. She is a native of Austin, Texas and holds a Bachelor of Science degree from the University of Texas. She resides in Dallas, Texas and enjoys spending time with grandchildren, as well as traveling the world with family and friends.
Business Sector: Dallas Business Journal's Inaugural Women in Business program 2008, honoring exemplary women business owners in Dallas as key contributors to the global economy; Board of Directors of Worldwide Employee Relocation Council, 2010-2013; Distinguished Service Award recipient; Women's Business Enterprise National Council, 2005-2012. Numerous speaking engagements for national and international corporate relocation industry events
Non-profit Sector (State of Texas appointments): State Bar of Texas Board of Directors, 2013-2016; appointed by the Supreme Court of Texas as their only appointment of a non-lawyer public member to the board in 2013; State Bar of Texas Executive Committee, 2014-2016; Numerous state-wide committees for the SBOT, including Client Security Fund (Chairman, 2016), Legislative Policy, Aviation Law, Texas Lawyers Assistance Program, Jury Service, and Real Estate Forms committees; Public member appointment to the State Bar of Texas Grievance Committee, 2017-2022; Public member appointed to the Texas Bar Foundation Board of Directors, 2021-present.
Non-profit Sector: AWARE, President 2005-2006 and 2014-2015; Co-Chair AWARE Gala Luncheon, 2004; AWARE Gala Honorary Co-Chair, 2016; Board of Directors, 2014-present; numerous committees 2002-present, including Chair of Strategic Planning Committee, 2017-2021, AWARE's Grant Review Committee, 2004-present, Chair-elect, 2023; Founders Spirit Award, 2021; Baylor Healthcare System Foundation, Board of Directors, 2006-2011; Broadway Dallas, Executive Committee/Board of Directors, 2008-2010 and 2010-present; capital campaigns Co-Chair, Challenge Campaign/DSM Performs, 2017-2019; numerous committees as member or chair, including Development, Finance, Nominating, and Special Events; Inaugural High School Musical Theater Awards Co-Chair, 2012 and 2013; Café Momentum Society, Inaugural member, 2016-present; Chiapas International, an organization dedicated to helping lift women out of poverty in Mexico and the Dominican Republic by funding micro-loans to start businesses; Board of Directors, 2005-2014; Chairman of the Board, 2009; Gala Co-Chair, 2014; Dallas Arboretum, Artscape Committee, 2017 and 2018; Dallas Heritage Village/Old City Park, Board of Trustees, 1993-2013; Chairman of the Board, 2001-2002; numerous committees and offices; award recipient of the Association of Fundraising Professionals on National Philanthropy Day, 2002; Greater Dallas Alzheimer's Association, Board of Directors, 2011-2014; Vice Chairman of the Board, 2013-2014; SMU's Cox School of Business, O'Neill Center for Global Markets & Freedom, Advisory Board, 2012-2015; University of Texas at Dallas Center for BrainHealth, Advisory Board, 2014-present; University of Texas at Dallas, Inaugural Advisory Board of the School of Behavioral & Brain Sciences, 2021-present.
About Ambassador Kathryn Walt Hall
Kathryn Walt Hall is the owner of HALL, WALT, and BACA Wines, with her husband Craig Hall. Kathryn has been actively involved in the California wine industry since her family first purchased a vineyard in 1972. Kathryn has served on the Board of Directors for Napa Legal Aid, Napa Emergency Women's Services (NEWS), and Festival Napa Valley and she has been an active supporter of numerous other Napa nonprofit organizations, including Ole Health. She serves on the Napa Vintners Association Grant Review committee and on the Board of the California Sustainable Winegrowing Alliance, advocating viable sustainable growing practices.
Hall began her career as assistant city attorney in Berkeley, California. Later, she joined Safeway Stores, where she was responsible for developing and administering one of the nation's first and largest affirmative action programs. In the 1990's Hall worked as an attorney and businesswoman in Dallas, Texas, where she was president of an inner-city development company and partner of HALL Group. She was appointed and served as the United States Ambassador to Austria from 1997-2001. She is a New York Times best-selling author, for her book, A Perfect Score.
Long committed to social issues, Hall has served on numerous non-profit and institutional boards, addressing issues related to social care and mental health. She co-founded the North Texas Food Bank, served on the U.S. House of Representatives Hunger Advisory Committee, and was the Director/Vice President of the Texas Mental Health Association. Additionally, she has served on the National Advisory Council for Violence Against Women, as a trustee of the Woodrow Wilson International Center, and Director of the National Democratic Institute.
Hall has had a distinguished career as a successful businesswoman, attorney and community activist. She is fluent in French and German, earned a BA in Economics from the University of California, Berkeley, a joint MBA from UC California, Berkeley and Columbia University and a JD from the University of California, Hastings College of Law.
About Craig Hall
Craig Hall is an entrepreneur, New York Times bestselling author, vintner and philanthropist. He formed HALL Group in 1968 at age 18 with $4,000 saved from small ventures that began at age 10. Today, HALL Group's diversified business interests include active operations in commercial real estate ownership, development and management, structured financial lending, winemaking and early-stage investments in promising startups.
Hall and his companies are often recognized for significant achievements and civic and charitable contributions. In 2006, Hall received the Lifetime Achievement Award from the Mortgage Bankers Association. In 2007, Hall was named a lifetime member of the prestigious Horatio Alger Association for Distinguished Americans, where he currently serves as a board member. He was also inducted into the North Texas Commercial Real Estate Hall of Fame and the Entrepreneurs Foundation of North Texas' Ring of Honor. Hall was named the 2013 Dallas Real Estate Executive of the Year and in 2016 he was inducted into the Junior Achievement of Dallas Business Hall of Fame. In 2017, Hall and his wife Kathryn were co-awarded the 2017 "Master Entrepreneur of the Year" award for the Southwest Region from the Ernst & Young Entrepreneur of the Year program. In 2019, Hall received the Pioneer Award from D CEO magazine for his contribution to the Dallas real estate community, and in the same year he also was recognized with the Business Council for the Arts Obelisk Award for his partnership with and service to the arts community.
Hall is the author of seven published books, including his most recent, BOOM: Bridging the Opportunity Gap to Reignite Startups, which was published in May 2019.
About Broadway Dallas
In 2022, Dallas Summer Musicals changed its name to Broadway Dallas. Since 1941, the non-profit Broadway Dallas has presented the Best of Broadway to North Texas audiences. Located in the historic Music Hall at Fair Park, Broadway Dallas promotes excellence in live musical theatre with year-round performances for diverse audiences of all ages, impacting the lives of children and families through education and community outreach programs, while enriching the cultural landscape of North Texas and the Southwest Region.
As a 501(c)(3) non-profit organization, Broadway Dallas relies on a variety of funding sources to offer affordable ticket prices, preserve the beautiful historic theatre, educate young audiences and develop impactful community programs.
Broadway Dallas gratefully acknowledges the support of our season sponsors, annual fund donors and corporate partners Germania Insurance, American Airlines, Texas Instruments, The Dallas Morning News, and WFAA TV Channel 8. For more information about Broadway Dallas, visit our website at BroadwayDallas.org.
# # #
---