Posted on March 12th, 2015
Dallas Summer Musicals Academy Announces Auditions for the Academy Industry Showcase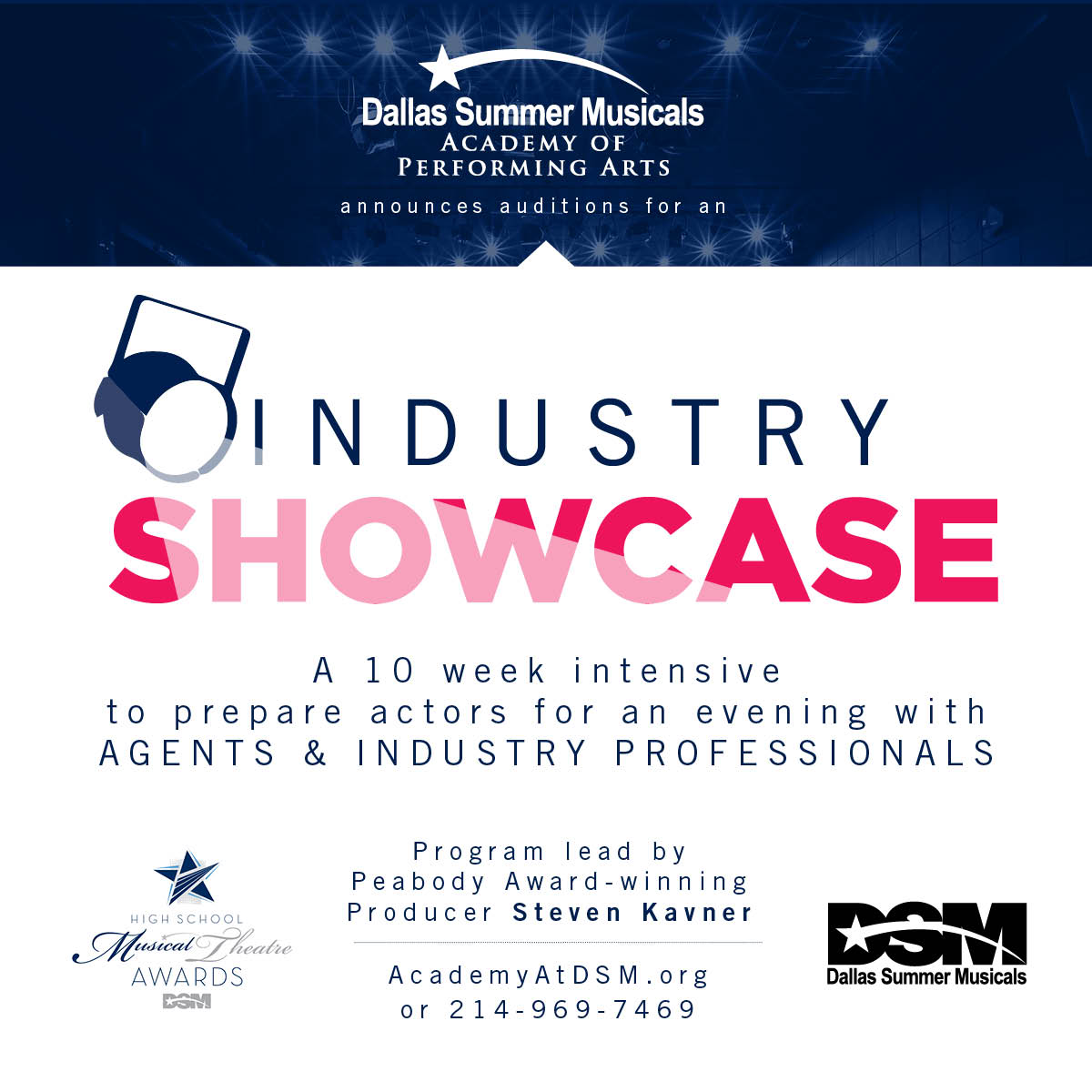 The DSM Academy of Performing Arts is pleased to announce auditions for an opportunity to be selected for the Academy Industry Showcase.
As the Academy expands its relationship with the premiere Industry professionals in the Metroplex, we will find the most "industry ready" actors to present their finest skills to top agents, casting directors, and other professionals.
Auditions will be held Saturday, March 14th from 8:30 a.m.to Noon and 1:00 p.m.to 6:00 p.m. for the first 75 people, ages 10 or older, to sign up. Younger students may be invited. An additional audition day on Tuesday, March 17th from 5:00 p.m. to 9:00 p.m. will be added, if needed. Audition appointments are five minutes in length and will be held at:
Central Christian Church
4711 Westside Dr., Dallas, TX 75209
ATTENTION: You must prepare a one minute monologue from a play. You may be asked to sing and dance as well. The showcase is limited to 24 participants.
Click here to sign up to audition.
Those selected will become part of a 10 week intensive that will meet at the Central Christian Church on Saturday, March 21st through May 30th from 5:30 p.m. to 7:30 p.m. It will culminate in a performance on Wednesday evening June 3rd at 7:30 p.m. following a 5:00 p.m. performance for Family and Friends at:
International Conservatory of Performing Arts
3321 Premier Drive, Plano, TX 75023
There is no charge to register for the audition. Student must be 10 years of age or older unless invited by the Academy. If selected, the program cost is $249 for 10 weeks.
The class will be led by DSM Academy Instructor and Director Steven Kavner (award-winning actor, former member of the legendary Los Angeles improvisation company The Groundings, and Peabody Award-winning Producer). Mr. Kavner will be supported by DSM Academy's musical, dance and production staff.
Class: Industry Showcase
Showcase Auditions: Ages 10 and up, Saturday March 14, 9:00 a.m.–Noon and 1:00 p.m. to 5:00 p.m.
Class & Audition Location: Central Christian Church, 4711 Westside Dr., Dallas, TX 75209
Class Dates & Times: Saturdays, March 21-May 30, 2015, 5:30 p.m. to 7:30 p.m.
Class Limit: 24 students
Performance:  Wednesday June 3, 2015, 5:00 p.m. for family and friends, 7:30 p.m. for industry professionals
Performance Location: International Music Conservatory, 3221 Premier Dr., Plano, TX
Program Cost: $249 – There is no cost to audition.
Audition Registration: http://www.emailmeform.com/builder/form/rxy8RjbqconiaOCEVs9Jd3B8d
Details on our website at: http://www.academyatdsm.org/
Call for more information: 214-969-7469
About DSM Academy Of Performing Arts: The DSM Academy of Performing Arts was founded in 1999 and operates as an affiliate of Dallas Summer Musicals in several locations in the Dallas area. Dallas Summer Musicals is a company that produces and presents Broadway, off-Broadway, West End and touring theatrical productions. The DSM Academy is comprised of 75% teens and 25% adults ranging in age from 7 to adult. The Academy is proud of its diverse and ethnic student population. The DSM Academy has granted over 250 need-based scholarships. The Academy helps to prepare the amateur and the professional for involvement in the performing arts. The purpose of this page is to connect people who have a common interest in the performing arts of any type.
Mission: Recognizing the positive influence of the arts on the human experience, DSM Academy of Performing Arts strives not only to increase appreciation of the performing arts, but to teach those arts professionally.
###
---