Posted on June 7th, 2016
BROADWAY'S SONG AND DANCE EXTRAVAGANZA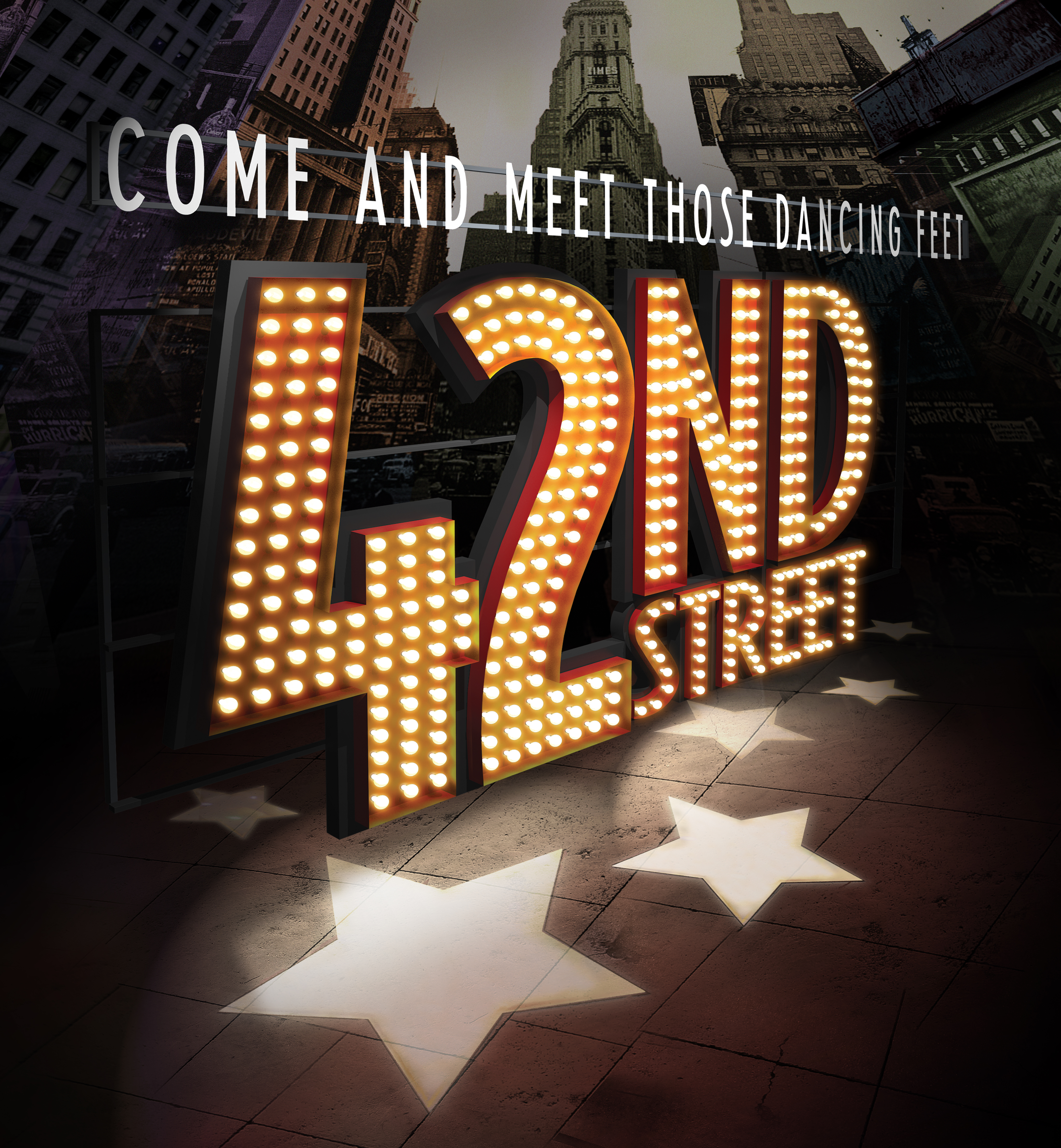 MAKES NORTH TEXAS DEBUT
JUNE 28 – JULY 10  AT THE MUSIC HALL AT FAIR PARK
&
JULY 12-17  AT BASS PERFORMANCE HALL

Dallas, TX (June 3, 2016) – The quintessential backstage musical comedy classic 42nd STREET will celebrate a 2 week engagement at the Music Hall at Fair Park with a sparkling new production, June 28 – July 10 presented by Dallas Summer Musicals. This high-octane tour will then head to Fort Worth, where it will play at Bass Performance Hall July 12-17, presented by Performing Arts Fort Worth. 42nd STREET will be directed by co-author Mark Bramble and choreographed by Randy Skinner, the team who staged the 2001 Tony Award® winning Best Revival.
42nd STREET is the song and dance fable of Broadway, with an American Dream story and some of the greatest songs ever written, including "We're In The Money," "Lullaby of Broadway," "Shuffle Off To Buffalo," "Dames," "I Only Have Eyes For You" and of course "42nd Street."
With book by Michael Stewart and Mark Bramble, music by Harry Warren and lyrics by Al Dubin, 42nd STREET is based on a novel by Bradford Ropes and Busby Berkeley's 1933 movie and tells the story of a starry-eyed young dancer named Peggy Sawyer who leaves her Allentown home and comes to New York to audition for the new Broadway musical Pretty Lady.  When the leading lady breaks her ankle, Peggy takes over and becomes a star.
The original production of 42nd STREET was produced in 1980 on Broadway by David Merrick and featured direction and dances by Gower Champion.  It played on Broadway for 3,486 performances, winning 1981 Tony Awards® for Best Musical and Best Choreography.  The Broadway revival, which opened in 2001, played for 1,524 performances and earned two Tony Awards® including Best Revival of a Musical.
Mark Bramble (Director/Co-Author) began his theatrical career working for legendary producer David Merrick on many Broadway productions.  He directed the 2001 Tony Award® winning Best Revival of 42nd STREET on Broadway for which he received a Tony Award® nomination, and has staged productions of the show in London, Sydney, Tokyo, Berlin, Amsterdam, Shanghai, and Vienna.  Randy Skinner (Choreographer) choreographed the 2001 Tony Award® winning Best Revival of 42nd STREET on Broadway for which he received a Tony Award® nomination.  He also received Tony Award® nominations for his choreography of Irving Berlin's White Christmas and Ain't Broadway Grand.
The design team includes scenic design by Tony Award® winner Beowulf Boritt (Act One, The Scottsboro Boys, Annie), costume design by Tony Award® winner Roger Kirk (The King and I, 42nd Street, Jesus Christ Superstar), lighting design by Tony Award® winner Ken Billington (Chicago, Annie, White Christmas) and sound design by Peter Fitzgerald (Movin' Out, Will Rogers Follies, 42nd Street).  Musical supervision is by Todd Ellison (American in Paris, La Cage Aux Folles, 42nd Street). Casting is by Joy Dewing CSA, Joy Dewing Casting (Annie, Wonderland, 42nd Street).  The tour is produced by TROIKA Entertainment, LLC.
The national tour will star Matthew J. Taylor as notorious director Julian Marsh, Kaitlin Lawrence as Broadway leading lady Dorothy Brock and introduces Caitlin Ehlinger as newcomer Peggy Sawyer.   Also featured in the production are Britte Steele (Maggie Jones), Steven Bidwell (Bert Barry), Mark Fishback (Abner Dillon), DJ Canaday (Pat Denning), Blake Stadnik (Billy Lawlor), Natalia Lepore Hagan (Annie), Carlos Morales (Mac/Doc/Thug), Lamont Brown (Andy Lee), Rob Ouellette (Oscar), Vanessa Mitchell (Lorraine), Dallas/Ft. Worth native Sarah Fagan (Diane) and Mallory Nolting (Phyllis).
The ensemble will feature Matthew Alexander, Emily Blake Anderson, Brittany Bigelow, Allison Blanchard, Molly Jean Blodgett, Stephanie Brooks, Taylore Burke, Mitchell Canfield, Joel Chambers, Kahlia Davis, Tricia DeSario, Lucia Foster, Kelly Gleason, Patrick Heffernan, Tommy Joscelyn, Brady Miller, Mandy Modic, Georgina Moore, Courtney Moran, Jocelyn Moss, Alicia Newcom, Tanner Outly and Andrew Winans.
In an initiative to elevate the arts, Dallas Summer Musicals in conjunction with Broadway World DFW and WFAA Channel 8 have partnered up and developed a fun summer series of walk-on roles to give audiences an inside look at the life of an actor. Auditions will be announced soon and a lucky winner will be transformed into one of the kids in the chorus and give viewers a behind the scenes look as they becomes part of cast in 42nd STREET.
Single tickets for 42nd STREET, from $25-$106 (pricing subject to change), are now on sale at www.DallasSummerMusicals.org, by phone at 1.800.514.ETIX (3849) and at The Box Office, 5959 Royal Lane, Suite 542 in Dallas, TX.
Groups of 10 or more receive a 15% discount, priority seating, and many more benefits. Please call 214.426.4768 or email Groups@DallasSummerMusicals.org.
Single tickets for 42nd STREET's Fort Worth engagement, from $44-$115, are now on sale. To charge tickets by phone, call 817.212.4280 in Fort Worth; 1.877.212.4280 (toll free) outside Fort Worth; or order online at www.basshall.com. Tickets are also available at the Bass Performance Hall ticket office at 525 Commerce Street. For group sales, call 817-212-4248.
DSM's highly awaited 2016–17 Season Announcement 'Broadways Most Wanted' is set to be revealed soon. A season teaser campaign is now online and throughout DSM's social media platforms!
The 2015-2016 Broadway at the Bass season continues with Rodgers & Hammerstein's THE SOUND OF MUSIC, August 17-21; and the phenomenal new production of THE PHANTOM OF THE OPERA, October 20-30.
---
About Dallas Summer Musicals:
Dallas Summer Musicals, Inc. (DSM) is the preeminent nonprofit presenter of Broadway theatre in North Texas. DSM produces, presents and promotes excellence in live musical theatre with year-round performances for diverse audiences of all ages, impacting the lives of children and families through education and community outreach programs, while enriching the cultural landscape of Dallas/Fort Worth, North Texas and the Southwest Region.
As a 501(c)(3) nonprofit organization, DSM relies on a variety of funding sources to bring the Best of Broadway to Dallas at affordable ticket prices, as well as to preserve the beautiful historic theatre, educate young audiences and create important community programs. DSM's Seats for Kids program provides a meaningful arts education experience to thousands of low income, at-risk and special needs children. DSM Kids Club is a program created to foster tomorrow's musical theatre audience. Through exciting activities children gain an interest, hands-on-knowledge and appreciation of the performing arts. In addition, Dallas Summer Musicals Academy of Performing Arts offers professional theatre arts training and scholarships to talented students in need. DSM's High School Musical Theatre Awards are patterned after Broadway's Tony® Awards and celebrate the power of the arts to significantly improve all areas of education. DSM Associate Producers is a dynamic group of young professionals with a mission to support DSM by cultivating future patrons and leaders making DSM part of the culture for young professionals in Dallas. DSM Guild is a group of individuals who share a love of musical theatre and support DSM by providing stellar service and hospitality to the cast and crew of every show.
Since 2010 the experts at DSM have made significant changes and upgrades to its acoustical systems to improve the sound quality of the productions for all its patrons, including the hearing impaired, leading to the development of Hear Us Now!™; a device which utilizes five assistive listening technologies (T-coils, FM Classroom, Streamers, FM systems, and traditional headsets) to deliver a clear and direct audio signal. It is so unique that a trademark has been allowed by the United States Patent and Trademark Office. Seats for Vets, DSM's newest initiative, serves war veterans and their families by providing them discounted access to a unique theatrical experience as a way of thanking them for their service. Ticket sales alone do not sustain these endeavors. Only support from committed businesses, foundations and individuals make these programs possible.
Dallas Summer Musicals is presented by Texas Instruments and gratefully acknowledges the support of our season sponsors and partners The Dallas Morning News, WFAA TV Channel 8, American Airlines, and The Original Cupcakery.
For more information about Dallas Summer Musicals, please call 214.421.5678 or visit our website at DallasSummerMusicals.org.
About Performing Arts Fort Worth:
The mission of the Nancy Lee and Perry R. Bass Performance Hall is to serve as a permanent home to major performing arts organizations of Fort Worth and as a premiere venue for other attractions so as to enhance the range, quality, and accessibility of cultural fare available to the public; to promulgate arts education; and to contribute to the cultural life of Fort Worth, Tarrant County, and the region.
Built entirely with private funds, Bass Performance Hall is permanent home to the Fort Worth Symphony Orchestra, Texas Ballet Theater, Fort Worth Opera, and the Van Cliburn International Piano Competition and the Cliburn. Each resident company operates independently from Performing Arts Fort Worth and manages its own programming schedule at Bass Hall.
Performing Arts Fort Worth, the nonprofit organization that oversees management of the Hall, also presents national Touring Broadway product under the Broadway at the Bass banner, as well as programming that includes Family Series at the Bass, and the BNSF Popular Entertainment Series.
The 2,042-seat multipurpose Hall is characteristic of the classic European opera house form. An 80-foot diameter Great Dome tops the Founders Concert Theater while two 48-foot tall angels grace the Grand Facade. Since the Hall opened in May 1998, the angels have become preeminent cultural icons of the Dallas-Fort Worth community. The Hall itself is renowned for its superb acoustics, exceptional sight lines and ambience on level with the great halls of the world.
###
---