BOX OFFICE:

The physical Box Office at the Music Hall at Fair Park is open 2 hours before a scheduled performance. You can reach our Box Office staff by emailing customerservice@broadwaydallas.org Monday-Friday 10am-5pm. During shows, staff is available until one hour after the show begins.
CALL OUR SERVICE CENTER:
Season Subscriber Hotline: 1.866.276.4884
Ticketmaster Customer Support: 1.800.653.8000
(Hours Monday-Friday: 10 AM – 5 PM)
After 5pm please email or call Covid email or phone number.
These line is monitored Monday-Sunday 10am-9pm
Via email: CovidQuestions@BroadwayDallas.org
Broadway Dallas Covid-19 hotline at 469.687.4626
Ticket Sales available via automation: 24/7
For ticket donation requests, please email your request to Dara Pamplin at dpamplin@broadwaydallas.org. Due to the high volume of donation requests we receive daily, Broadway Dallas cannot guarantee all requests will be fulfilled.
For Lost & Found items, please schedule a pickup time and date by emailing customerservice@broadwaydallas.org.
BROADWAY DALLAS SEATING CHART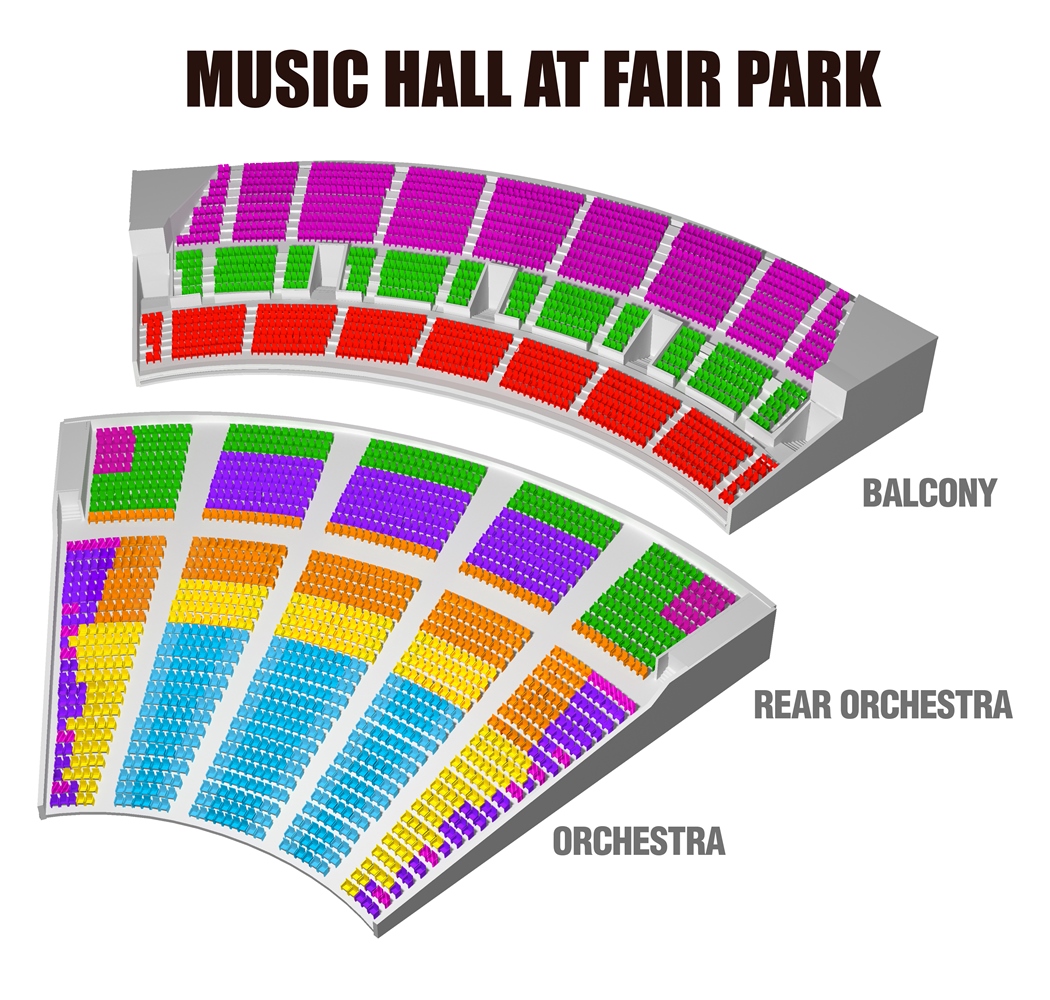 When purchasing tickets to any Broadway Dallas event, customers should be advised to use only the options listed above—purchasing through Broadway Dallas or Ticketmaster.
Neither Broadway Dallas nor Ticketmaster can guarantee the authenticity of tickets purchased from any other reseller (such as brokers or individuals).
Counterfeit Ticket Warning: Currently there are some scalpers, also known as "second party vendors," selling tickets online at a rate more than double the standard price. Their websites look official and offer Broadway Dallas tickets, however tickets purchased via those sites could be fraudulent, meaning tickets bought through these means may not be valid and you would be refused admission.
PDF Tickets (print at home) are no longer available for use and will not be accepted
as a valid ticket.
Only mobile and official mailed tickets will be accepted.
If you choose to buy Broadway Dallas tickets from an alternative source, there are a few instances that may occur:
The tickets may or may not be valid, and you run the risk of not being let in to a performance
You'll probably pay much more than you should
There's no way to notify you in the case of a time change or cancellation
If you lose your tickets, Broadway Dallas won't be able to replace them
Broadway Dallas urges customers to purchase tickets directly through our website at www.BroadwayDallas.org.
BROADWAY DALLAS AND BROADWAY ACROSS AMERICA DO NOT SUPPORT THE RESELLING OF OUR TICKETS AT A PRICE ABOVE THE PRINTED FACE VALUE. Your use of this website and your purchase of tickets through our Group Sales facilities constitutes your acceptance of the following terms and conditions without limitation, qualification or change, and you consent to be bound by such terms and conditions. You represent and warrant that the tickets you receive will not be resold to individuals above the face value, unless you meet all of the following conditions: (i) you are a tour operator, authorized concierge service company, travel agent or other authorized wholesale travel industry partner of the Company that (ii) packages the tickets with hotel reservations, transportation arrangements or other travel amenities, and (iii) such packages include substantial value to each purchaser thereof above and beyond the rights and access provided by the ticket alone. Broadway Dallas and Broadway Across America each reserves the right to refuse service to any person or entity that resells any group sales tickets for profit in the secondary marketplace. If Broadway Dallas or Broadway Across America discovers that tickets sold as part of a group order have been resold individually at a profit or otherwise in violation of the conditions described above, each entity reserves the right to revoke your group benefits at any time, including but not limited to rights to purchase tickets, group discounts, payment plans, complimentary ticket policies and priority seating privileges, and subject to applicable law, we may also revoke Group Sales tickets.